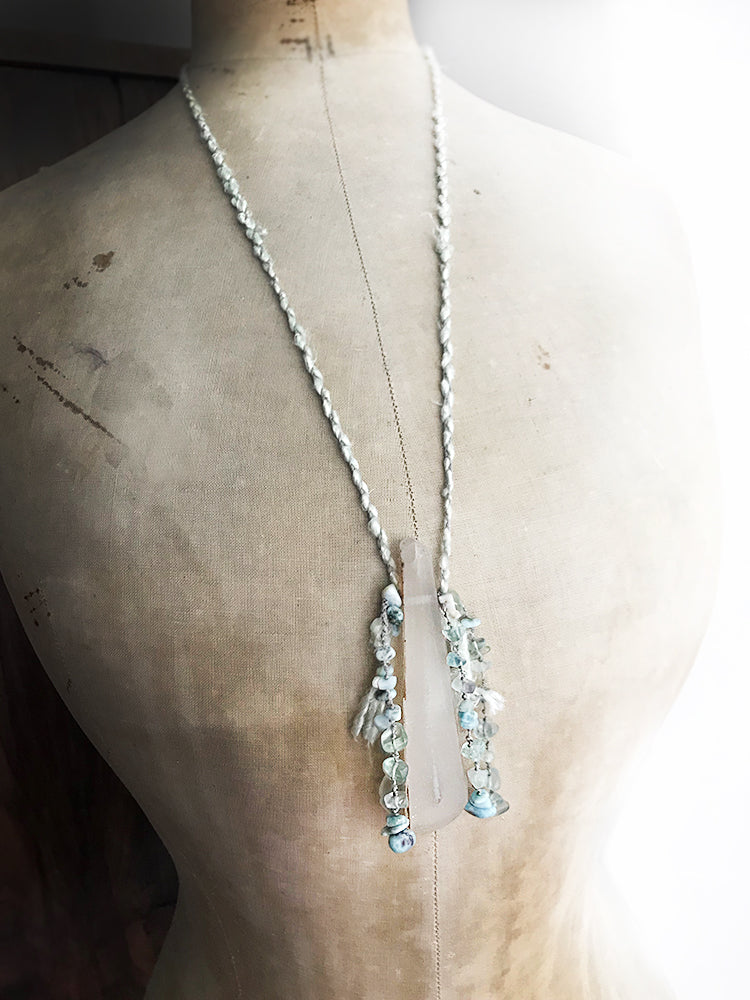 Polyhedroid Agate crystal healing talisman in silk braid
DESCRIPTION
This is a long slice of a rare type of Agate that has naturally grown in such an unusual shape. Polyhedroid Agate (sometimes also called Polyhedral Agate) came from one location in the world in the 70s, Paraiba in Brazil. The necklace is a soft braid of pale green banana silk, a perfect contrast to the angular stone, with accent crystals of Larimar and Fluorite. Unusual with much character, this rare crystal will no doubt have a lot of ancient wisdom to share with you. In addition to the its Agate energy, this ancient rarity is called a 'natural wonder' for the way it has grown in its geometric pattern, unlike any of the usual Agates around - reminding you that you also can grow into manifesting the pure wonder of your own soul in this world and reach such heights that may have been judged 'impossible' by those who lack vision. 
The silk chain necklace is set length, with an all around measurement of approx. 70 cm (27.5"). The Agate is approx. 9 cm (3.5") tall, 1.5 cm (0.6") wide at its middle.
You'll receive this crystal healing necklace in one of my handmade fabric draw-string pouches - great for the safe-keeping of the necklace. Gift-wrapped at no extra charge.

Read here how to take care of your crystal jewellery.
CRYSTAL PROPERTIES
AGATE
The oldest good luck amulet. In ancient times Persian magicians were, according to legend, diverting storms with the powers of Agate. Considered a protective stone (especially for travel), said to shield its keeper against dangers. Increases inner stability, enhances personal courage and fosters self-confidence. Grounding and soothing. Balancing stone for one's energy system to experience oneness instead of duality.
FLUORITE
Excellent for cleansing one's aura, also detaching unwanted energy cords. Grounds excessive energy, beneficial for all levels of healing. Helpful in achieving spiritual wholeness. Protective, stabilising and harmonising stone. Facilitates personal growth. Awareness expanding. Anchors intuitive insights into the physical plane. Offers strong psychic protection, helping to discern energies one comes in contact with. Helps in being objective and focusing on what is essential. Also known as absorbing environmental EMF.
LARIMAR
A relatively rare stone, only found in the Dominican Republic. In crystal lore it is associated with the ancient civilization on Lemuria, and also sometimes called a "Dolphin Stone". Larimar is soothing and uplifting, bringing tranquility into heart and mind. It is said to support self-expression, creativity and patience.
Recently Viewed