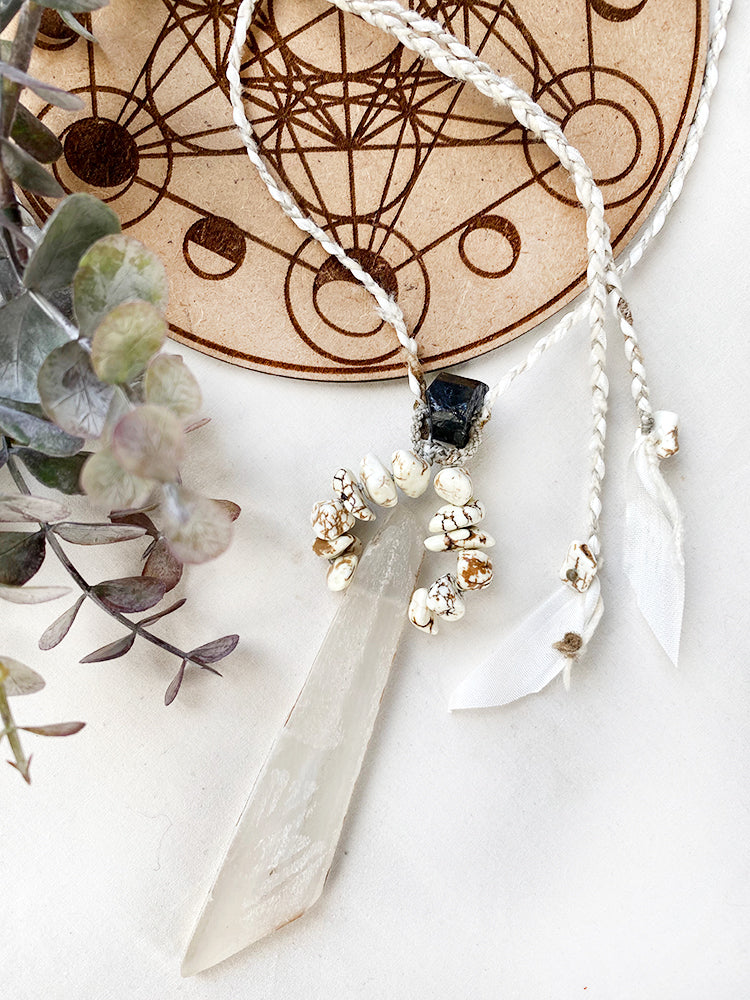 Polyhedral crystal healing talisman
DESCRIPTION
Thin, long slice of a rare type of Agate, with accent crystals of Magnesite and Black Tourmaline. Polyhedroid Agate (sometimes also called Polyhedral Agate) came from one location in the world in the 70s, Paraiba in Brazil but is no longer mined. The necklace is a braid of white embroidery silk combined with peace silk. Whilst neutral in tones, this is a commanding necklace with a definite presence. In addition to the usual Agate energy, this ancient rarity is called a 'natural wonder' for the way it has grown in its geometric pattern, unlike any of the usual Agates around - reminding you that you also can grow into manifesting the pure wonder of your own soul in this world and reach such heights that may have been judged 'impossible' by those who lack vision.
The long necklace braids are left open so you can tie the crystal pendant to hang at any level. The Polyhedroid Agate is just over 10.5 cm (4") tall and approx. 2 cm (0.8") at its widest.
You'll receive this crystal healing necklace in one of my handmade fabric draw-string pouches - great for the safe-keeping of the necklace. Gift-wrapped at no extra charge.

Read here how to take care of your crystal jewellery.
CRYSTAL PROPERTIES
AGATE
The oldest good luck amulet. In ancient times Persian magicians were, according to legend, diverting storms with the powers of Agate. Considered a protective stone (especially for travel), said to shield its keeper against dangers. Increases inner stability, enhances personal courage and fosters self-confidence. Grounding and soothing. Balancing stone for one's energy system to experience oneness instead of duality.
MAGNESITE
Opens up higher realms and states of consciousness, bringing visions and emotional balance. Assists in hearing your heart's desires. High ascension stone that awakens one to spiritual growth. Offers the gift of direct knowing by opening the third eye and crown chakras. Has the potential to create blissful changes in one's life.
BLACK TOURMALINE (aka Schorl)
One of the most well-known protective stones, shielding its user from negativity. A shamanic stone used for grounding during vision quests. Empowering for those who work in challenging environments. Purifies and transforms denser energies into lighter vibrations and is also detoxifying for the body. If you're sensitive to electromagnetic smog, you may get relief by wearing black Tourmaline.
Recently Viewed