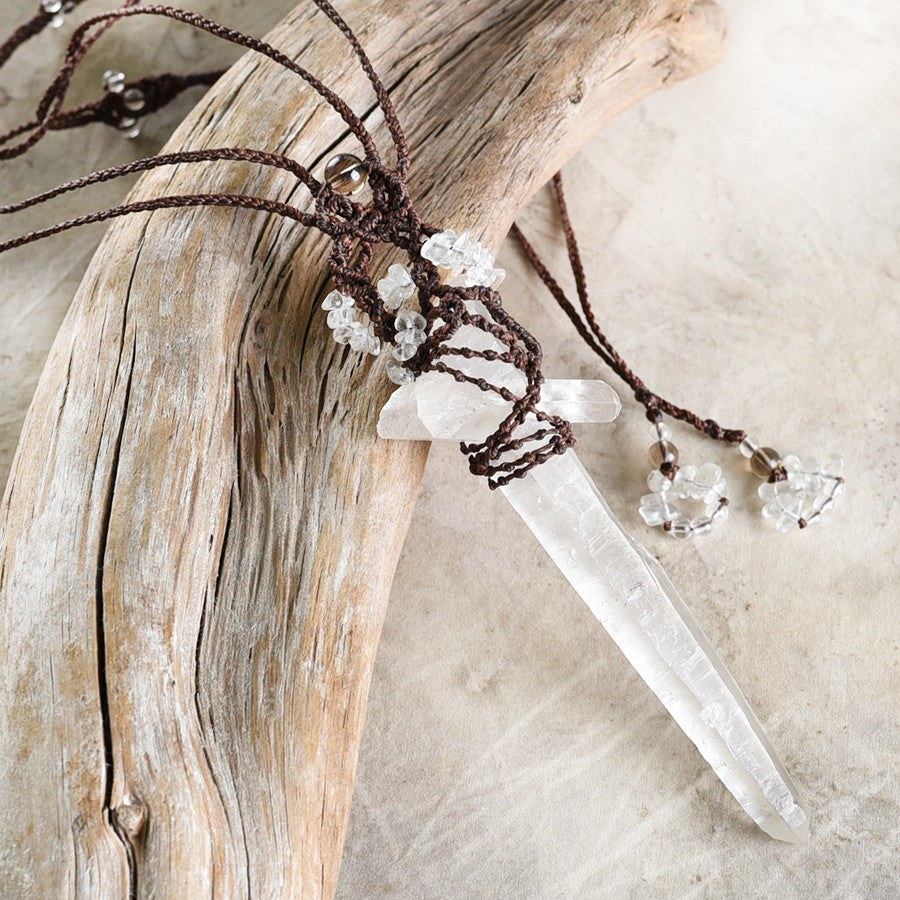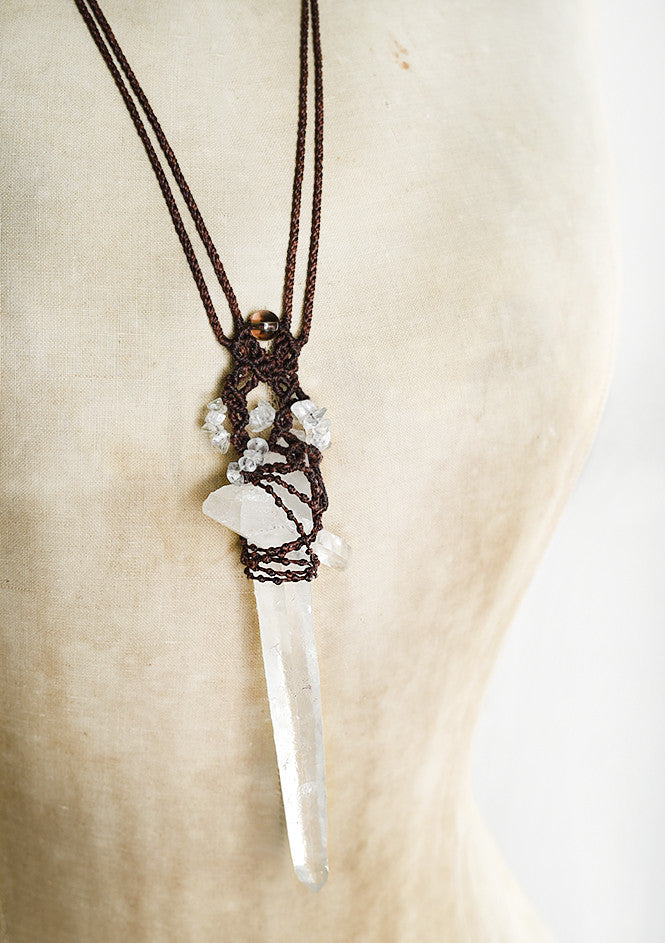 'Power of Healing' ~ crystal talisman with long Quartz point
DESCRIPTION
Crystal healing talisman with a long Quartz point that includes a 'bridge' formation, meaning there's another Quartz point that got embedded in across the main Quartz at some point during its growth cycle. The necklace is knotted with dark brown micro-macrame cord and highlighted with small clear Quartz crystals and one Smokey Quartz crystal. The sides of the necklace double braid also include small crystal adornments.
The necklace length is adjustable from as short as you wish down to solar plexus level. Please note that this Quartz point is impressively long at approx. 12 cm (4.7") tall and just over 1.5 cm (0.6") wide at its middle.
As this Quartz point is too long to fit in the usual Spirit Carrier jewellery pouches, I'll wrap this in raw silk to protect it on its journey to you. Also gift-wrapped at no extra charge.
CRYSTAL PROPERTIES
CLEAR QUARTZ
The universal master crystal that has a harmonising effect on all levels of being. Programmable by intention, so can be used for versatile purposes. Quartz can clear, enhance, amplify, transmute, balance, focus and transmit energy. Raises one's energetic vibration. Brings clarity and filters out distractions. A deep soul cleanser, attuning its keeper to their higher self. Each Quartz crystal is unique with its own character and teachings it offers, all are known as "Stones of Power" and "Master Healers".

'Bridge' formation Quartz (also called 'Inner Child')
Facilitates the connection between inner and outer worlds, creating a bridge between self and others. Assists previously inaccessible solutions come to light. Helpful in improving teaching skills and group cohesion.
SMOKEY QUARTZ
A grounding and calming stone that elevates moods and dissipates negative emotions. "A Stone of Serenity", it is comforting and protective for one's aura. Smokey Quartz is thought to assist in creative endeavours and also in setting personal boundaries. Offers EMF protection. A good healing stone for improving general feeling of well-being.
Recently Viewed