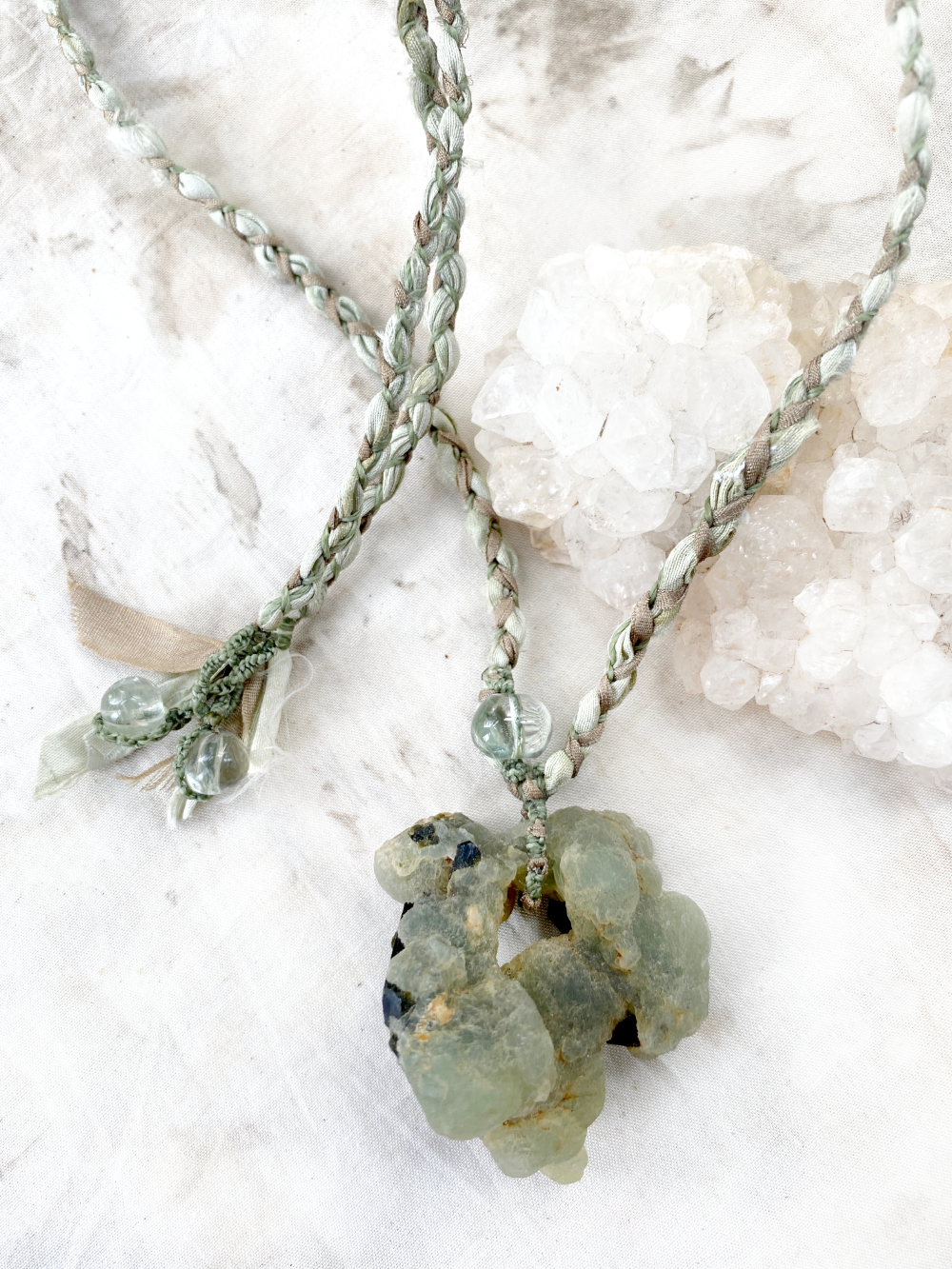 Prehnite crystal healing talisman
DESCRIPTION
Crystal healing talisman with a highly unusual, rare-to-find specimen of Prehnite that's also a hagstone, i.e. it has a natural hole through, and it also has some Epidote inclusions. The Prehnite pebble attaches to a necklace braid of pale green recycled sari silk, combined with taupe shade silk embroidery ribbon ribbon and light green micro-macrame cord. There are three highlighting crystals of pale green Prasiolite, one right above the Prehnite and the other two adorning the ends of the necklace braids. The long braid ends are left open so you can tie the talisman to hang at any desired level.
The Prehnite is approx. 4 cm (1.6") at its tallest and widest, although its organic shape is not easily measured.
There are no metals in this necklace so would be particularly suitable for those with metal sensitivities / metal allergy, energy workers and those who simply prefer not to wear metal.
You'll receive this crystal healing necklace in one of Spirit Carrier handmade fabric draw-string pouches - great for the safe-keeping of the necklace. Gift-wrapped at no extra charge.

Read here how to take care of your crystal jewellery.

*Ships from England, UK*
CRYSTAL PROPERTIES
PREHNITE
Protective on all levels, strengthening one's life force. Fosters a sense of trust in the Universe and helps you protect your boundaries so it's easier to say "no" when needed. Stimulates inner knowing of oneself and guides in fulfilling one's potential. Helps to let go of unpleasant memories. Enhances spiritual "knowing". Revitalising and said to bring inner peace. Also said to be "a healer's healer".

EPIDOTE IN PREHNITE: Epidote within the Prehnite is an energy enhancer, so it gives an extra boost to the crystal's energy. It encourages you to approach life with a positive outlook, clearing emotional residue and confusion from the heart chakra. Epidote is also considered a magnet for prosperity and great for physical recovery.
PRASIOLITE
Heart healer stone connecting with your divinity and grace. Brings stability to matters of the heart. Encourages healthy self-confidence, transmuting discordant energies to pure higher frequencies of love and compassion. Attracts success, abundance and prosperity through heart-centred actions.
Recently Viewed