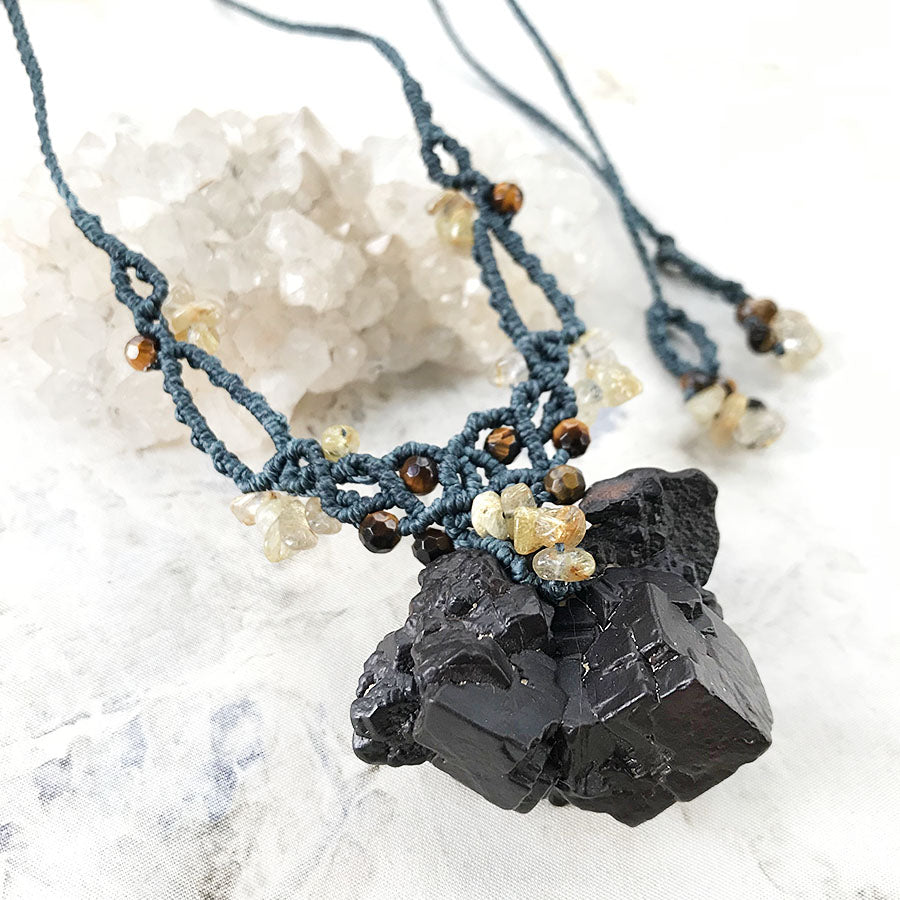 Prophecy Stone crystal healing amulet
DESCRIPTION
This unusual stone is a raw, natural, un-drilled Prophecy Stone from Sahara desert which attaches to the necklace cord through its own natural hole (making this one also a hagstone!) It has a very sculptural shape and powerful vibe. (Pseudomorphs of hematite, limonite and goethite after marcasite tend to be called Prophecy Stones yet there's a subtle energetic feel that seems to differ this one from similar looking stones that are referred to as 'Z Stones'.) The
The necklace is intricately knotted with muted petrol blue micro-macrame cord which is strong and durable, yet soft to wear. The highlighting crystals are Tiger Eye and Gold Rutile Quartz. Matching crystals also adorn the ends of the adjustable necklace cords.
The length of the necklace is adjustable from very short down to solar plexus level. The Prophecy Stone is just over 3 cm (1.2") tall and just under 5 cm (2") at its widest.
You'll receive this crystal healing necklace in one of my fabric draw-string pouches, great for the safe-keeping of the necklace. Gift-wrapped at no extra charge.

Read here how to take care of your crystal jewellery.
CRYSTAL PROPERTIES
PROPHECY STONE
Brown and black stones are usually grounding - but not Prophecy Stone! It works directly with the Crown chakra and the Third Eye chakra. Called "the healing stone of the future and eternity". Offers assistance in making the most beneficial choices on your life path. Powerful meditation stone, it is quite unlike any other crystal you'll ever come across. In stone lore, it is said that Prophecy stones choose their keeper way before the physical connection is made, and that the stone does not 'open' to give its wisdom but to their chosen keeper.
GOLD RUTILE QUARTZ
A master assistant in self-discovery, a companion in finding one's inner truth, purpose and destiny. Joyful and energising. Thought to offer protection against psychic attacks and helps in opening up to one's Divine strength. Assists in activating one's creativity and manifesting dreams into reality.
TIGER EYE
Helpful stone for learning to feel connected to one's personal strength. Excellent stone for attracting prosperity. But it has also a highly spiritual energy and is useful in understanding any life cycle that one is living through. Helps in seeing through illusions and discerning the truth in any situation. A highly protective stone. Good for strengthening the solar plexus (3rd) chakra and developing one's will power and courage.
Recently Viewed