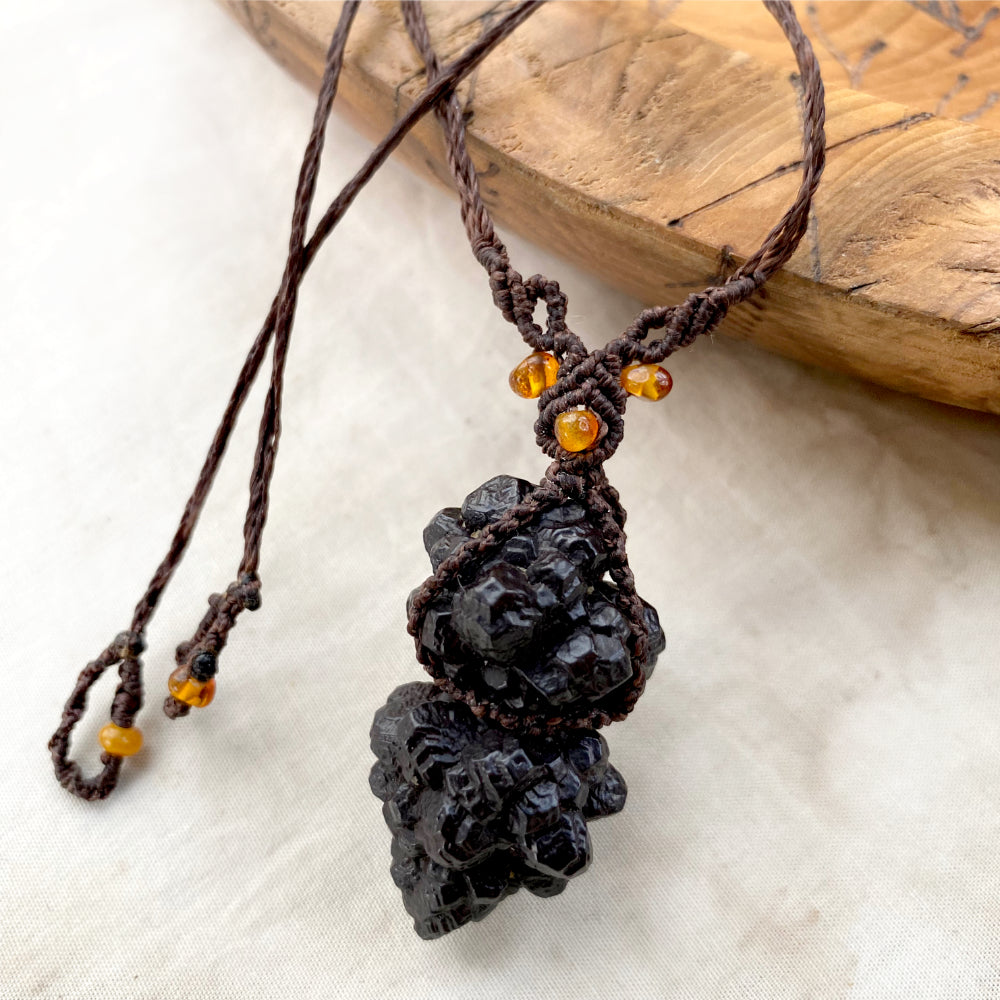 Prophecy Stone crystal healing amulet
DESCRIPTION
This unusual stone is a raw, natural, un-drilled Prophecy Stone from Egypt's white desert. This dark brown treasure has an earthy, mysterious feel - very sculptural too. The necklace is wrapped and minimally knotted with dark brown micro-macrame cord which is strong and durable, yet soft to wear. The small accent details are Baltic Amber.
The length of the necklace is adjustable from very short down to solar plexus level. The Prophecy Stone is approx. 4 cm (1.6") tall and 2 cm (0.8") at its widest.
You'll receive this crystal healing necklace in one of Spirit Carrier's fabric draw-string pouches, great for the safe-keeping of the necklace. Gift-wrapped at no extra charge.

Read here how to take care of your crystal jewellery.
CRYSTAL PROPERTIES
PROPHECY STONE
Brown and black stones are usually grounding - but not a Prophecy Stone! It works directly with the Crown chakra and the Third Eye chakra. Called "the healing stone of the future and eternity". Powerful meditation stone, it is quite unlike any other crystal you'll ever come across. In stone lore, it is said that Prophecy stones choose their keeper way before the physical connection is made, and that the stone does not 'open' to give its wisdom but to their chosen keeper.

(Prophecy Stones from Egypt's White Desert are pseudomorphs of Hematite/Limonite/Goethite after Marcasite/Pyrite. If you look closely, you can see the original crystalline structure of the Marcasite. A pseudomorph is a mineral that appears in a form other than its own crystalline structure, having totally replaced another, but the appearance and shape of the original mineral is retained.)

AMBER
Amber is like sunshine solidified, offering a wonderful sense of health and wellbeing. Transmutes negative energies into positive, excellent for psychic protection. Cheers you up and helps you take action to make your ideas reality - ideal manifestation aid. Cleansing effect on the body, mind and spirit, promoting self-confidence and creative self-expression. Encourages spontaneity, patience and inner wisdom.
Recently Viewed