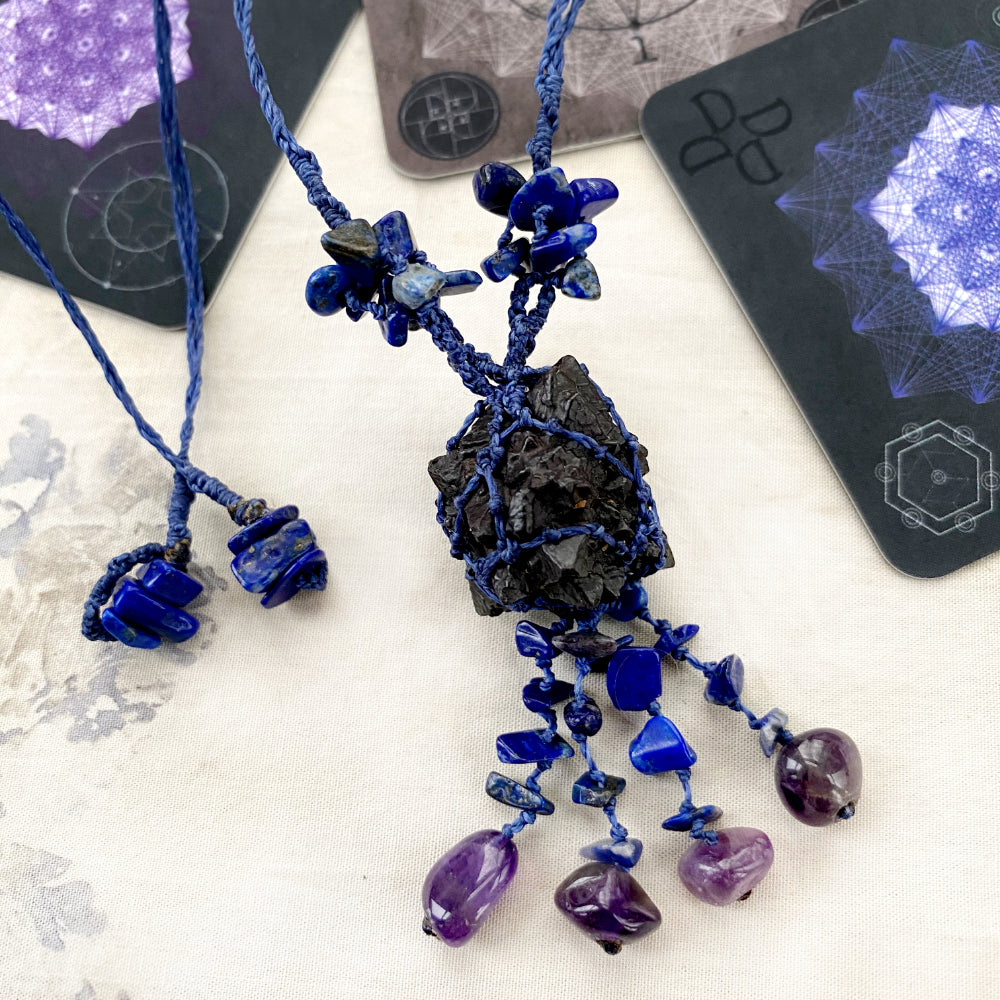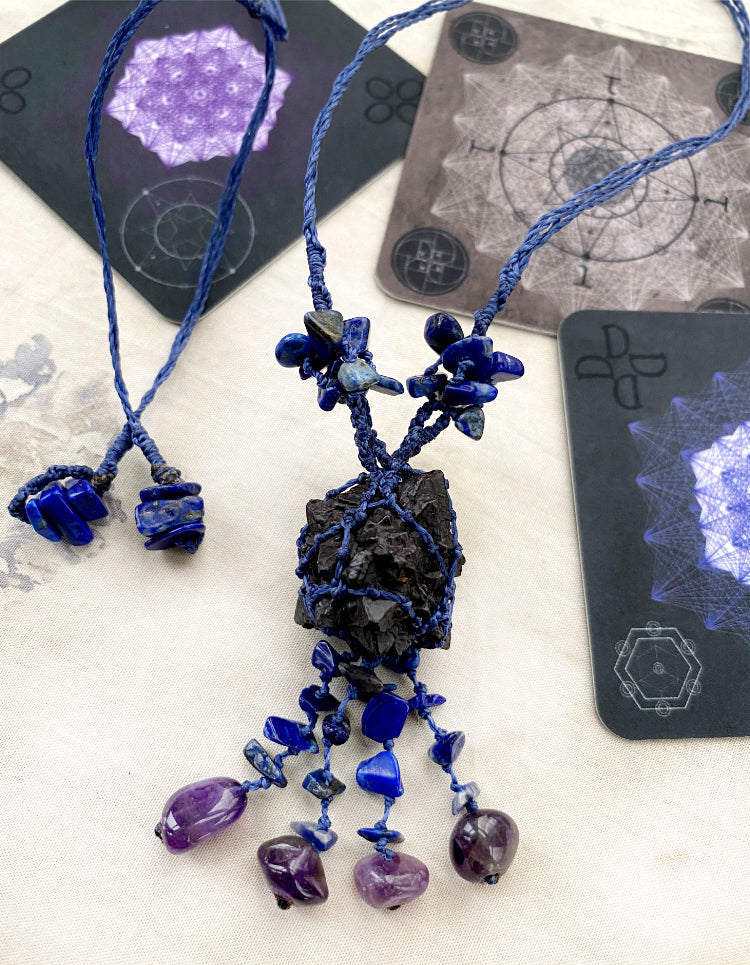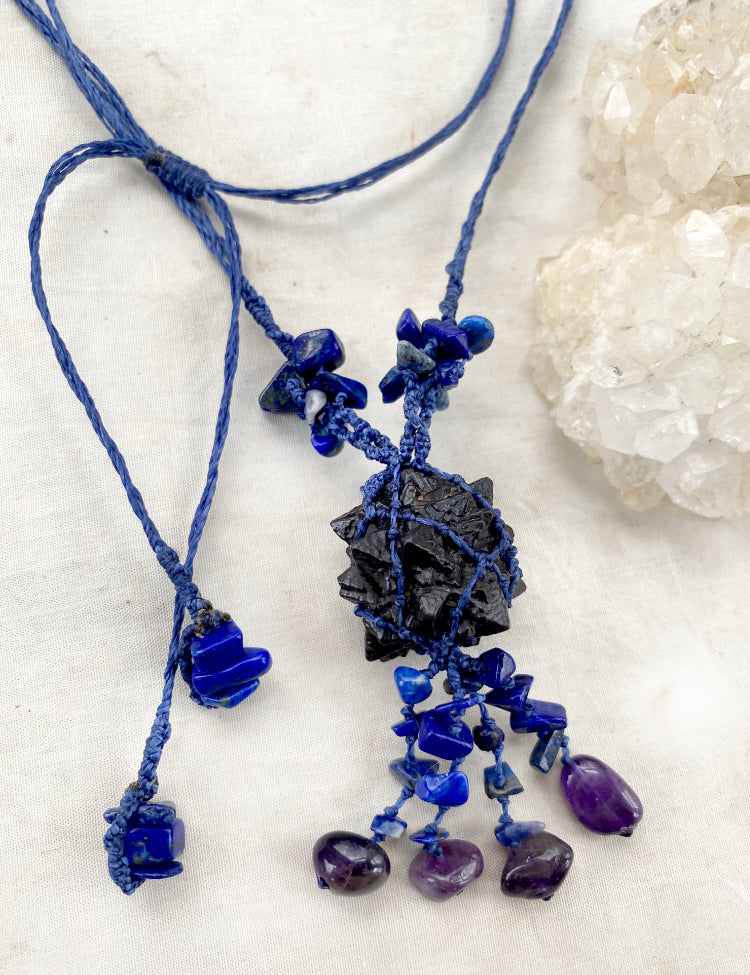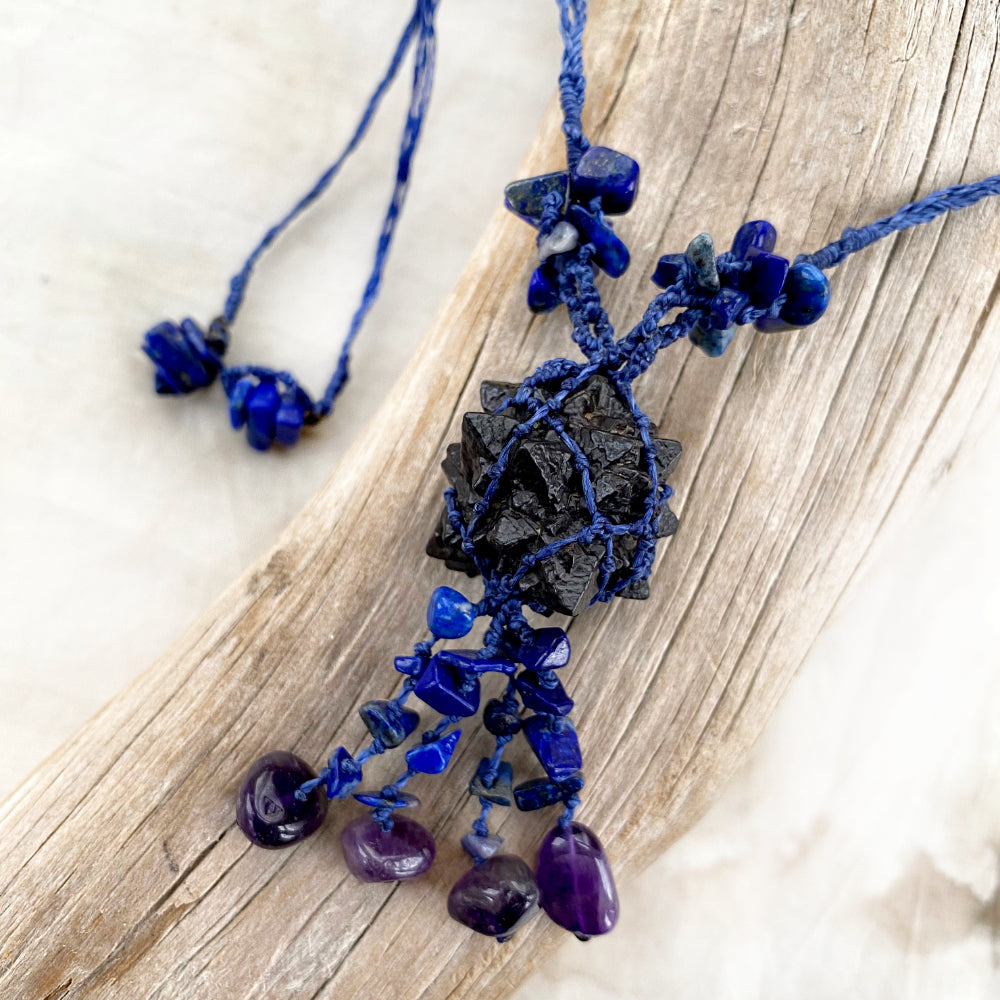 Prophecy Stone crystal healing amulet
DESCRIPTION
This unusual stone is a raw, natural, un-drilled Prophecy Stone from Egypt's white desert. This dark brown treasure has an earthy, mysterious feel - very sculptural too. This organically round pebble is knotted with midnight blue micro-macrame cord and includes a tassels of Lapis Lazuli and Amethyst crystals hanging down from its base. The necklace is loosely braided micro-macrame cord, which is strong and durable, yet soft to wear.
The length of the necklace is adjustable from very short down to solar plexus level. The Prophecy Stone is just over 2 cm (0.8") in diameter and the tassel underneath is approx. 2.5 cm (1") long.
You'll receive this crystal healing necklace in one of Spirit Carrier's fabric draw-string pouches, great for the safe-keeping of the necklace. Gift-wrapped at no extra charge.

Read here how to take care of your crystal jewellery.
CRYSTAL PROPERTIES
PROPHECY STONE
Brown and black stones are usually grounding - but not a Prophecy Stone! It works directly with the Crown chakra and the Third Eye chakra. Called "the healing stone of the future and eternity". Powerful meditation stone, it is quite unlike any other crystal you'll ever come across. In stone lore, it is said that Prophecy stones choose their keeper way before the physical connection is made, and that the stone does not 'open' to give its wisdom but to their chosen keeper.
(A pseudomorph of hematite/limonite after marcasite. If you look closely, you can see the original crystalline structure of the marcasite. A pseudomorph is a mineral that appears in a form other than its own crystalline structure, having totally replaced another, but the appearance and shape of the original mineral is retained - like a mold.)
LAPIS LAZULI
Creativity super charger stone. Ignites new ideas and encourages different creative ways of thinking. Stone of truthfulness, openness, inner power, intuition and manifestation. Thought to increase self-confidence as well as to promote spiritual healing, mental calmness and strength of will. Powerful tool for dream work. Historically a stone of royalty.
AMETHYST
Instils inner peace, promotes self-discovery and aids in relaxation. Associated with the crown chakra, known as a "stone of balance" and positive transformation. Thought to increase spiritual awareness and psychic abilities, initiating higher knowing and greater understanding. Helps in assimilating new ideas and manifesting thoughts into action. Symbolises a connection to the Divine. A well-known support stone for those wanting to break old patterns to create a new, harmonious life.
Recently Viewed