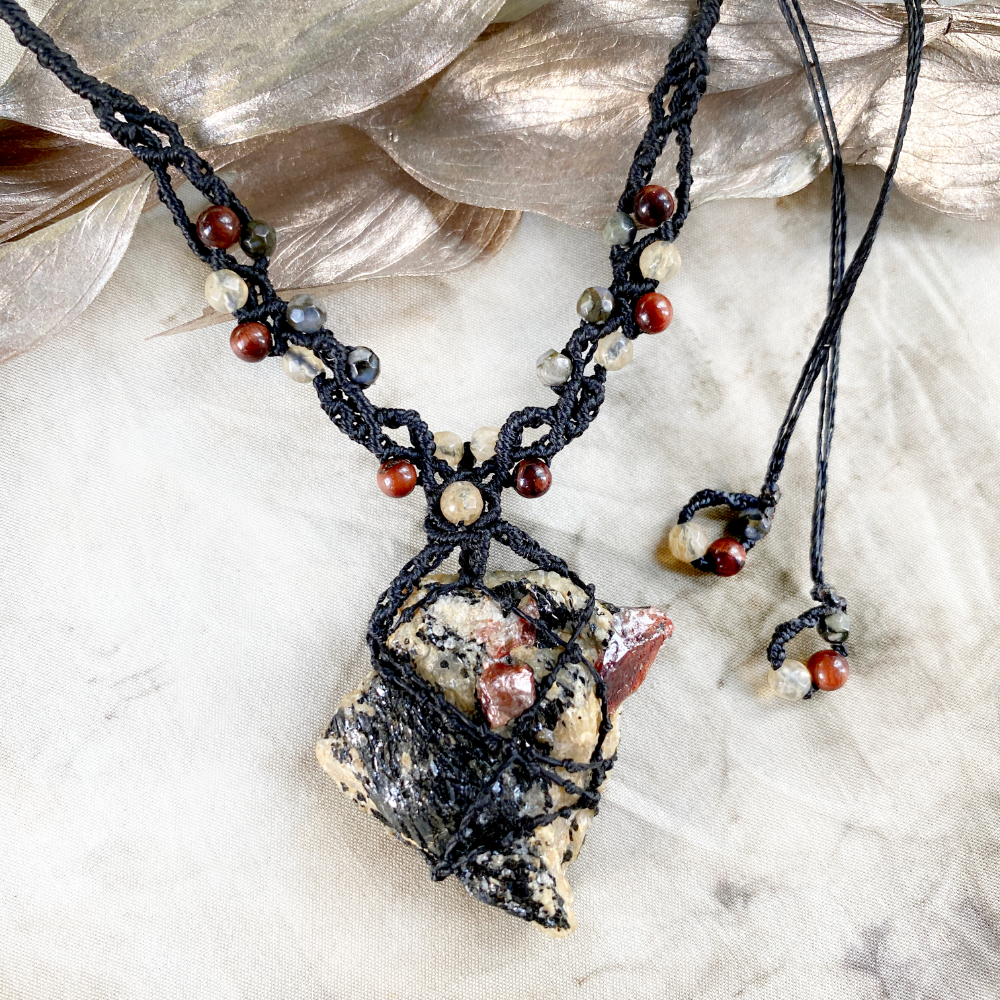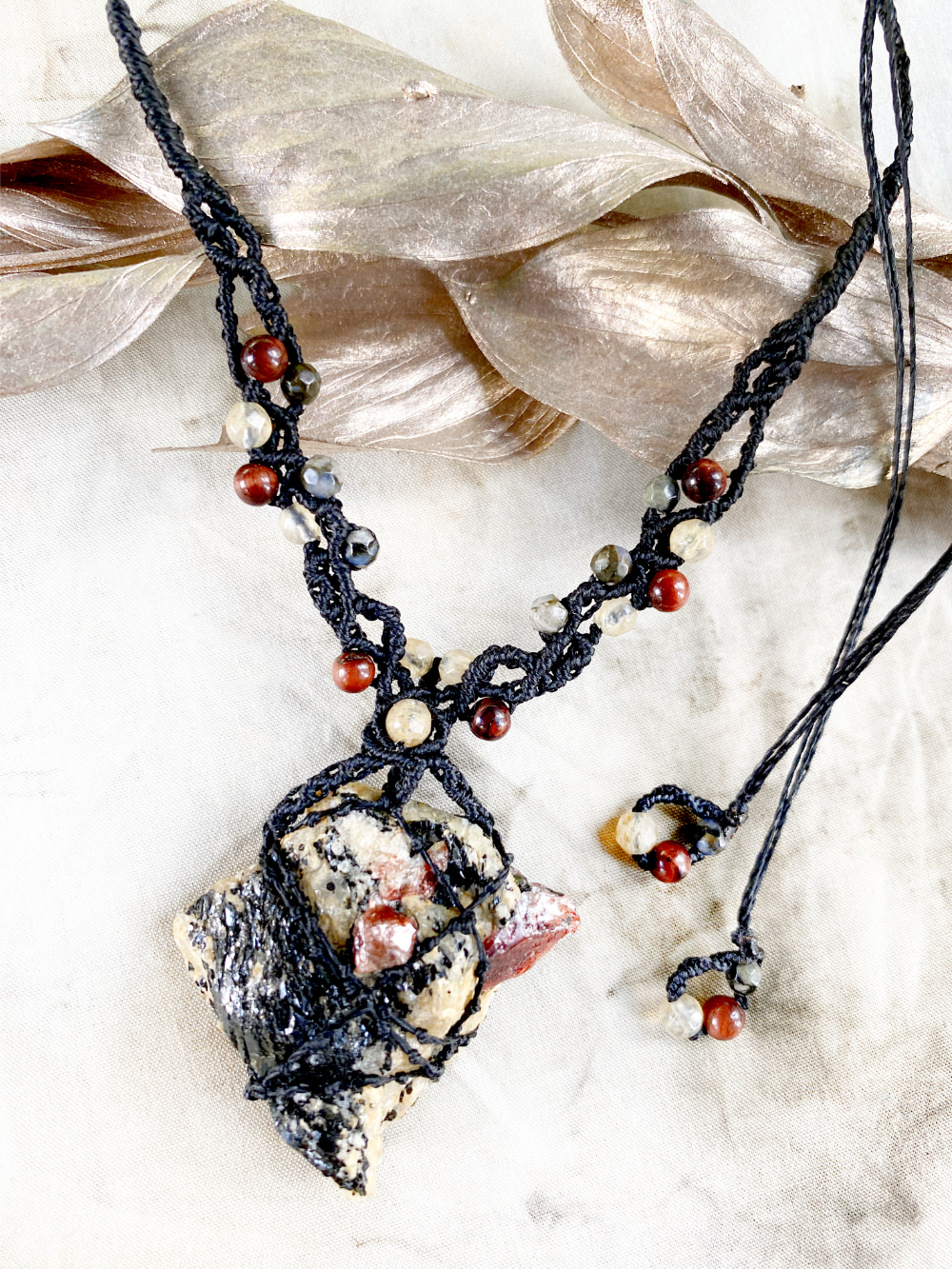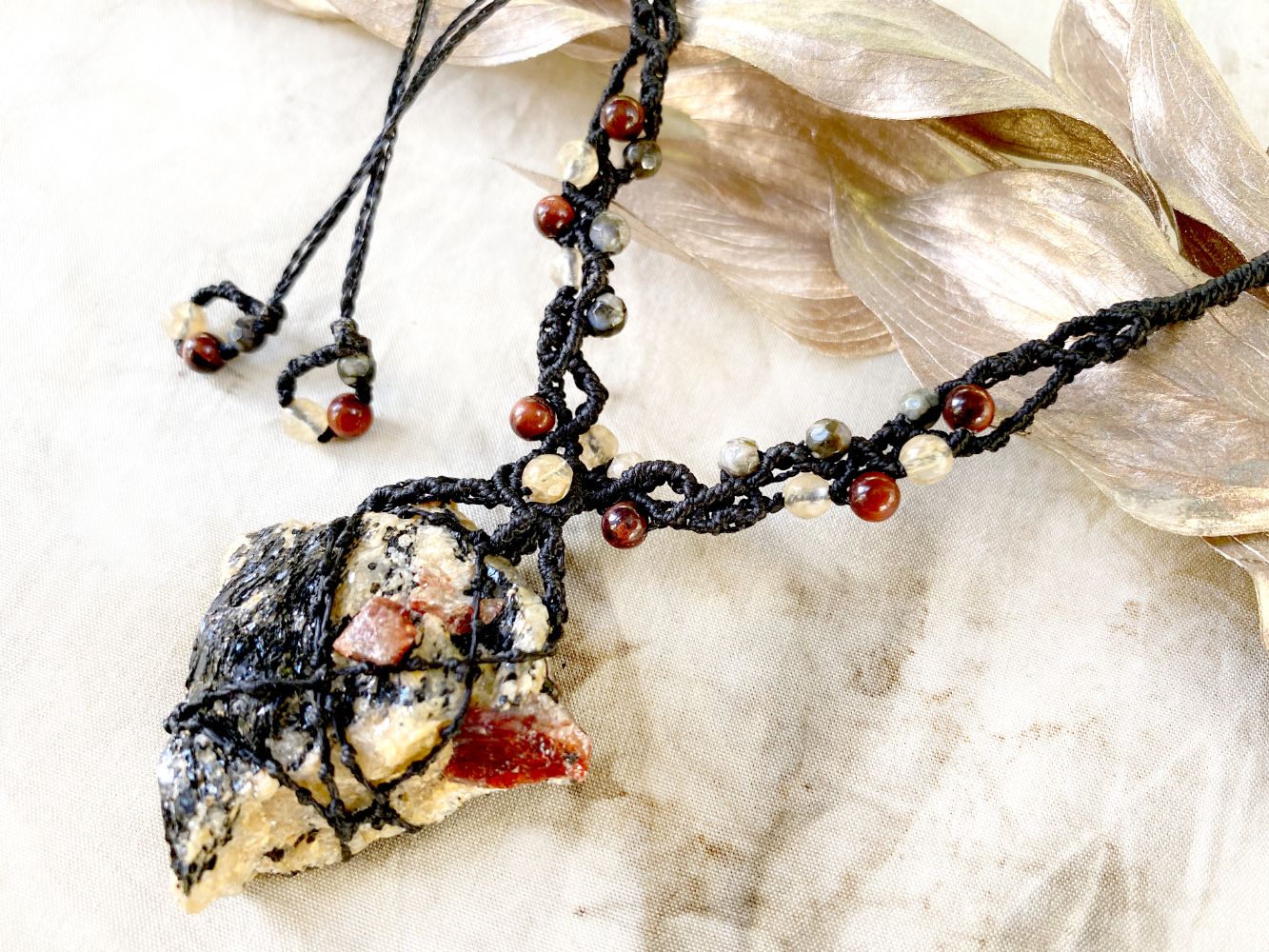 'Protected Path' ~ crystal healing amulet
DESCRIPTION
Crystal healing necklace with rare natural specimen of Black Tourmaline and Hessonite Garnet on Microcline, raw and un-drilled. The necklace is knotted with black micro-macrame cord, which is strong and durable, yet soft and comfortable to wear. The intricate knotting is highlighted with small faceted Citrine, Red Tiger Eye and Rhyolite crystals.
The length of the necklace is adjustable from very short down to just above heart level. The pendant crystal is approx. 4 cm (1.6") tall and 4 cm (1.6") at its widest.
There are no metals in this necklace so would be particularly suitable for those with metal sensitivities, energy workers and those who simply prefer not to wear metal.
You'll receive this crystal healing necklace in one of Spirit Carrier's fabric draw-string pouches, great for the safe-keeping of the necklace. Gift-wrapped at no extra charge.

Read here how to take care of your crystal jewellery.
CRYSTAL PROPERTIES
BLACK TOURMALINE (aka Schorl)
One of the most well-known protective stones, shielding its user from negativity. A shamanic stone used for grounding during vision quests. Empowering for those who work in challenging environments. Purifies and transforms denser energies into lighter vibrations and is also detoxifying for the body. If you're sensitive to electromagnetic smog, you may get relief by wearing black Tourmaline.
MICROCLINE
Promotes clarity of thought. Supports self-expression and creative pursuits. Increases self-respect and self-assuredness, encouraging you to embrace your unique path in life. Reduces self-damaging behaviours and helps in dispersing negative energy in the surrounding space. Also represents prosperity and assists in bringing in new business.
HESSONITE GARNET
Considered to attract success and wealth. Brings clarity of mind, dispelling confusion. Helps to lighten emotional loads and aids making confident decisions. Supports the inner fortitude to face life's challenges, cultivating the right frame of mind. Helps in spotting new opportunities on your path and developing a clear vision of how to benefit from them.
RED TIGER EYE
Helps to find motivation and to feel inspired in all aspects of life. Instils harmony into situations and brings confidence to deal with any task or person graciously from a place of your inner wisdom. Encourages you to tap into all the skills that allow you to prosper and flourish. Promotes self-care. Stone of integrity, helping you to be your own champion.

CITRINE
Affects a powerful alignment with the higher self. Balances the emotions and helps in uplifting one's mood to be more sunny and cheerful. Brings clarity of thought, and attracts abundance and prosperity through joy. Powerful transformer in healing work. Increases self-confidence and optimism, cleanses the surrounding energies and promotes creative thinking. Releases, dissipates and transforms denser energies on all levels, mental, emotional and physical. Works to release limitations and blockages particularly around the sacral / solar plexus area.
RHYOLITE
Balancing stone on all levels, alleviating anxiety and worries. Builds emotional strength in view of fulfilling ones dreams and goals. Shifts energy towards moving forward, assists in visualising desired change. Ignites creativity, helping to make things happen in one's life and to tap into one's innate abilities. Also thought to help its keeper to look and feel younger!
Recently Viewed