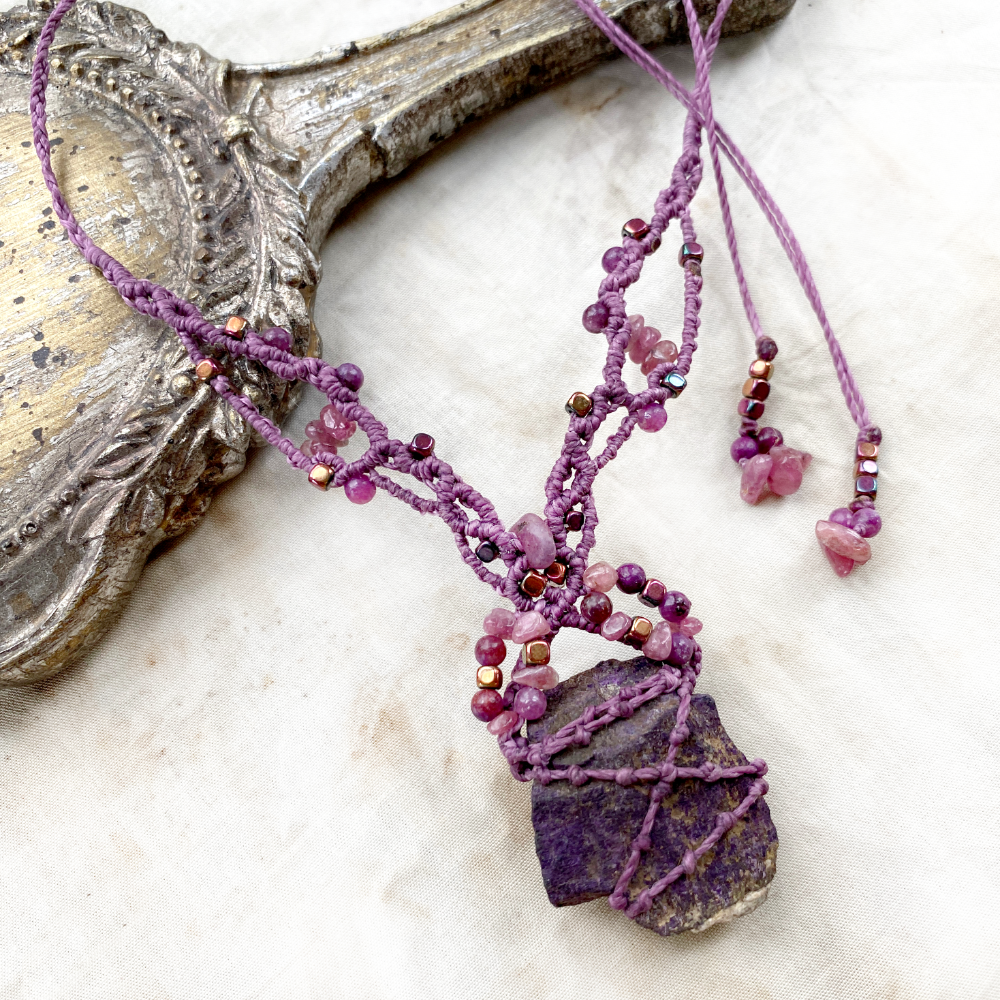 Purpurite crystal healing amulet
DESCRIPTION
Crystal healing necklace with raw, un-drilled Purpurite. The necklace is intricately knotted in a lace-like pattern with dark pink micro-macrame cord. The knotting is highlighted with Ruby, Hematite, Lepidolite and Rubellite (pink Tourmaline) crystals.
The necklace length is adjustable from as short as you wish down to just above the solar plexus level. The Purpurite measures just over 3 cm (1.2") tall and just over 2.5 cm (1") at its widest.
You'll receive this crystal healing necklace in one of Spirit Carrier's handmade fabric draw-string pouches - great for the safe-keeping of the necklace. Gift-wrapped at no extra charge.

Read here how to take care of your crystal jewellery.
CRYSTAL PROPERTIES
PURPURITE
Stone of freedom and insight. Assists with letting go of self-imposed limitations, self-destructive patterns and stuckness. Encourages you to freely and confidently speak your mind when needed. Helps in feeling comfortable with uncertainty and to approach the future with a sense of curiosity instead of dread. Vitalising stone for releasing listlessness and despondency so you can take a more proactive role in life. Powerful ascension tool for raising consciousness and strengthening intuition and inner visions.
RUBY
Increases vitality and one's life-force energy, very energising, excellent for women. Promotes clear mind, motivation and concentration. Associated with love, passionate commitment and heart-based closeness, offering help in shedding past hurts. Encourages you to 'follow your bliss' and have courageous attitude. Supports closeness and commitment. Shielding crystal to keep your energy field in your own command.

LEPIDOLITE
An open, inviting stone, offering its gentle love readily when you just hold it in your hand. Useful in reducing depression and stress, it can assist in moving calmly through life transitions. In crystal healing practice, Lepidolite has been used to ease emotional traumas, panic attacks and addictions. Lepidolite is said to help you to nurture yourself and be optimistic, and to clear out ties to the past, assisting you in moving freely forward in joy and happiness.
RUBELLITE (aka Pink Tourmaline)
Considered a rare, valuable crystal, Rubellite (pink Tourmaline) stimulates the heart chakra and life-force energy. A stone of quiet authority, instilling peaceful vibes in the midst of disputes. Harmonises one's feminine energies and has a nurturing energy. Helps in overcoming fears of lack and supports those who might not feel like belonging in this world to find joy of life.
HEMATITE
Creates a strong sense of self and enhances the creative flow. Relieves stress. Revitalises, enhancing personal magnetism and optimism. Helps in releasing self-imposed limitations to find your own unique gifts. A stone of balance and equilibrium. Grounds when feeling scattered, allows one to maintain a natural alertness while remaining calm.
Recently Viewed