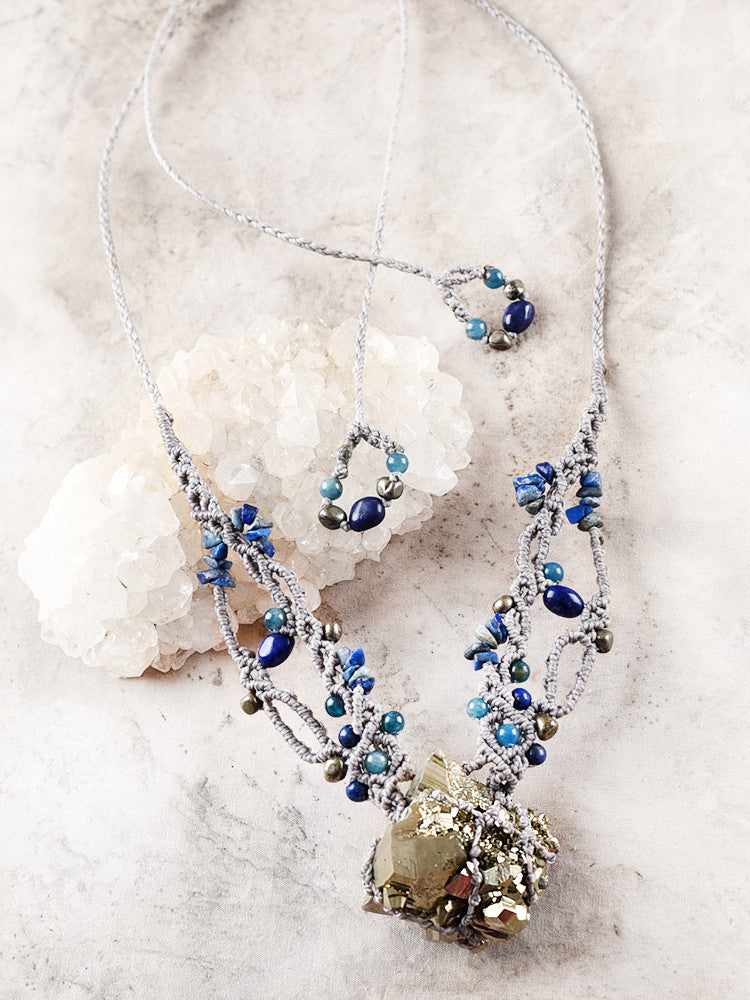 Pyrite crystal healing amulet
DESCRIPTION
Crystal amulet with raw, natural Pyrite. This is an un-drilled stone, knotted and braided with grey micro-macrame cord. The intricate, lace-like knotting is highlighted with Lapis Lazuli, Apatite and small Pyrite crystals. There's a stylish, metallic shimmer to this amulet, when the light touches the cubic surfaces of the Pyrite. This crystal energy amulet would be equally perfect to wear with a little black party dress or simply to add some unexpected sparkle to every day casual wear.
The length of the necklace is adjustable from very short down to just above solar plexus level. The Pyrite is approx. 3.5 cm (1.4") tall, 3 cm (1.2") at its widest and 2.5 cm (1") thick. The ends of the adjustable necklace cords are decorated with the same small matching crystals that adorn the main knotting.
You'll receive this one-of-a-kind crystal healing necklace in one of my fabric draw-string pouches, great for the safe-keeping of the necklace. Gift-wrapped at no extra charge.

Prior to leaving Spirit Carrier studio, all crystals are energy cleansed, balanced and activated for the highest good of their new keeper. 
Read here about how to take care of your natural crystal jewellery.
CRYSTAL PROPERTIES
PYRITE
Taps into your innate abilities, bringing confidence and perseverance to aim for your goals. A shielding stone that helps you see the truth in the motives of others. Increases vitality and enhances your assertive qualities. Helpful in turning melancholy into feeling empowered and more light-hearted. Helps in letting go thoughts of misfortune and worry, thus making it an excellent stone for manifesting abundance. Symbolises the warmth and presence of sun, attracting also abundance of love, friendship and success.
LAPIS LAZULI
Creativity super charger stone. Ignites new ideas and encourages different creative ways of thinking. Stone of truthfulness, openness, inner power, intuition and manifestation. Thought to increase self-confidence as well as to promote spiritual healing, mental calmness and strength of will. Powerful tool for dream work. Historically a stone of royalty.
APATITE
Enhances one's insight and imagination, and gives increased self-confidence. Blue Apatite connects to high level of spiritual guidance and is helpful in letting go of anything that no longer serves your highest good. Apatite crystal is also said to be a good aid in curbing one's appetite!
Recently Viewed