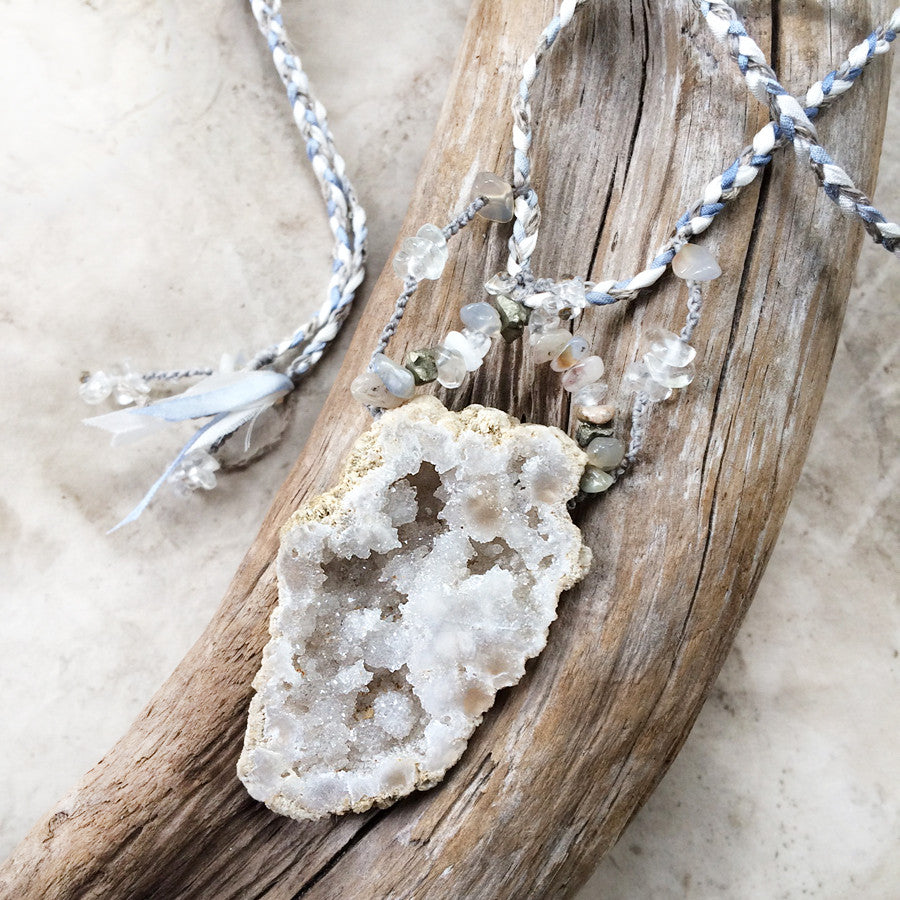 Quartz geode crystal healing amulet in soft silk & cotton braid
DESCRIPTION
Healing stone talisman with natural Quartz geode. The geode attaches to a necklace braid of white and pale blue pure silk, unbleached linen and grey micro-macrame cord. Highlighted with small gemstones of blue Calcite, Smokey Quartz, clear Quartz, Tourmaline and Pyrite. The long braid ends are decorated with clear Quartz and Tourmaline, and are left open so you can tie the amulet to hang at any desired level.
The Quartz geode is approx. 6 cm (2.4") tall and 3.5 cm (1.4") wide in the middle.
You'll receive this crystal healing necklace in one of my handmade fabric draw-string pouches - great for the safe-keeping of the necklace. Gift-wrapped at no extra charge.
CRYSTAL PROPERTIES
GEODE
The tiny Quartz points inside the geode like sugar-frosted coating, create a powerful all-round healing vibe. Helpful in endeavours that require creativity and imagination. Good for family harmony, and anything to do with the reproductive systems. Where placed, stimulate the flow of chi (life energy). Geodes represent the divine feminine aspect. Strengthening, purifying and protective for the aura.
QUARTZ
The universal master crystal that has a harmonising effect on all levels of being. Programmable by intention, so can be used for versatile purposes. Quartz can clear, enhance, amplify, transmute, balance, focus and transmit energy. Raises one's energetic vibration. Attunes its keeper to their higher self. Known as the "Stone of Power" and "Master Healer".
Recently Viewed