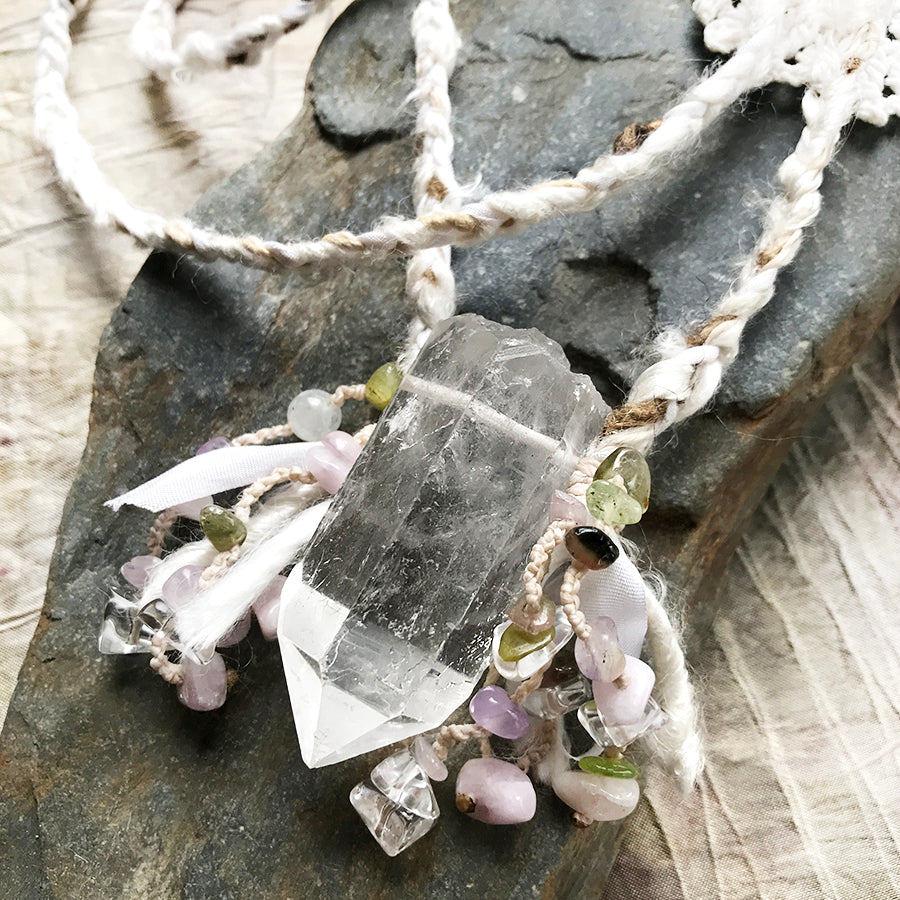 Quartz point crystal healing talisman
DESCRIPTION
Natural, raw clear Quartz point in soft silk braid necklace. The braid consists of soft banana silk yarn, combined with peace silk yarn ('peace silk' is a name of silk made by ethical process where no silk worms were harmed) and natural white micro-macrame cord. The talisman is highlighted with further clear Quartz crystals, small Kunzite, Rainbow Moonstone, Verdelite and Amethyst crystals adorning both sides of the main Quartz point. 
The necklace braid is set length, allowing the Quartz point to hang down approx. 38 cm (15") measured from the back of the neck to the top edge of the Candle Quartz. The all-around length of the necklace braid is approx. 77 cm (30.3").
The Quartz point is just over 5 cm (2") tall, approx. 2.5 cm (1") wide, and just over 2 cm (0.8") thick.
There are no metals in this necklace so would be particularly suitable for those with metal sensitivities / metal allergy, energy workers and those who simply prefer not to wear metal.
You'll receive this crystal healing necklace in one of my handmade fabric draw-string pouches - great for the safe-keeping of the necklace. Gift-wrapped at no extra charge.

Read here how to take care of your crystal jewellery.
CRYSTAL PROPERTIES
CLEAR QUARTZ
The universal master crystal that has a harmonising effect on all levels of being. Programmable by intention, so can be used for versatile purposes. Quartz can clear, enhance, amplify, transmute, balance, focus and transmit energy. Raises one's energetic vibration. Brings clarity and filters out distractions. A deep soul cleanser, attuning its keeper to their higher self. Each Quartz crystal is unique with its own character and teachings it offers, all are known as "Stones of Power" and "Master Healers".
KUNZITE
Stone of emotion, connecting heart and mind for optimum healing. Beneficial for those who find it hard to adjust to life on the earth plane. Helps in overcoming heartache and loss. Soothing in discordant situations and protective against harm. Good for those who wish to open up to life more to receive its gifts and opportunities. Assists in connecting with others and to embrace unconditional love.
VERDELITE (aka Green Tourmaline)
Connects to the energy of compassion, opening up pathways to self-healing and letting go of old heart wounds. Helpful in implementing new projects with the aim of bringing your true desires to fruition. Balancing and rejuvenating, attracting luck and prosperity.
RAINBOW MOONSTONE
Calming and soothing with protective qualities. Assists in finding one's true path in life and embrace one's innate gifts. Helps in providing insights and sheds light into unclear issues. Thought to facilitate communication with spiritual and physical world, and to bring out psychic abilities. Intensifies one's feminine 'Goddess' energy, assisting women to embrace their innate personal strength.
AMETHYST
Instils inner peace, promotes self-discovery and aids in relaxation. Associated with the crown chakra, known as a "stone of balance" and positive transformation. Thought to increase spiritual awareness and psychic abilities, initiating higher knowing and greater understanding. Helps in assimilating new ideas and manifesting thoughts into action. Symbolises a connection to the Divine. A well-known support stone for those wanting to break old patterns to create a new, harmonious life.
Recently Viewed