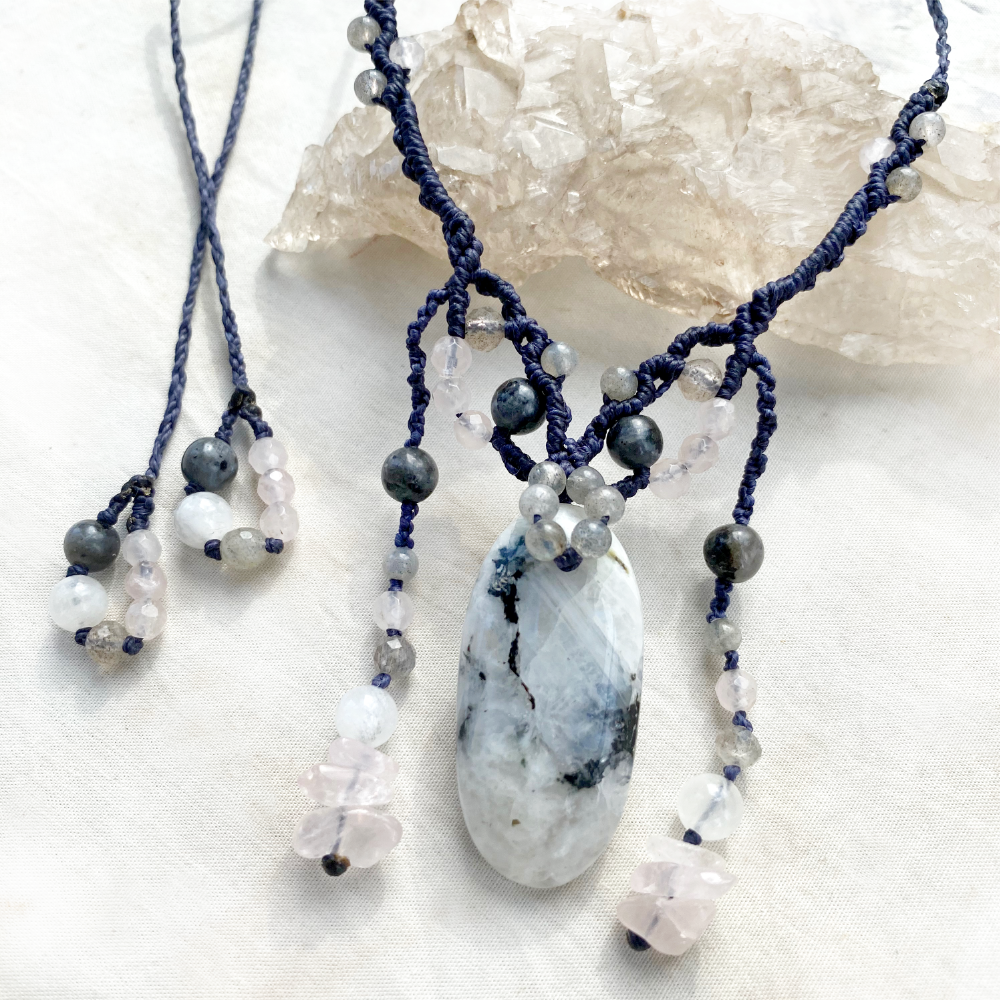 Rainbow Moonstone crystal healing amulet
DESCRIPTION
Beautiful smooth oval-shaped Rainbow Moonstone cabochon with distinct natural patterning and showing a colourful flash on its surface when turned to light in the correct angle. The necklace is intricately knotted with midnight blue micro-macrame cord, strong and durable but soft and comfortable to wear. The amulet is highlighted with Larvikite, Labradorite and Rose Quartz crystals. There's a knotted strand dangling on both sides of the main stone, featuring matching crystals. 
The length of the necklace is adjustable from very short down to just above heart level. The Rainbow Moonstone cabochon is just over 3.5 cm (1.4") tall and the knotted strands on both sides extend down approx. 6.5 cm (2.6")
There are no metals in this necklace so would be particularly suitable for those with metal sensitivities / metal allergy, energy workers and those who simply prefer not to wear metal jewellery.
You'll receive this crystal healing necklace in one of Spirit Carrier's fabric draw-string pouches, great for the safe-keeping of the necklace. Gift-wrapped at no extra charge.

Read here how to take care of your crystal jewellery.
CRYSTAL PROPERTIES
RAINBOW MOONSTONE (also called White Labradorite)
Calming and soothing with protective qualities. Assists in finding one's true path in life and embrace one's innate gifts. Helps in providing insights and sheds light into unclear issues. Thought to facilitate communication with spiritual and physical world, and to bring out psychic abilities. Intensifies one's feminine 'Goddess' energy, assisting women to embrace their innate personal strength.
NORWEGIAN MOONSTONE (aka Black Labradorite, Larvikite)
Repels negative energy and can make you more adaptable to life's situations. It also stimulates inner visions so it's very suited to meditation. Black Labradorite is also said to connect with nature spirits. On physical level, it is said to be good for renewing and maintaining vitality and youthfulness.
LABRADORITE
One of the most powerful, versatile crystal tools for healing. Creates an auric shield and strengthens your innate energy and life force, preventing energy leakages. Enhances intuitive abilities and assists in spiritual transformation. Helps the wearer align with their highest destiny and discover their inner worth. Strengthens willpower and brings in new ideas. Often referred to as the 'Stone of Destiny', believed to help you to find your true path in life, and as 'Temple of the Stars', anchoring higher dimensional light into your being.
ROSE QUARTZ
Powerful love stone, love that is all-encompassing and unconditional. Awakens one's heart to its own innate love, compassion and acceptance. Vibrates its loving energy to all chakras, offering gentle healing. Soothing and calming. Dissolves anger and resentment. Good for raising one's self-esteem and feelings of self-worth. Balances emotions and is said to support all types of healing. Guides one's life path towards a sense of personal fulfilment and contentment.
Recently Viewed