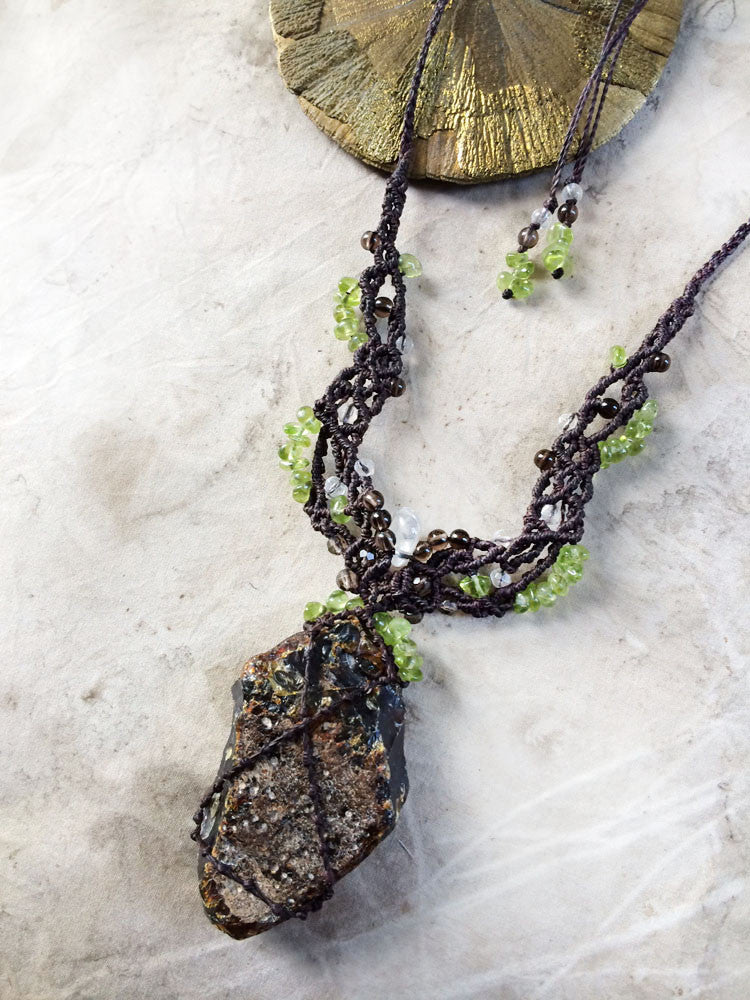 Raw Amber talisman necklace with Peridot, Smokey Quartz & clear Quartz
DESCRIPTION
Raw Amber crystal healing necklace, highlighted with Peridot, Smokey Quartz and clear Quartz crystals. The necklace is intricately braided with dark brown micro-macrame cord in a lace-like pattern. Whilst the Amber is rough and un-polished, when the light touches it from the right angle, there's a fiery orange glow on the side and at its tip.
The length of the necklace is adjustable from very short down to solar plexus level. The Amber is quite large at 6.5 cm (2.55") tall but Amber is very light-weight by nature so this is not a heavy piece to wear. It's just over 3.5 cm (1.4") wide in the middle and approx. 1 cm (0.4") thick.
There are no metals in this necklace so would be particularly suitable for those with metal sensitivities, energy workers and those who simply prefer not to wear metal.
You'll receive this crystal healing necklace in one of my fabric draw-string pouches, great for the safe-keeping of the necklace. Gift-wrapped at no extra charge.
CRYSTAL PROPERTIES
AMBER
Amber is like liquid sunshine, offering a wonderful sense of health and wellbeing. Transmutes negative energies into positive, excellent for psychic protection. Cheers you up and helps you take action to make your ideas reality - ideal manifestation aid. Cleansing effect on the body, mind and spirit, promoting self-confidence and creative self-expression. Encourages spontaneity, patience and inner wisdom.
PERIDOT
Upbeat and comforting, Peridot reduces stress and amplifies intuitive awareness. Sooths hurt feelings, supporting renewal and personal growth. Brings in-depth heart based awareness, extending from healing to understanding and offering protection against negative emotions. Known also as the stone of prosperity and happiness.
SMOKEY QUARTZ
A grounding and calming stone that elevates moods and dissipates negative emotions. "A Stone of Serenity", it is comforting and protective for one's aura. Smokey Quartz is thought to assist in creative endeavours and also in setting personal boundaries. Offers EMF protection. A good healing stone for improving general feeling of well-being.
CLEAR QUARTZ
The universal master crystal that has a harmonising effect on all levels of being. Programmable by intention, so can be used for versatile purposes. Quartz can clear, enhance, amplify, transmute, balance, focus and transmit energy. Raises one's energetic vibration. Attunes its keeper to their higher self. Known as the "Stone of Power" and "Master Healer".
Recently Viewed