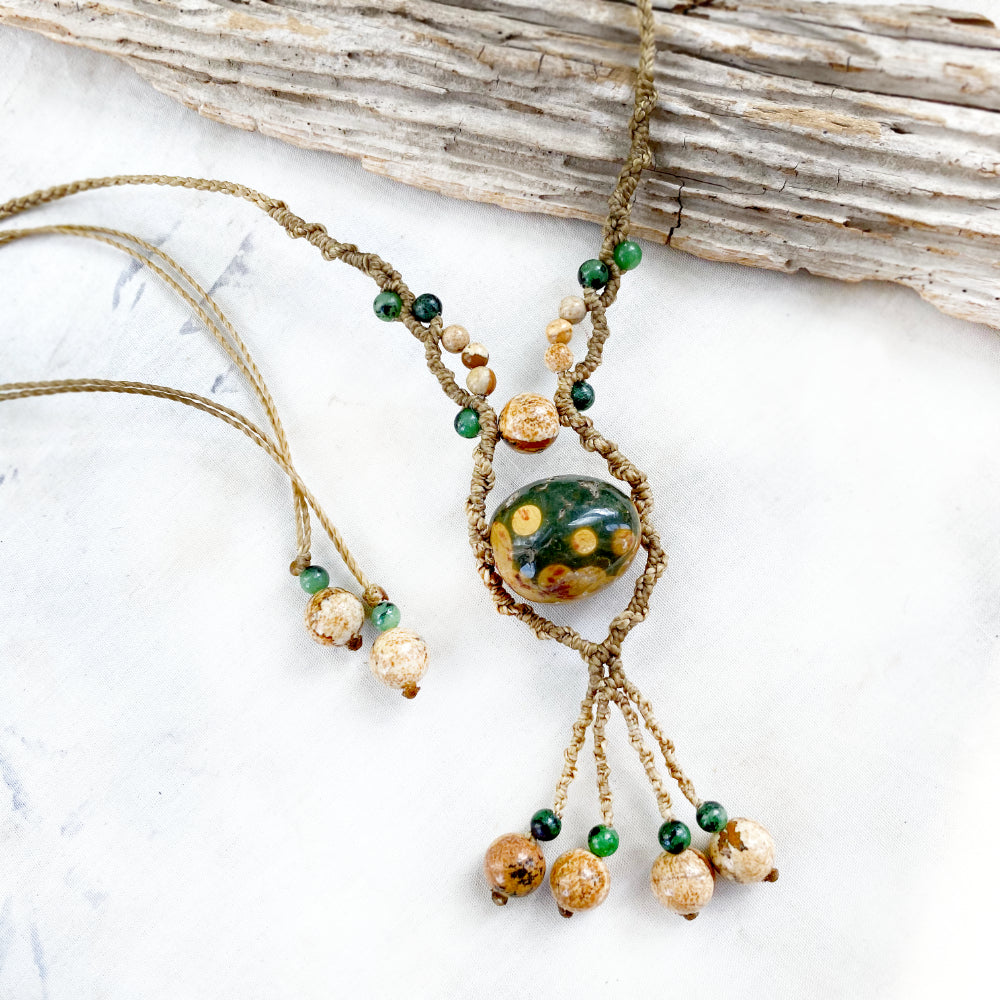 'Rays of Wisdom' ~ crystal healing amulet
DESCRIPTION
Crystal healing necklace combining the energies of Mookaite, Picture Jasper and Anyolite. This crystal amulet is knotted and braided with golden brown micro-macrame cord, strong and durable, yet soft and comfortable to wear.
The length of the necklace is adjustable from very short down to solar plexus level. The total length of the crystal pendant (from top edge of the Mookaite down to the base of the 'tassel') is 6 cm (2.4").
There are no metals in this necklace so would be particularly suitable for those with metal sensitivities, energy workers and those who simply prefer not to wear metal.
You'll receive this crystal healing necklace in one of my fabric draw-string pouches, great for the safe-keeping of the necklace. Gift-wrapped at no extra charge.

Read here how to take care of your crystal jewellery.
CRYSTAL PROPERTIES
MOOKAITE
Brings balance and clarity, flexibility and openness. It provides strength in negative situations and assists in being kind to self. Heightens one's intuition in order to know which direction to take in any given situation. Helps you to stay in the Now moment. Highly supportive for one's energy field, offering subtle yet constant harmony. Mookaite is said to slow the ageing process and to give relief in areas of geopathic stress. It's also a great manifestation crystal.
PICTURE JASPER
Nurturing, comforting stone, associated with expanded creativity, invention and initiative. Helps in grounding one's ideas into reality. Believed to contain hidden messages from the past, connecting and grounding into the earth energies. Harmonious stone offering psychic protection during shamanic journeying as well as activating the third eye chakra. Inspires creative visualisation and is excellent for overcoming any creative blocks and clear away past hurts. Good for confidence, particularly helpful in business pursuits. Revered in many native cultures as a sacred stone of courage and wisdom.
ANYOLITE
Powerful heart based crystal that stimulates positive feelings and gratitude for all you have in your life. Facilitates soul memory to bring more spiritual learning into your life. Increases feelings of empathy towards yourself and others. Connects the heart chakra to work in unison with the third eye chakra, but also activating the base and the crown chakras, creating a strong current of life-force energy.
Recently Viewed