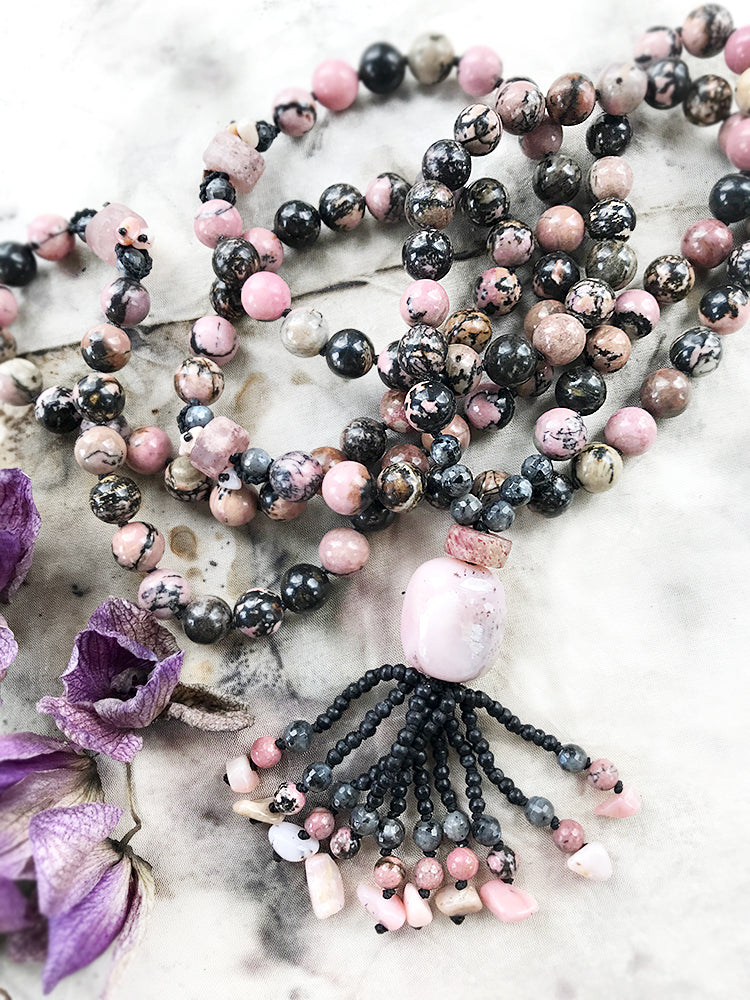 Rhodonite mala with Peruvian Pink Opal, Shaman Dream Stone & Norwegian Moonstone
DESCRIPTION
One of a kind, contemporary 108 bead meditation mala with Rhodonite counter beads. The three dividers are a combination of Shaman Dream Stone, Peruvian Pink Opal and Norwegian Moonstone. The guru bead consists of Peruvian Pink Opal and a 10-strand 'tassel' of small black wooden beads ending with Peruvian Pink Opal, Rhodonite and Norwegian Moonstone crystals. This is a wonderful Heart Chakra mala, supporting you in creating a stronger commitment to your life purpose.
Each counter bead is meticulously knotted by hand - one by one, for durability and ease of handling - using black micro-macrame cord.
All around length of mala: 129 cm (50.8")
Counter bead diameter: 1 cm (0.4") 
The width of the divider crystals combination: approx. 2 cm (0.8") 
Length of guru bead combination: 8.5 cm (3.3")
This mala comes in one of my handmade soft brown leather pouches for safe-keeping (and gift-wrapped for no extra charge). If you would rather have a fabric pouch, please let me know at the time of purchase.
Read more about Spirit Carrier mala beads
CRYSTAL PROPERTIES
RHODONITE 
Known for its capacity to bring emotional healing, releasing blockages in the heart chakra. Balances emotions during chaotic times. Restores calm after emotional upheavals. Beneficial for the harmony of close relationships. A beautiful stone specifically for discovering one's inner gifts and can act as a catalyst for fulfilling one's life purpose. Stone of self-confidence that supports you in trusting your own heart.
PERUVIAN PINK OPAL
Stone of peace and tranquility for one's aura. Helps in healing painful memories. Stone of hope and renewal. A good stone to help inner healing on the emotional, physical and intellectual levels. Cleanses and purifies mind and heart.
SHAMAN DREAM STONE (aka Lodolite, Garden Quartz)
Associated with the crown chakra, enhances one's sensitivity to invisible energies, helps in manifesting one's desires, brings harmony to one's aura, emanates strong yet gentle healing energies. Harmonises the higher vibrational energies of the aura and the light body. Gazing into this stone is said to bring about a cosmic shift of consciousness.
NORWEGIAN MOONSTONE (aka Black Labradorite, Larvikite)
Repels negative energy and can make you more adaptable to life's situations. It also stimulates inner visions so it's very suited to meditation. Black Labradorite is also said to connect with nature spirits. On physical level, it is said to be good for renewing and maintaining vitality and youthfulness. 
Recently Viewed