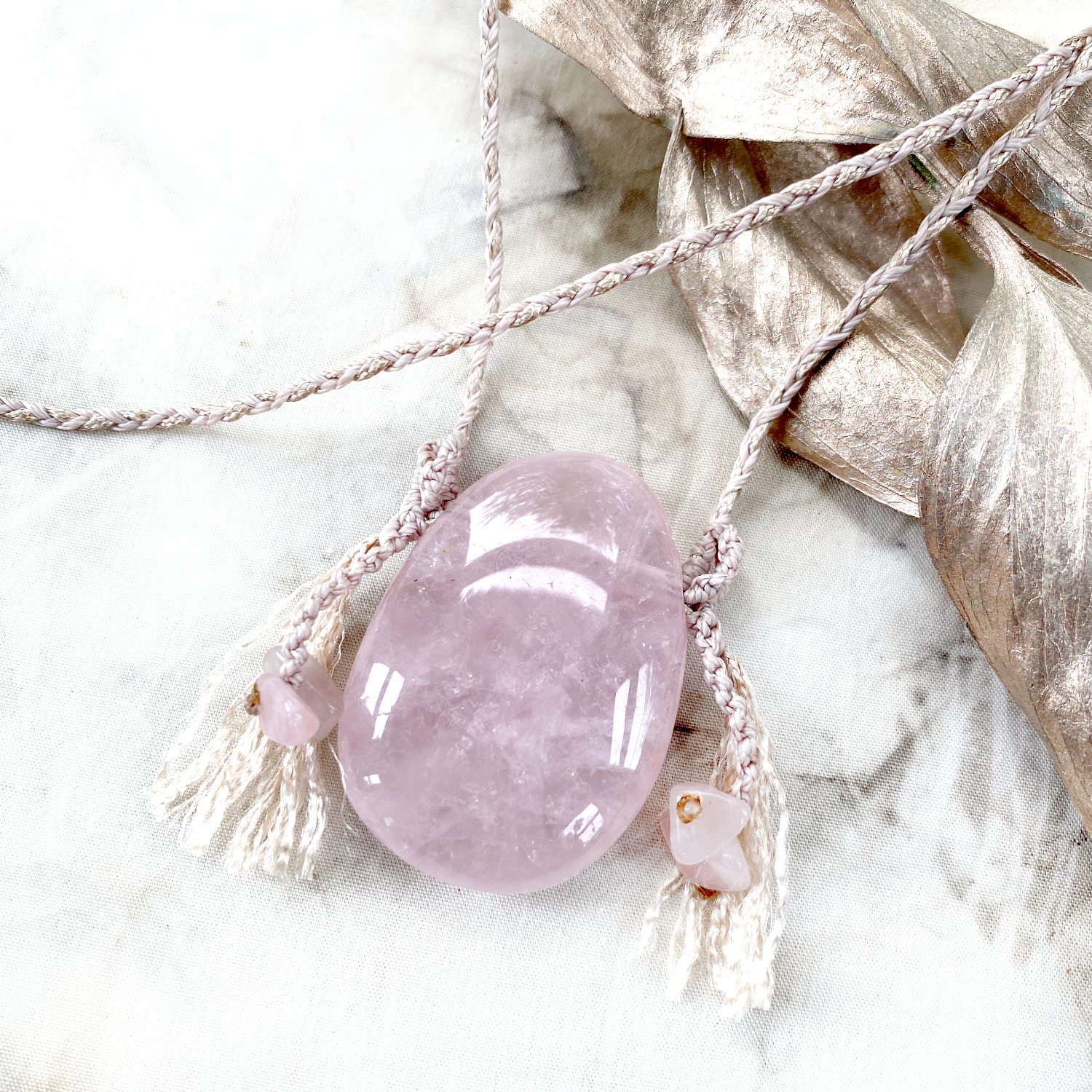 Rose Quartz crystal healing amulet
$74.00
Regular price
$85.00
DESCRIPTION
Crystal healing amulet with pure Rose Quartz energy, in minimal style braid for easy daily wear. The necklace braid is a combination of shimmery cream tone satin and beige micro-macrame cord. There's a small soft satin tassel together with further small, faceted Rose Quartz crystals on both sides of the main crystal.
The Rose Quartz is just over 4 cm (1.6") tall and 2.5 cm (1") at its widest. The necklace braid is set length at 80 cm (31.5") all around, meaning the necklace slips comfortably over head without any need for a closing clasp. The Rose Quartz settles at around 40 cm (15.5") when measured from behind the neck.
There are no metals in this necklace so would be particularly suitable for those with metal sensitivities / metal allergy, energy workers and those who simply prefer not to wear metal.
You'll receive this crystal healing necklace in one of Spirit Carrier's handmade fabric draw-string pouches - great for the safe-keeping of the necklace. Gift-wrapped at no extra charge.

Read here how to take care of your crystal jewellery.
CRYSTAL PROPERTIES
ROSE QUARTZ
Powerful love stone, love that is all-encompassing and unconditional. Awakens one's heart to its own innate love, compassion and acceptance. Vibrates its loving energy to all chakras, offering gentle healing. Soothing and calming. Dissolves anger and resentment. Good for raising one's self-esteem and feelings of self-worth. Balances emotions and is said to support all types of healing. Guides one's life path towards a sense of personal fulfilment and contentment.
Recently Viewed