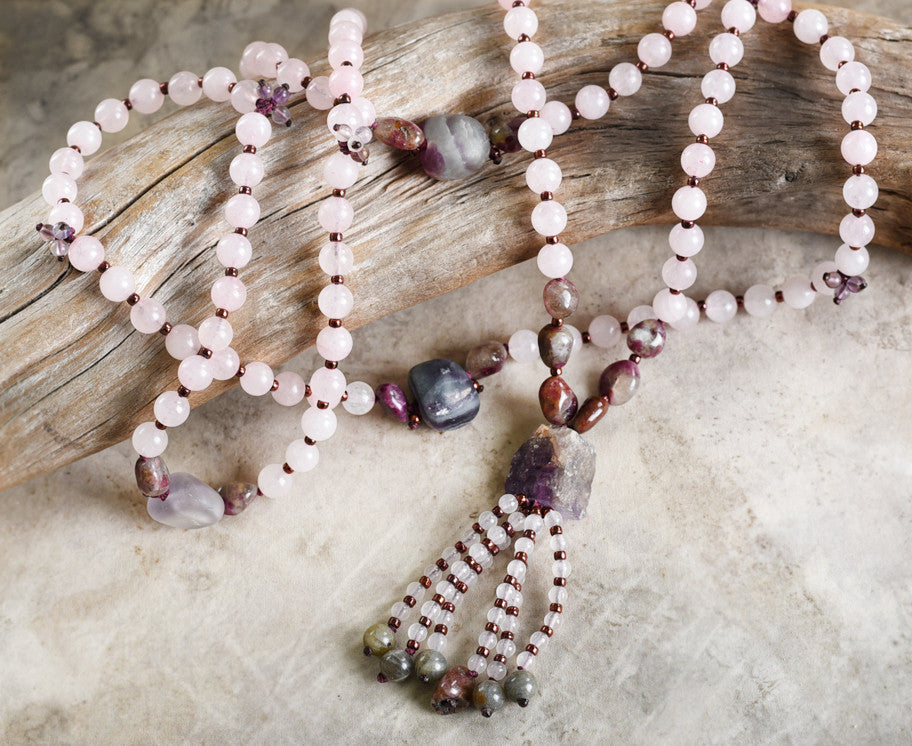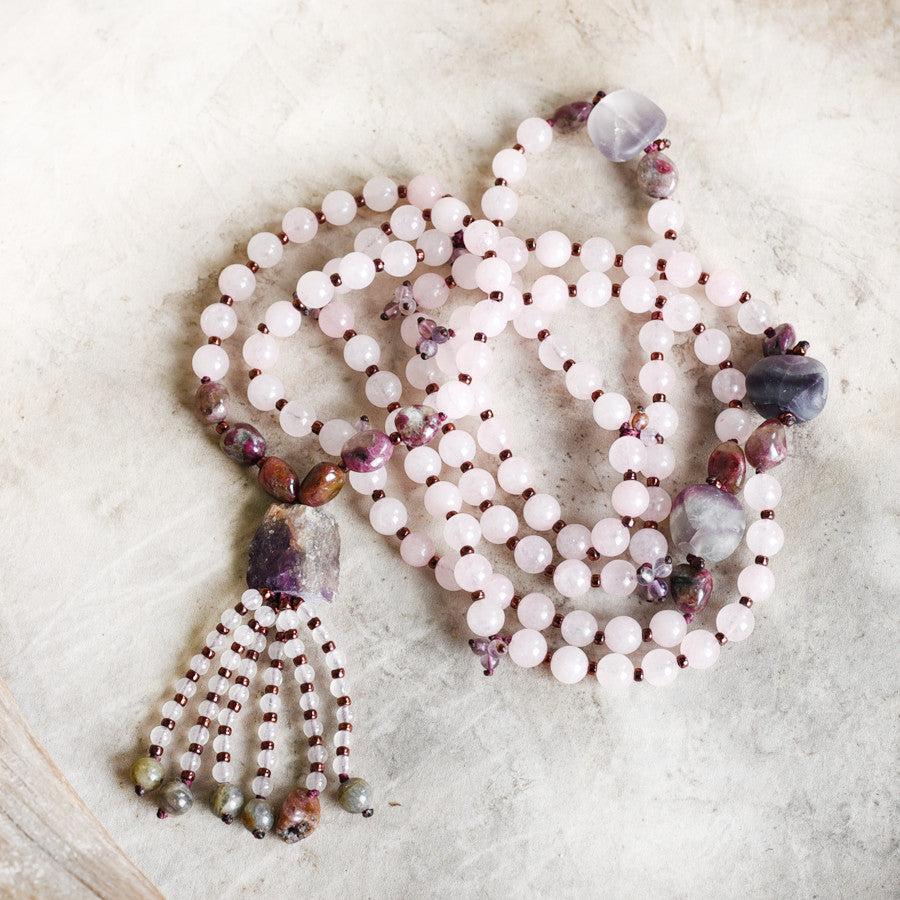 Rose Quartz mala Fluorite, Tourmaline & Labradorite
DESCRIPTION
One of a kind, contemporary 108 bead meditation mala with Rose Quartz counter beads. The three dividers are a combination of Florite and Tourmaline. The guru bead and 'tassel' consists of Tourmaline, Fluorite, Rose Quartz and Labradorite.
The Rose Quartz counter beads are spaced with dark red glass seed beads, and knotted with burgundy tone micro-macrame cord, including a cluster of four small Fluorite crystals, at every nine bead intervals. Whilst this mala is long, it's not not too heavy, so would suit wearing wrapped around either longer or shorter. The guru 'tassel' has five Labradorites and one Tourmaline crystal at the ends of Rose Quartz strands. Very tactile and pleasant to hold.
All around length of mala: 110 cm (43")
Counter bead diameter: 0.8 cm (0.3")
The size of the divider Fluorites: approx. 2 cm (0.8") at longest measurement 
Length of guru bead crystal combination: 7 cm (2.75")
This mala comes in one of my handmade soft brown leather pouches for safe-keeping. If you would rather have a fabric pouch, please let me know at the time of purchase. 
You'll receive this mala gift-wrapped at no extra charge.
Read more about Spirit Carrier mala beads
CRYSTAL PROPERTIES
ROSE QUARTZ
Powerful love stone, love that is all-encompassing and unconditional. Vibrates its loving energy to all chakras, offering gentle healing. Soothing and calming. Dissolves anger and resentment. Good for raising one's self-esteem and feelings of self-worth. Balances emotions and is said to support all types of healing.
FLUORITE
Excellent for cleansing one's aura, also detaching unwanted energy cords. Grounds excessive energy, beneficial for all levels of healing. Helpful in achieving spiritual wholeness. Protective, stabilising and harmonising stone. Facilitates personal growth. Awareness expanding. Anchors intuitive insights into the physical plane. Offers strong psychic protection, helping to discern energies one comes in contact with. Helps in being objective and focusing on what is essential. Also known as absorbing environmental EMF.
TOURMALINE
Stone of abundance, protection and healing. Aids understanding oneself and others. Reduces fears and promotes self-confidence. Removes energetic blockages, balancing the male/female energy within the body. Pink Tourmaline stimulates the heart chakra and life-force energy. A stone of quiet authority, instilling peaceful vibes in the midst of disputes. Harmonises one's feminine energies and has a nurturing energy. Helps in overcoming fears of lack and supports those who might not feel like belonging in this world to find joy of life.
LABRADORITE
One of the most powerful, versatile crystal tools for healing. Creates an auric shield and strengthens your innate energy and life force, preventing energy leakages. Enhances intuitive abilities and assists in spiritual transformation. Helps the wearer align with their highest destiny and discover their inner worth. Strengthens willpower and brings in new ideas. Often referred to as the 'Stone of Destiny', believed to help you to find your true path in life, and as 'Temple of the Stars', anchoring higher dimensional light into your being.
Recently Viewed