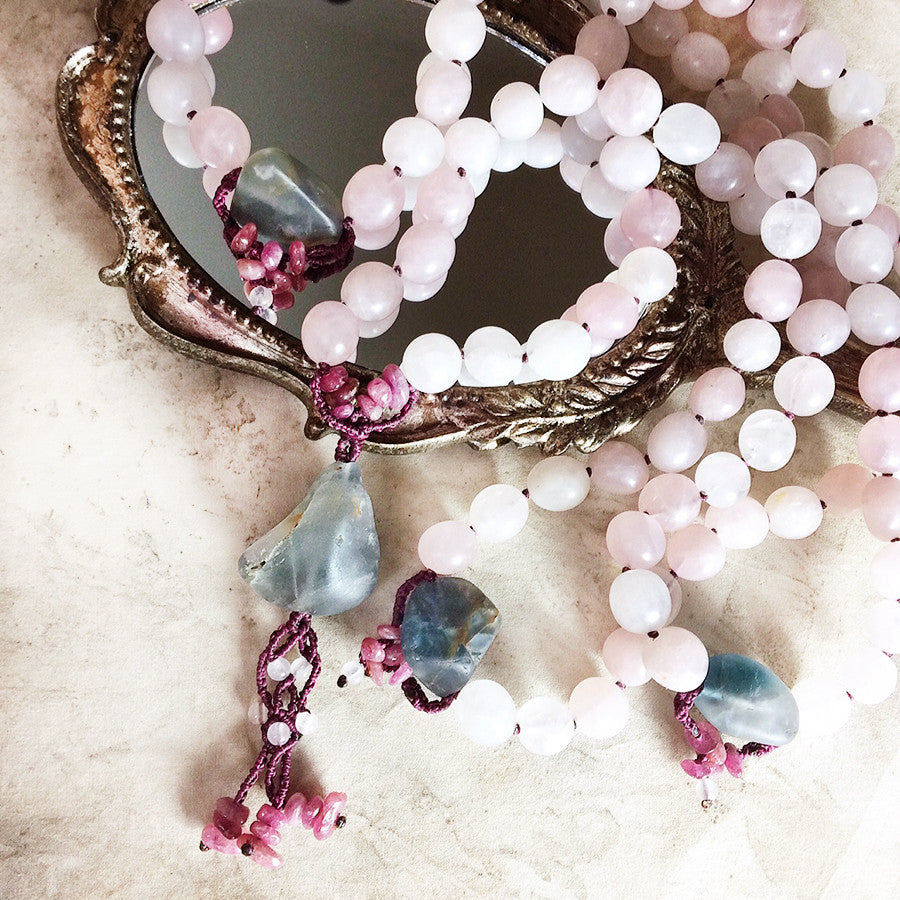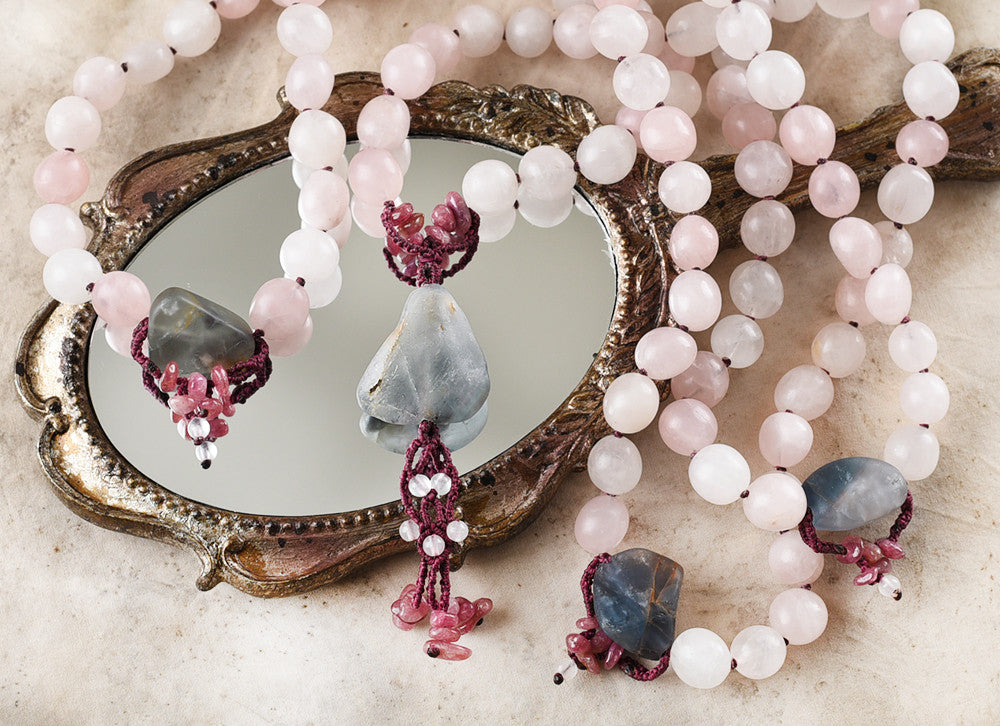 Rose Quartz mala with Fluorite & Rubellite
DESCRIPTION
One of a kind, contemporary 108 bead meditation mala with Rose Quartz counter beads. The counter beads are not uniformly round but have pleasant variations in their shape, giving this mala a naturally organic feel - lovely to handle! This large, weighty, luxurious mala has three Fluorite dividers, highlighted with Rubellite and smaller Rose Quartz crystals. The guru bead consists of a roughly triangular shaped Fluorite, with a decoratively knotted tail ending with Rubellite crystals.
Each counter bead is knotted one by one for durability and ease of handling, using  deep read (burgundy) tone micro-macrame cord. 
All around length of mala: 142 cm (56")
Counter bead diameter: 1.2 cm (0.5")
The width of the divider combination: approx. 2.5 cm (1")
Length of guru bead crystal combination: 8 cm (3")
Please note that Spirit Carrier malas come usually in three sizes, determined by the diameter of the main counter beads - either 0.8 cm, 1 cm or 1.2 cm. This mala is the largest size with 1.2 cm counter bead diameter.
This mala comes in one of my handmade soft brown leather pouches for safe-keeping. If you would rather have a fabric pouch, please let me know at the time of purchase.
Read more about Spirit Carrier mala beads
CRYSTAL PROPERTIES
ROSE QUARTZ
Powerful love stone, love that is all-encompassing and unconditional. Vibrates its loving energy to all chakras, offering gentle healing. Soothing and calming. Dissolves anger and resentment. Good for raising one's self-esteem and feelings of self-worth. Balances emotions and is said to support all types of healing.
FLUORITE
Excellent for cleansing one's aura, also detaching unwanted energy cords. Grounds excessive energy, beneficial for all levels of healing. Helpful in achieving spiritual wholeness. Protective, stabilising and harmonising stone. Facilitates personal growth. Awareness expanding. Anchors intuitive insights into the physical plane. Offers strong psychic protection, helping to discern energies one comes in contact with. Helps in being objective and focusing on what is essential. Also known as absorbing environmental EMF. The combined green and purple shades support heart-centred higher knowing and intuition.
RUBELLITE (aka Pink Tourmaline)
Considered a rare, valuable crystal, Rubellite (pink Tourmaline) stimulates the heart chakra and life-force energy. A stone of quiet authority, instilling peaceful vibes in the midst of disputes. Harmonises one's feminine energies and has a nurturing energy. Helps in overcoming fears of lack and supports those who might not feel like belonging in this world to find joy of life.
Recently Viewed