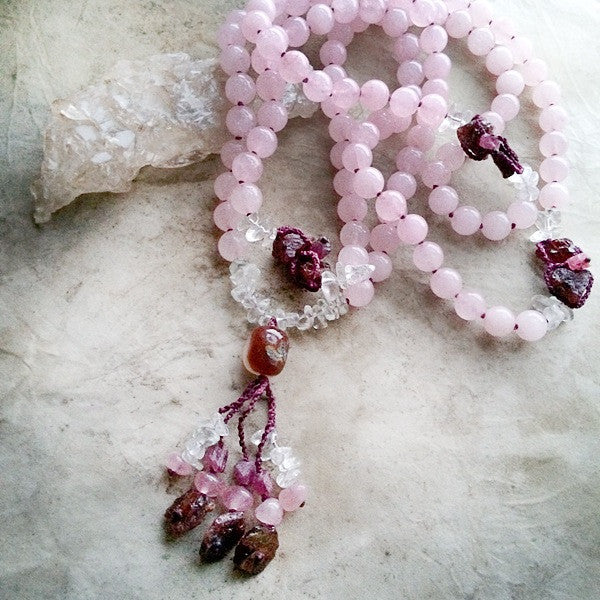 ROSE QUARTZ MALA WITH GARNET, CLEAR QUARTZ, RUBELLITE & CARNELIAN
DESCRIPTION
Contemporary meditation mala with traditional Tibetan Buddhist bead count of 108 with Rose Quartz, Garnet, clear Quartz, Rubellite (Pink Tourmaline) and Carnelian.
The main counter beads are Rose Quartz. The three dividers in the mala consist of clear Quartz crystals, rough cut pairs of Almandine Garnet and small rough cut Rubellite crystals. The guru bead is a combination of Carnelian, with a gemstone 'tassel' of Garnet, clear Quartz, Rubellite and five rare, naturally dark pink Madagascan Rose Quartz crystals.
The counter beads are individually knotted by hand for ease of handling, with burgundy tone micro-macrame cord. This mala comes in one of my handmade soft brown leather pouches for safe-keeping. If you would rather have a fabric pouch, please let me know at the time of purchase.
Spirit Carrier malas come in three sizes according to the counter bead diameter. The counter bead diameter of this mala is 1 cm (0.4").
All around length of mala: 138 cm (54")
Length of the guru bead combination: approx. 7 cm (2.75")
I draw artistic inspiration for these contemporary yoga meditation beads from the ancient decorative Buddhist malas from Tibet that were often given as gifts to Chinese courts and called "Chinese court necklaces". I match the stones and crystals carefully to create an energetic combination in the mala that will benefit the keeper in an individual way. All of my malas are one-of-a-kind.
Whilst this mala is made with Tibetan Buddhist bead count (108 beads), all Spirit Carrier malas are dedicated to the Highest Good of All – its future keeper may bless the mala for their own purpose and use it for their own personal way of meditation.
CRYSTAL PROPERTIES
Mala healing properties:
ROSE QUARTZ
Powerful love stone, love that is all-encompassing and unconditional. Vibrates its loving energy to all chakras, offering gentle healing. Soothing and calming. Dissolves anger and resentment. Good for raising one's self-esteem and feelings of self-worth. Balances emotions and is said to support all types of healing.
GARNET
Stimulates life force, opens the root chakra while drawing earth energy into the body. Awakens the "inner fire" of creativity, a good fortune and 'success' stone in social and career ventures, adding positive vibes both in your personal or business life. Stone of purification and cleansing. Symbolises passionate, devoted love.
RUBELLITE (aka Pink Tourmaline)
Considered a rare, valuable crystal, Rubellite (pink Tourmaline) stimulates the heart chakra and life-force energy. A stone of quiet authority, instilling peaceful vibes in the midst of disputes. Harmonises one's feminine energies and has a nurturing energy. Helps in overcoming fears of lack and supports those who might not feel like belonging in this world to find joy of life.
CLEAR QUARTZ
The universal master crystal that has a harmonising effect on all levels of being. Programmable by intention, so can be used for versatile purposes. Quartz can clear, enhance, amplify, transmute, balance, focus and transmit energy. Raises one's energetic vibration. Attunes its keeper to their higher self. Known as the "Stone of Power" and "Master Healer".
CARNELIAN
Known as a stone of motivation and courage. Stimulates creativity and increases one's sense of self-worth. Balancing for body's energy levels, restoring vitality and motivation. Said to attract prosperity, new resources and good luck. A success stone that helps you follow through with plans. Stone of action that aids in overcoming procrastination. Helps in gaining more understanding of one's inner self. Stimulating to the Sacral Chakra, which, when in balance, allows one to enjoy life, feel its joys and pleasures, be flexible and 'go with the flow'.
Recently Viewed