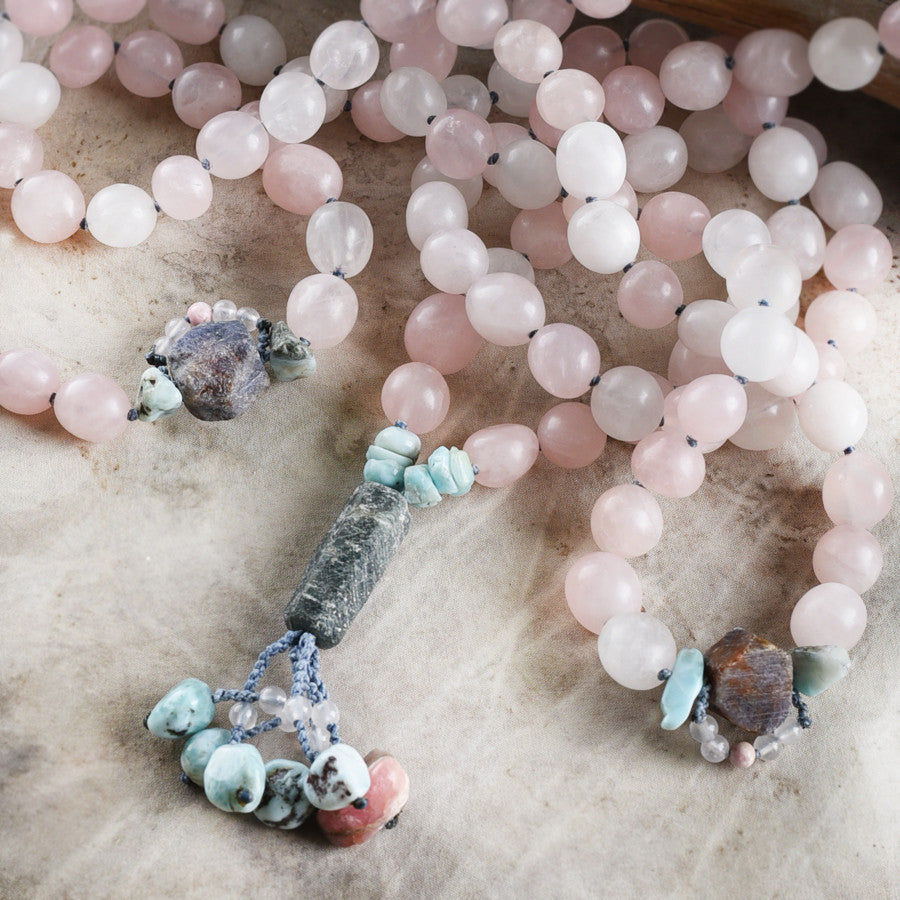 Rose Quartz mala with Sapphire, Larimar & Rhodochrosite
DESCRIPTION
One of a kind, contemporary 108 bead meditation mala with unusual uneven shaped Rose Quartz beads which gives this mala a beautifully organic feel. The three dividers are a combination of raw Sapphire, Larimar, Rose Quartz and Rhodochrosite. The guru bead consists of Sapphire, and a 'tassel' of Larimar with Rhodochrosite and Rose Quartz highlights.
Each counter bead is knotted one by one for durability and ease of handling, using muted blue micro-macrame cord. 
All around length of mala: 87 cm (34")
Counter bead diameter: approx. 1 cm (0.4")
The width of the divider combination: approx. 3 cm (1.2")
Length of guru bead crystal combination incl. tassel: 6 cm (2.4")
This mala comes in one of my handmade soft brown leather pouches for safe-keeping. If you would rather have a fabric pouch, please let me know at the time of purchase.

Read more about Spirit Carrier mala beads
CRYSTAL PROPERTIES
ROSE QUARTZ
Powerful love stone, love that is all-encompassing and unconditional. Vibrates its loving energy to all chakras, offering gentle healing. Soothing and calming. Dissolves anger and resentment. Good for raising one's self-esteem and feelings of self-worth. Balances emotions and is said to support all types of healing.
SAPPHIRE
A stone of psychic activation, enhances insight and focus. Helps the throat and third eye chakras to work in unison to strengthen and express one's inner vision. Grounds higher knowledge and helps one to stay centred. Evokes the wisdom needed to see past any situation into the underlying truth. Helpful in channeling healing energy from the highest source, allowing access to deeper levels of consciousness. (Sapphire is one of the four 'precious' gemstones, the other three being Ruby, Emerald & Diamond. Other gemstones are considered 'semi-precious'.)
LARIMAR
A relatively rare stone, only found in the Dominican Republic. In crystal lore it is associated with the ancient civilization on Lemuria, and also sometimes called a "Dolphin Stone". Larimar is soothing and uplifting, bringing tranquility into heart and mind. It is said to support self-expression, creativity and patience.
RHODOCHROSITE
A stone of deep emotional healing. Comforting and positive, strengthening feelings of self-love, self-worth and self-forgiveness. Supportive heart-healer stone for those who are grieving or might feel stuck in the process. Repairs damages to one's subtle energy bodies. Helps in recovering lost talents you might have given up on due to past hurts, in order to discover your true purpose in this life.
Recently Viewed