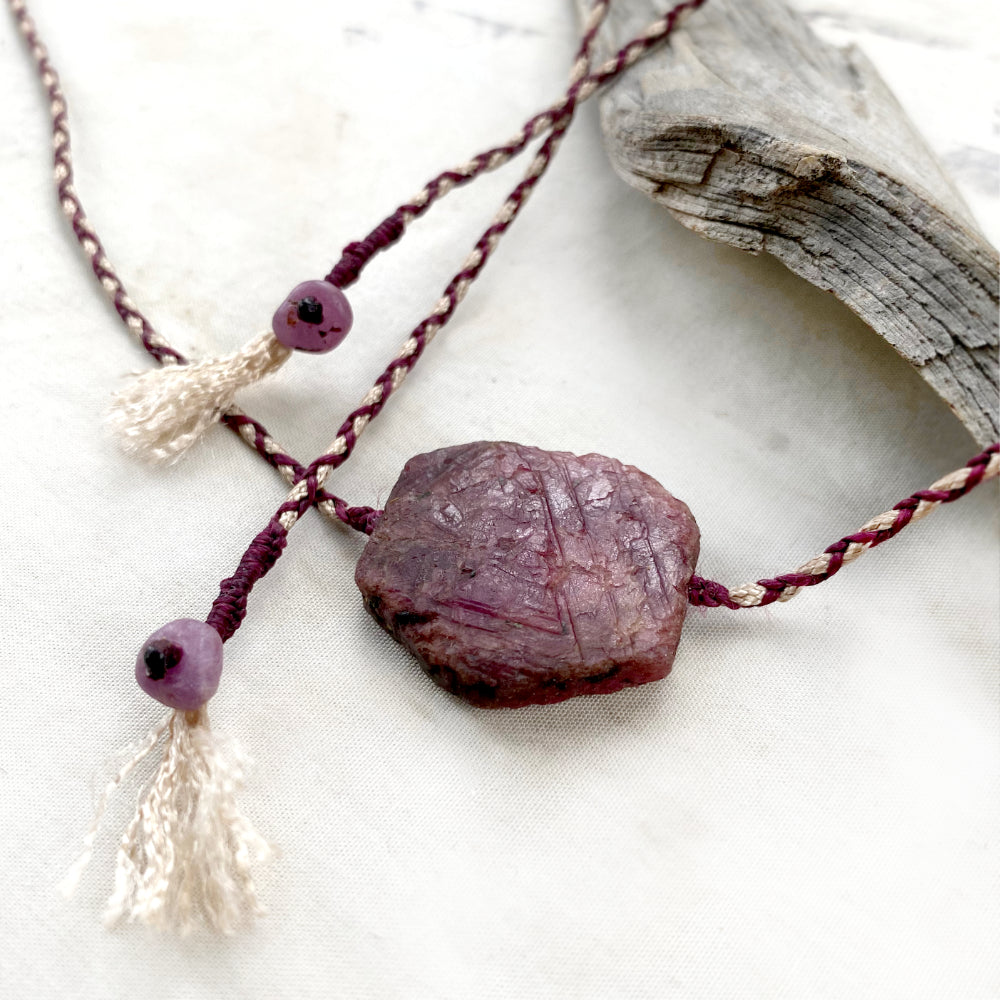 Ruby crystal healing amulet
DESCRIPTION
Crystal healing amulet with a raw slice of Ruby, for those who like the simple and minimal style. This Ruby shows a strong 'record-keeper' formation on its surface. The necklace is braided with cream tone satin cord combined with burgundy micro-macrame cord. The ends of the adjustable necklace cords are decorated with small Ruby crystals.
The length of the necklace is adjustable from as short as you wish down to solar plexus level. The Ruby is just under 2.5 cm (1") tall and just over 2.5 cm (1") wide.

You'll receive this crystal healing necklace in one of Spirit Carrier's fabric draw-string pouches, great for the safe-keeping of the necklace. Gift-wrapped at no extra charge.

Read here how to take care of your crystal jewellery.
CRYSTAL PROPERTIES
RUBY
Increases vitality and one's life-force energy, Very energising, excellent for women. Promotes clear mind, motivation and concentration. Associated with love, passionate commitment and heart-based closeness, offering help in shedding past hurts. Encourages you to 'follow your bliss' and have courageous attitude. Supports closeness and commitment. Shielding crystal to keep your energy field in your own command.

RECORD-KEEPER CRYSTALS: Characterised by the appearance of raised or sunken "record-keeper" triangles on the faces of the crystal. Activate dormant intuitive abilities and enhance one's psychic skills. Can be used to access the knowledge and wisdom of ancient civilizations from Akashic Records.
Recently Viewed