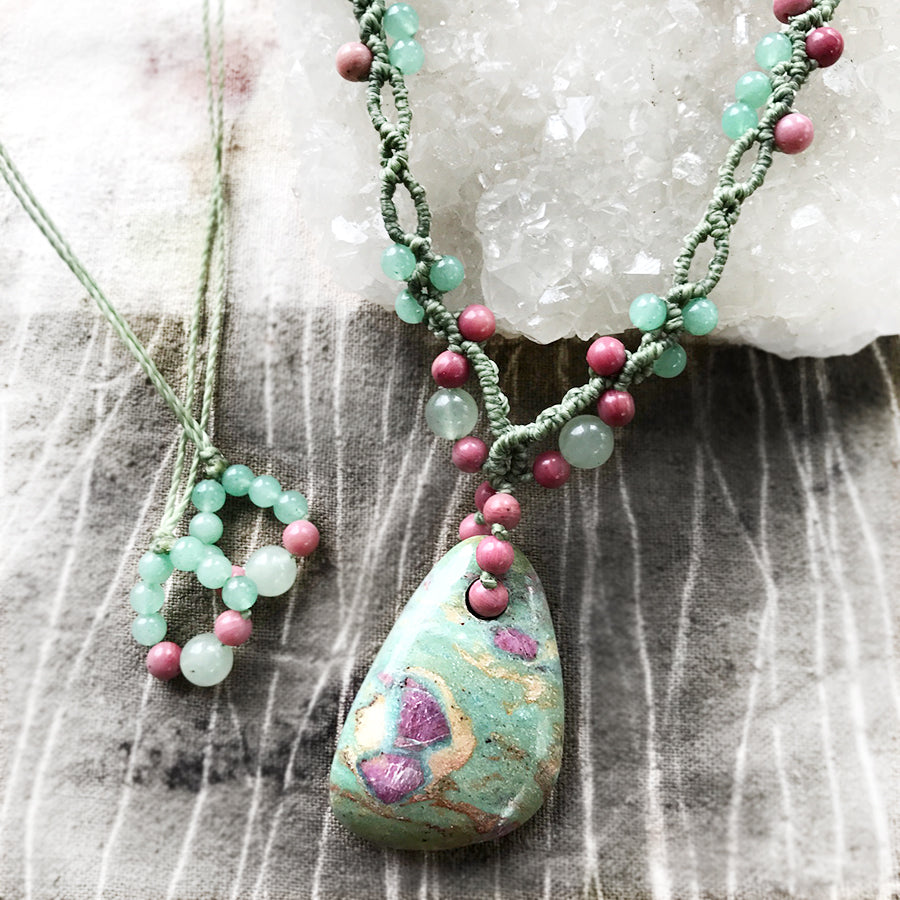 Ruby in Fuchsite crystal healing amulet
DESCRIPTION
Smallish, polished, leaf-shaped Ruby in Fuchsite stone, knotted with light green micro-macrame cord which is strong and durable, yet soft to wear. The highlighting crystals are green Aventurine and Rhodonite.
The length of the necklace is adjustable from very short down to solar plexus level. The Ruby in Fuchsite is approx. 3.5 cm (1.4") tall and 2.5 cm (1") at its widest.
There are no metals in this necklace so would be particularly suitable for those with metal sensitivities or metal allergy, energy workers and those who simply prefer not to wear metal.
You'll receive this crystal healing necklace in one of my fabric draw-string pouches, great for the safe-keeping of the necklace. Gift-wrapped at no extra charge.

Read here how to take care of your crystal jewellery.
CRYSTAL PROPERTIES
RUBY IN FUCHSITE
Helps strengthen and amplify the body's energy field. Helps clearing any heart chakra blockages. Brings mental clarity, physical vitality and awareness of solutions to problems. Stimulates intuition and encourages you to follow what has heart and meaning to you.
RHODONITE
Known for its capacity to bring emotional healing, releasing blockages in the heart chakra. Balances emotions during chaotic times. Restores calm after emotional upheavals. Beneficial for the harmony of close relationships. A beautiful stone specifically for discovering one's inner gifts and can act as a catalyst for fulfilling one's life purpose. Stone of self-confidence that supports you in trusting your own heart. 
GREEN AVENTURINE (also referred to as Adventurine)
Known as 'Stone of Opportunity', considered to be the luckiest of all crystals, especially in manifesting prosperity. The energy of this stone is thought to boost one's chances in every situation. Releases old habits, disadvantageous patterns and disappointments, increasing one's optimism and confidence. Enhances motivation, perseverance and creativity. Helps in embracing change, even with a sense of humour. Also a comforting and harmonious heart healer.
Recently Viewed