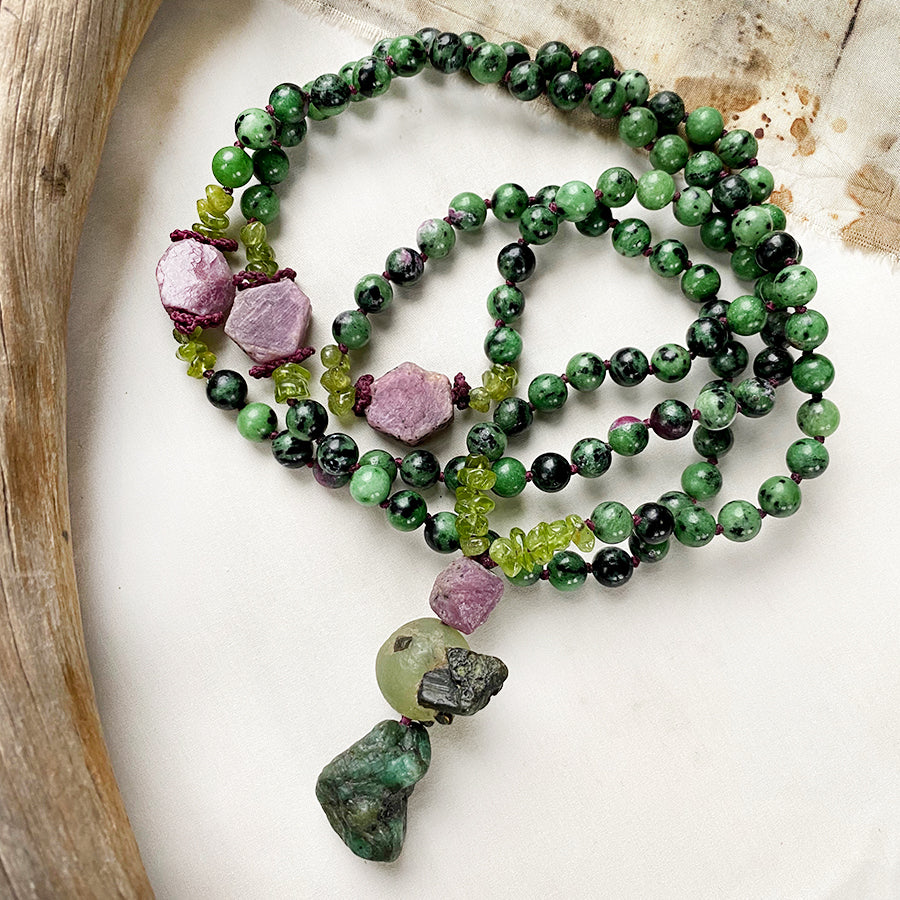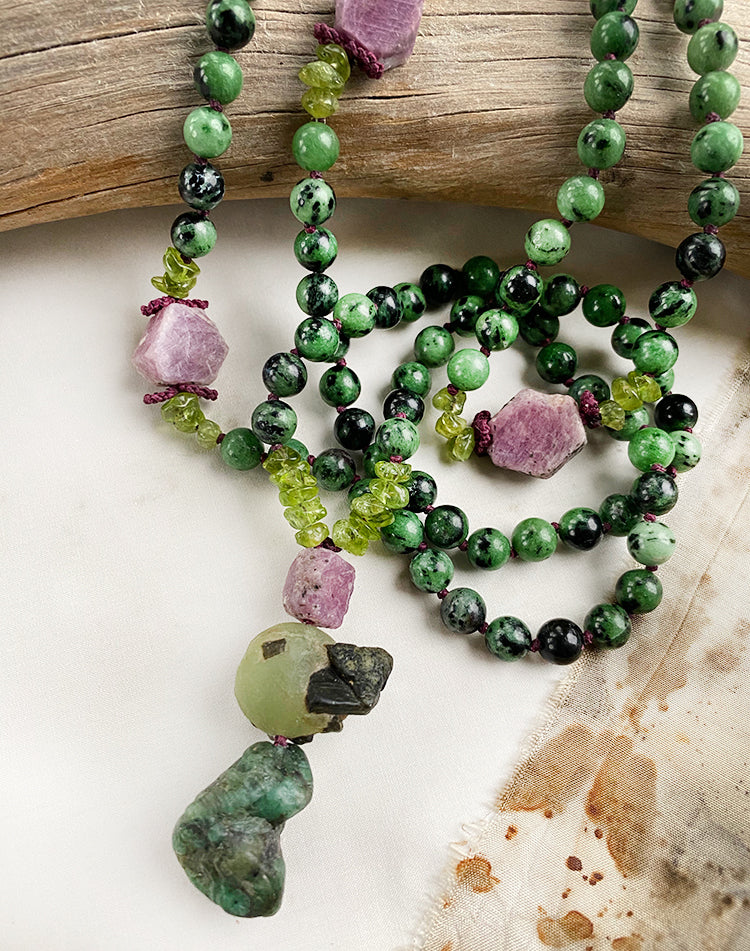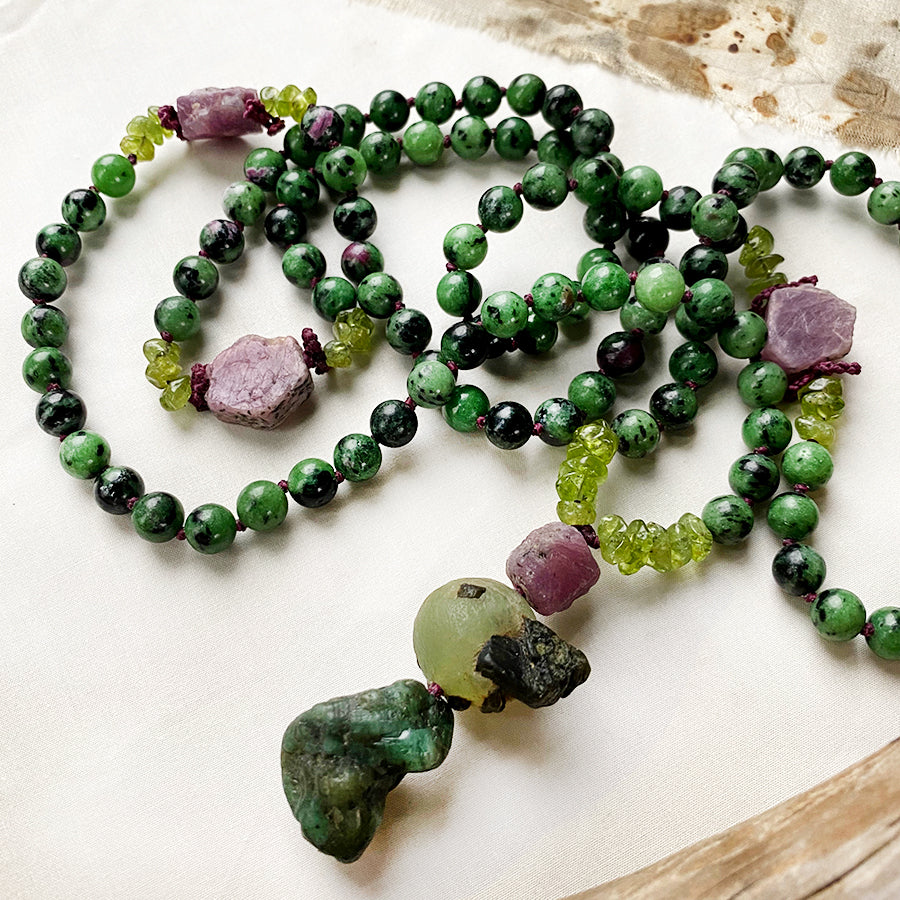 Anyolite meditation mala with 108 beads
DESCRIPTION
One-of-a-kind, contemporary meditation mala with traditional bead count of 108. A powerful heart-centered mala with strong protective qualities - a unique personal companion to support you not only during your meditative moments, but also simply by being present in your vicinity.
The main counter beads are Anyolite (Ruby in Zoisite). The three dividers in the mala are raw Ruby, highlighted with small Peridot crystals. The guru bead is a cairn of three raw crystals: Ruby, Epidote in Prehnite and Emerald. The raw Ruby in this guru cairn is also a 'record keeper' - you can see a raised triangle shape on its surface. The counter beads are individually knotted by hand for ease of handling, with muted burgundy tone micro-macrame cord. 
All around length of mala: 116 cm (45.5") 
Counter bead diameter: 0.8 cm (0.3") 
Divider bead combination width: 4 cm (1.6")
Length of the guru bead combination: just over 6 cm (2.4")
This mala comes in one of Spirit Carrier's handmade lined fabric pouches for safe-keeping, and gift-wrapped at no extra charge. If you would rather have a leather pouch, please let me know at the time of purchase.

Read more about Spirit Carrier mala beads
CRYSTAL PROPERTIES
ANYOLITE (aka Ruby in Zoisite)
Powerful heart based crystal that stimulates positive feelings and gratitude for all you have in your life. Facilitates soul memory to bring more spiritual learning into your life. Increases feelings of empathy towards yourself and others. Connects the heart chakra to work in unison with the third eye chakra, but also activating the base and the crown chakras, creating a strong current of life-force energy.
RUBY
Increases vitality and one's life-force energy, Very energising, excellent for women. Promotes clear mind, motivation and concentration. Associated with love, passionate commitment and heart-based closeness, offering help in shedding past hurts. Encourages you to 'follow your bliss' and have courageous attitude. Supports closeness and commitment. Shielding crystal to keep your energy field in your own command. (Ruby is one of the four 'precious' gemstones, the other three being Emerald, Sapphire & Diamond. Other gemstones are considered 'semi-precious'.)

RECORD-KEEPER CRYSTALS: Characterised by the appearance of raised or sunken "record-keeper" triangles on the faces of the crystal. Activate dormant intuitive abilities and enhance one's psychic skills. Can be used to access the knowledge and wisdom of ancient civilizations from Akashic Records.

PERIDOT
Upbeat and comforting, Peridot reduces stress and amplifies intuitive awareness. Soothes hurt feelings, supporting renewal and personal growth. Brings in-depth heart based awareness, extending from healing to understanding and offering protection against negative emotions. Known also as the stone of prosperity and happiness.
EPIDOTE IN PREHNITE
Prehnite is a strongly protective stone, said to be "the healer's healer". It fosters a sense of trust in the Universe and helps you protect your boundaries so it's easier to say "no" when needed. Prehnite is also revitalising and said to bring inner peace. Epidote within the Prehnite is an energy enhancer, so it gives an extra boost to the crystal's energy. It encourages you to approach life with a positive outlook, clearing emotional residue and confusion from the heart chakra. Epidote is also considered a magnet for prosperity and great for physical recovery.
EMERALD
Stone of Love. Opening and nurturing to the heart chakra. Benefits heart-based intuition. Promotes joyous emotions, enhances emotional and spiritual balance. Restores confidence where needed. Brings visionary insight, especially relating to one's vocation. In crystal lore, Emerald is the sacred stone of the goddess Venus. It was the symbol of eternal life in ancient Egypt. Also known as a great aid for manifesting prosperity. (Emerald is one of the four 'precious' gemstones, the other three being Ruby, Sapphire & Diamond. Other gemstones are considered 'semi-precious'.)
Recently Viewed