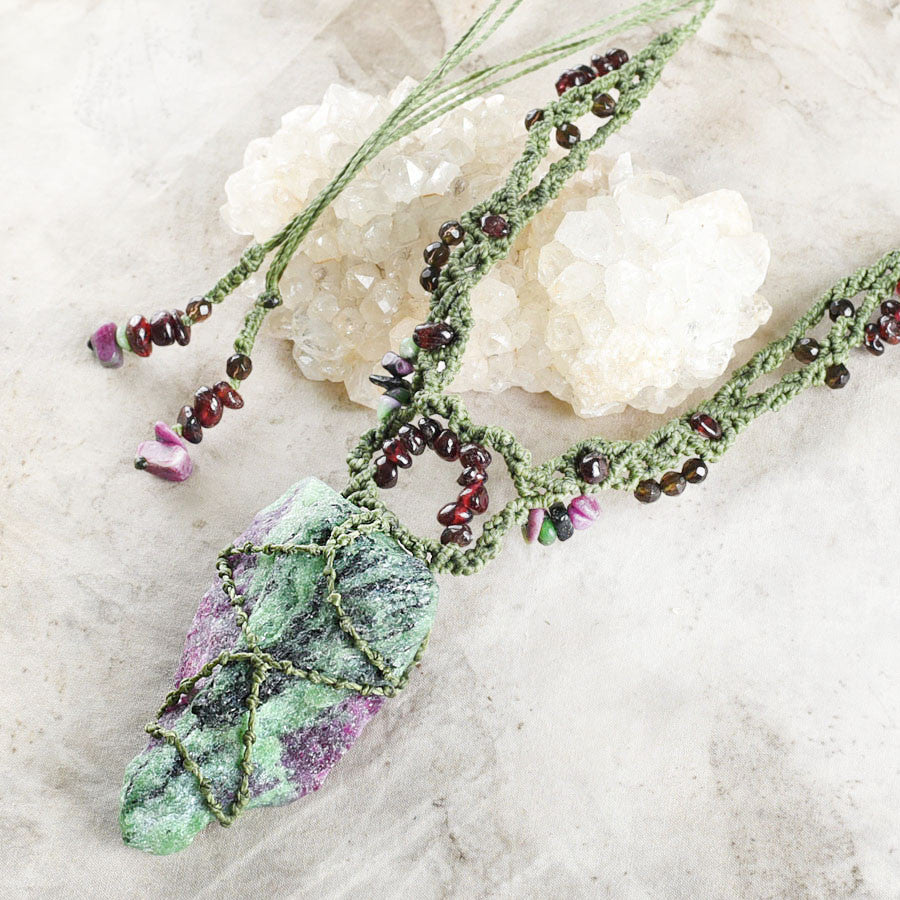 'Flowering Trail' ~ Ruby in Zoisite crystal amulet with Almandine Garnet
DESCRIPTION
Crystal healing amulet with raw, un-drilled Ruby in Zoisite crystal. The necklace is intricately knotted with forest green micro-macrame cord, highlighted with small Almandine Garnet, faceted Smokey Quartz and further Ruby in Zoisite crystals. Also the ends of the adjustable necklace cord are adorned with matching crystals.
The length of the necklace is adjustable from very short down to just above solar plexus level. The Ruby in Zoisite is just over 5.5 cm (2.2") tall and approx. 3.5 cm (1.4") wide at the middle.
There are no metals in this necklace so would be particularly suitable for those with metal sensitivities / metal allergy, energy workers and those who simply prefer not to wear metal jewellery.
You'll receive this crystal healing necklace in one of my fabric draw-string pouches, great for the safe-keeping of the necklace. Gift-wrapped at no extra charge.
CRYSTAL PROPERTIES
RUBY IN ZOISITE (aka Anyolite)
Powerful heart based crystal that stimulates positive feelings and gratitude for all you have in your life. Facilitates soul memory to bring more spiritual learning into your life. Increases feelings of empathy towards yourself and others. Connects the heart chakra to work in unison with the third eye chakra, but also activating the base and the crown chakras, creating a strong life-force energy.
ALMANDINE GARNET
Stimulates one's life force. Opens the root chakra while drawing earth energy into the body, helping you to feel secure and centred. Awakens the "inner fire" of creativity. Highly protective stone and a great companion to keep you energised. Excellent good fortune and 'success' stone in both social and career ventures, adding positive vibes both in your personal or business life. Stone of purification and cleansing. Symbolises passionate, devoted love.
SMOKEY QUARTZ
A grounding and calming stone that elevates moods and dissipates negative emotions. "A Stone of Serenity", it is comforting and protective for one's aura. Smokey Quartz is thought to assist in creative endeavours and also in setting personal boundaries. Offers EMF protection. A good healing stone for improving general feeling of well-being.
Recently Viewed