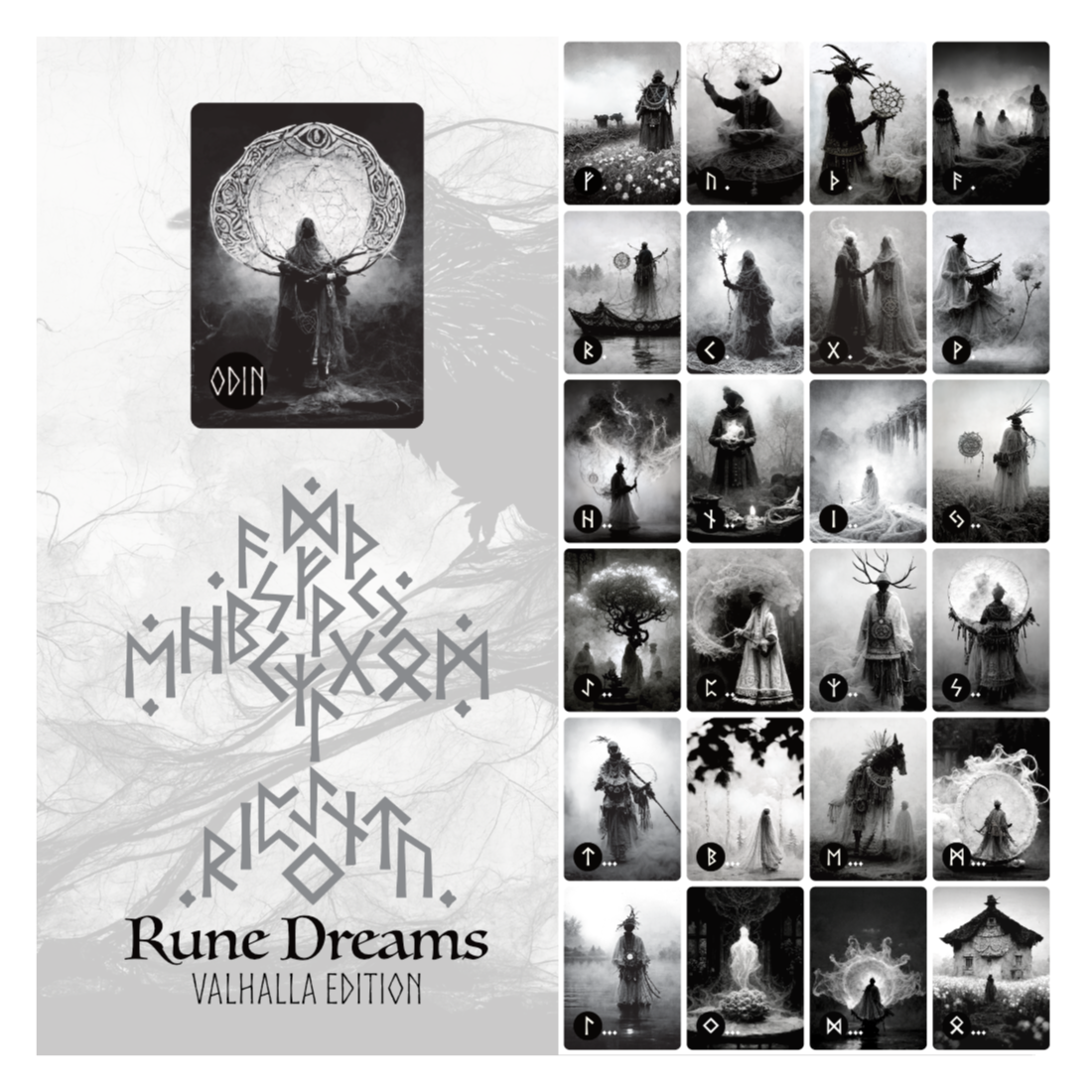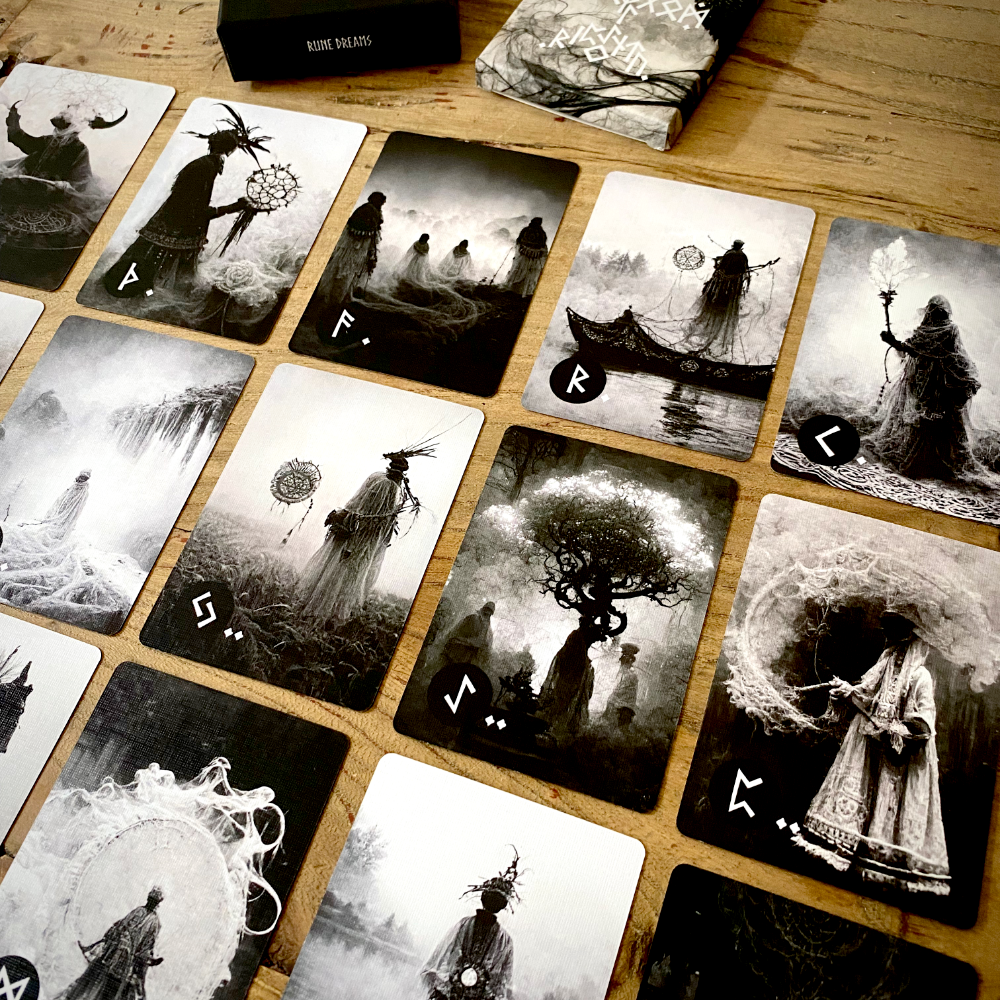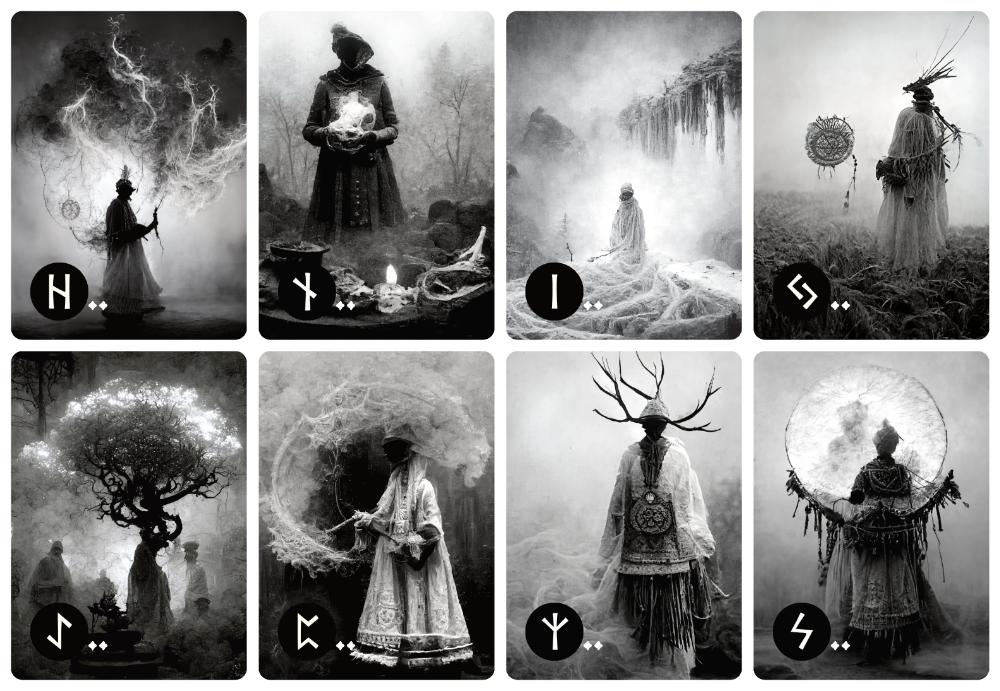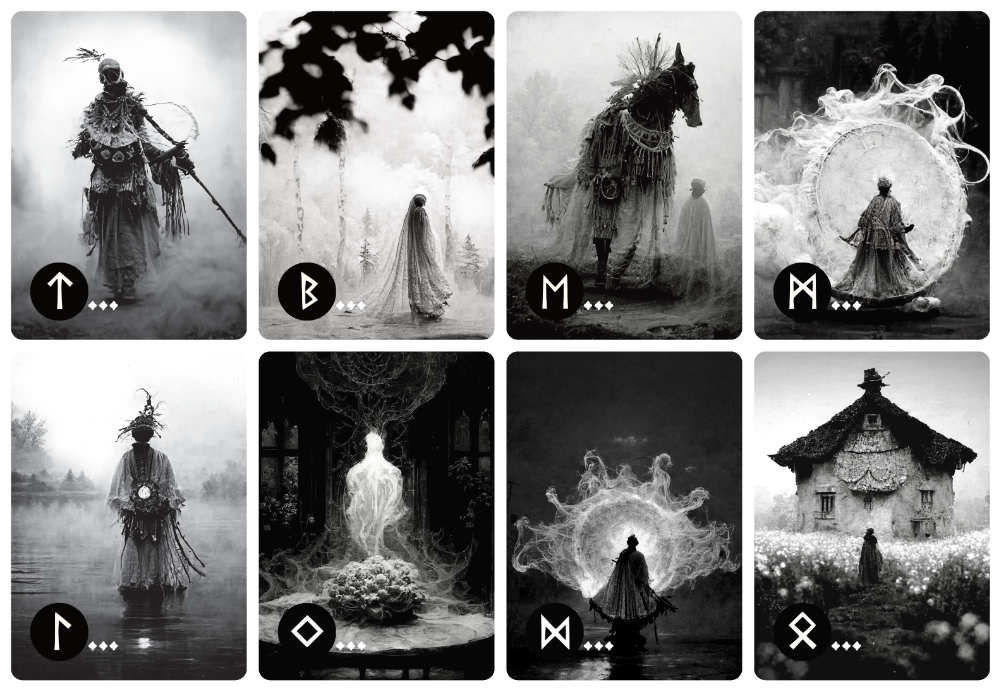 Rune cards 'Rune Dreams' (Valhalla) ~ oracle card deck inspired by Norse mythology
DESCRIPTION
Rune cards in black&white - in this Valhalla Edition deck, each card shows the rune symbol in white, together with one, two or three red dots signifying which Aett the rune belongs in.

The bonus cards in the Valhalla Edition rune cards deck are the three Norn sisters, beings of time, weaving their threads of destinies, together with Odin to whom they revealed the runes ~
Urd - 'What once was'
Verdandi - 'What is becoming into being'
Skuld - 'What shall be'

Odin as the 

seeker of knowledge and wisdom who dangled from the world tree Yggdrasil for nine days to have the runes revealed to him

.
In this Valhalla Edition rune cards deck, the four concept cards include animals of significance from Norse mythology. The four concept cards in this deck are:
HAMR - 'shape' or 'skin', outer appearance, shapeshifting
HUGR - consciousness, presence, psyche
HAMINGJA - luck and fortune which can be inherited and even lent to another
FYLGJA - lifelong guardian, one's accompanying follower spirit
The physical quality of these cards is noteworthy: it matches that of card magicians' requirements for their performances. This is a specifically tactile deck so that the handling of the cards feels natural and effortless and the cards are particularly pleasant to shuffle while focusing on your question to the runes.
Classic poker size dimensions (63x88mm)
Sure Slip Air 310gsm unique textured finish
Exquisitely produced in the UK by Ivory
These cards are a handy size to take along when you travel, and can be combined with your existing wooden or stone rune cast to clarify or extend a reading.

You will receive:
1 'title' card
24 Elder Futhark rune cards
4 bonus cards (Urd, Verdandi, Skuld & Odin)
4 concept cards (Hamr, Hugr, Hamingja, Fylgja)
16-page instruction leaflet
two-part rigid box for safe-keeping

Your card deck will arrive securely packaged, and gift-wrapped at no extra charge.

Are you a beginner in using runes, or would like to read some more?
I have compiled a digital mini course focusing on the Elder Futhark which is available in PDF format. The mini course covers the basics of the 24 runes from the perspective of connecting each rune to your personal experience so you'll learn faster. There are also suggestions for daily rune practice and how to consider each rune in a reading. This mini course is free with Rune Dream decks. Please contact me if you wish to receive this PDF.

***Free shipping***

Recently Viewed