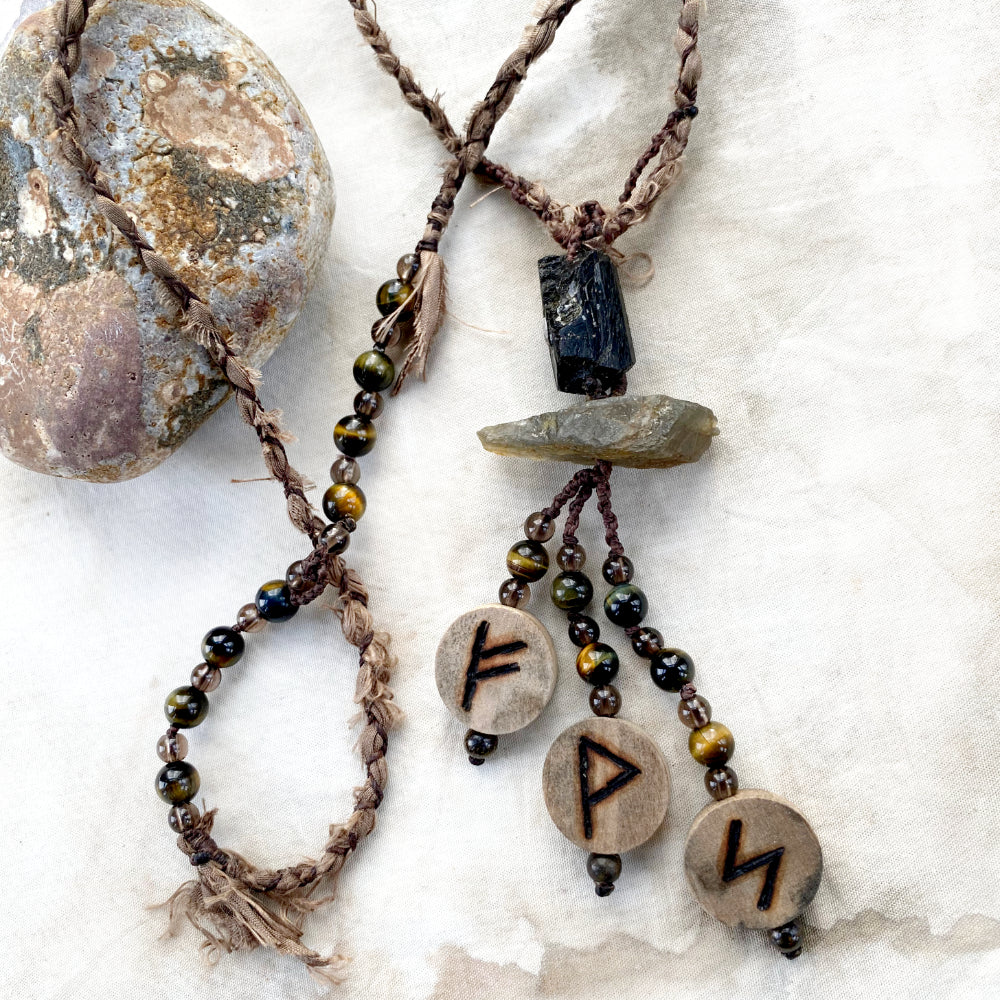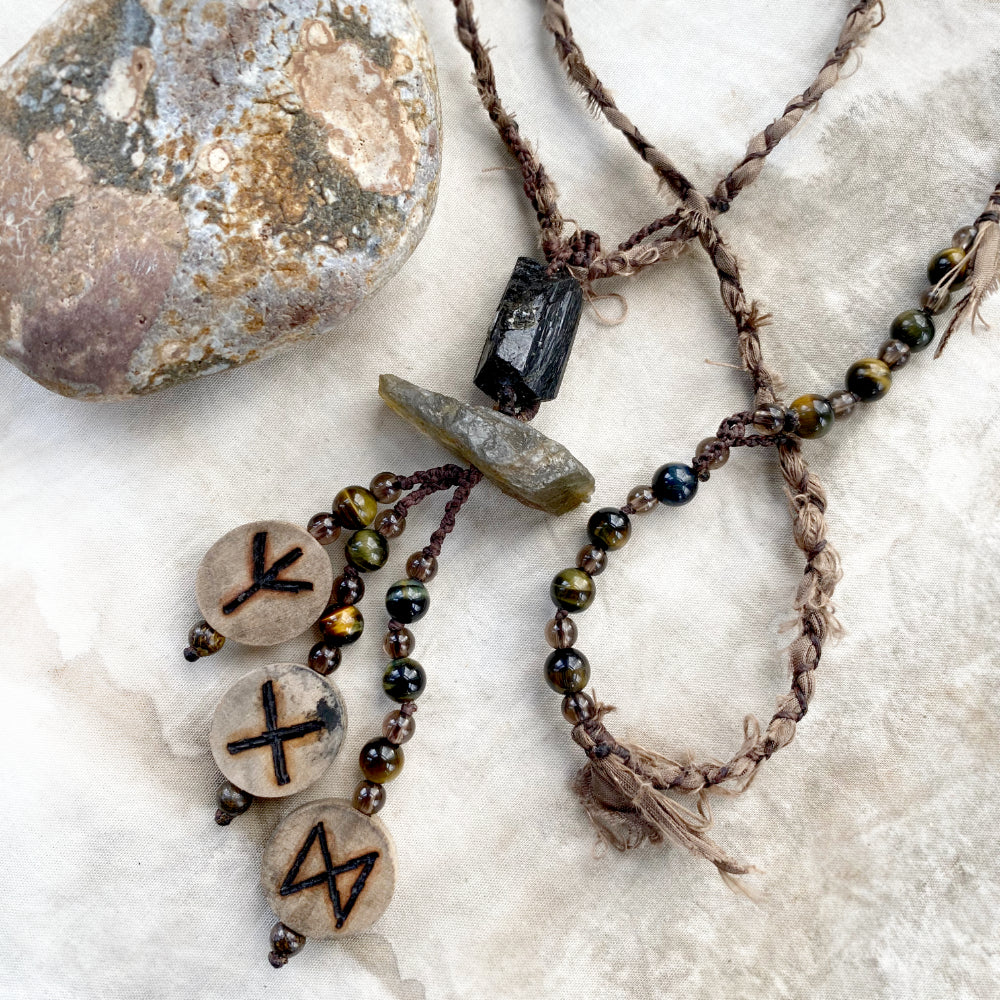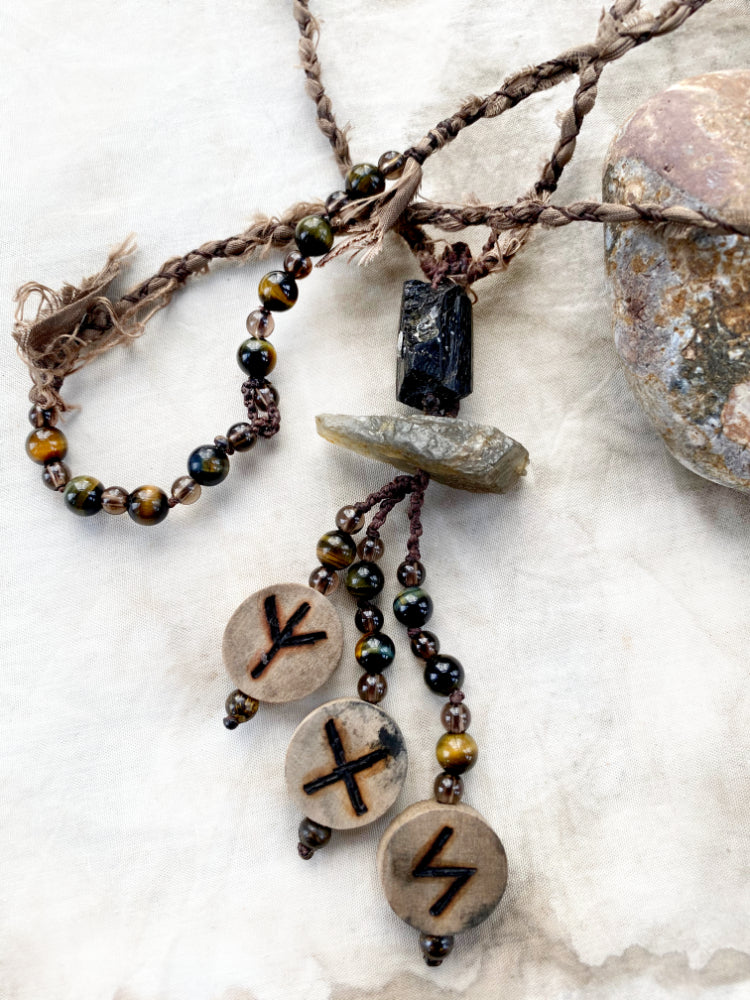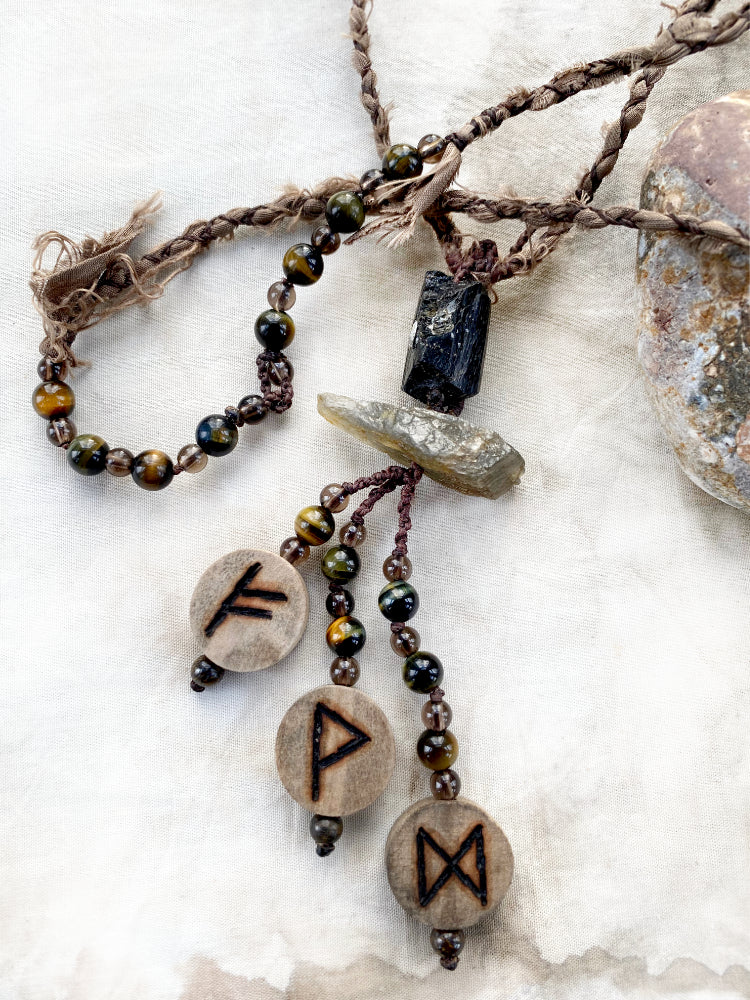 Runic crystal energy talisman
DESCRIPTION
Runic talisman necklace with three beechwood slices incorporating a rune on each side - one with Algiz (protection) & Fehu (prosperity), second with Wunjo (joy) & Gebo (gift), the third with Sowilo (success) & Dagaz (awakening). You can handle the runes either together or each separately to focus on the energies and evoke them in your life.
The rune strands are knotted with Hawk Eye and Smokey Quartz, attaching to a combination of rough cut Labradorite and Black Tourmaline, the pair forming a shape suggestive of Mjölnir. The necklace is braided with a combination of dark brown micro-macrame cord and greyish brown raw silk. There is a beaded section with Hawk Eye and Smokey Quartz joining the braids at the back of the neck.
The necklace is set length and long enough to just slip over the head without any need for a clasp. The all-around length of the necklace is 74 cm (29"). The length of the rune 'tassel' from the top of the Black Tourmaline to the base of the lowest hanging rune is approx. 10 cm (4"). The wooden runes are just under 2 cm (0.8") in diameter each.

You'll receive this crystal healing necklace in one of Spirit Carrier's fabric draw-string pouches, great for the safe-keeping of the necklace. Gift-wrapped at no extra charge.

Read here how to take care of your crystal jewellery.
CRYSTAL PROPERTIES
BLACK TOURMALINE (aka Schorl)
One of the most well-known protective stones, shielding its user from negativity. A shamanic stone used for grounding during vision quests. Empowering for those who work in challenging environments. Purifies and transforms denser energies into lighter vibrations and is also detoxifying for the body. If you're sensitive to electromagnetic smog, you may get relief by wearing black Tourmaline.
LABRADORITE
One of the most powerful, versatile crystal tools for healing. Creates an auric shield and strengthens your innate energy and life force, preventing energy leakages. Enhances intuitive abilities and assists in spiritual transformation. Helps the wearer align with their highest destiny and discover their inner worth. Strengthens willpower and brings in new ideas. Often referred to as the 'Stone of Destiny', believed to help you to find your true path in life, and as 'Temple of the Stars', anchoring higher dimensional light into your being.
HAWK EYE
Elevates one's perception to see things from a higher perspective, thus aiding in making skilled decisions. Brings clarity, opens up inner guidance and new possibilities. Helps in building courage to trust one's own inner wisdom and intuition. Assists in visualising goals, both spiritual and material and to follow through in bringing them into existence.
SMOKEY QUARTZ
A grounding and calming stone that elevates moods and dissipates negative emotions. "A Stone of Serenity", it is comforting and protective for one's aura. Smokey Quartz is thought to assist in creative endeavours and also in setting personal boundaries. Offers protection against electromagnetic rays. A good healing stone for improving general feeling of well-being. Relieves anxiety and worry, wards off confusion. Shielding crystal to create a calm, safe environment.
Recently Viewed