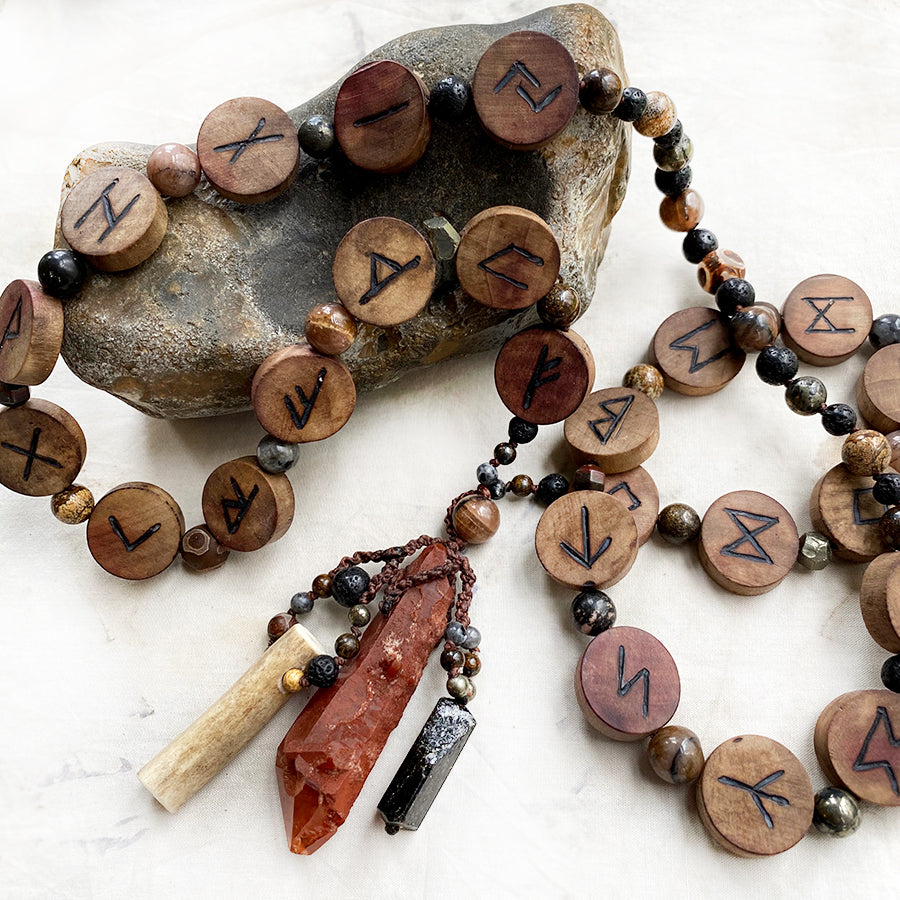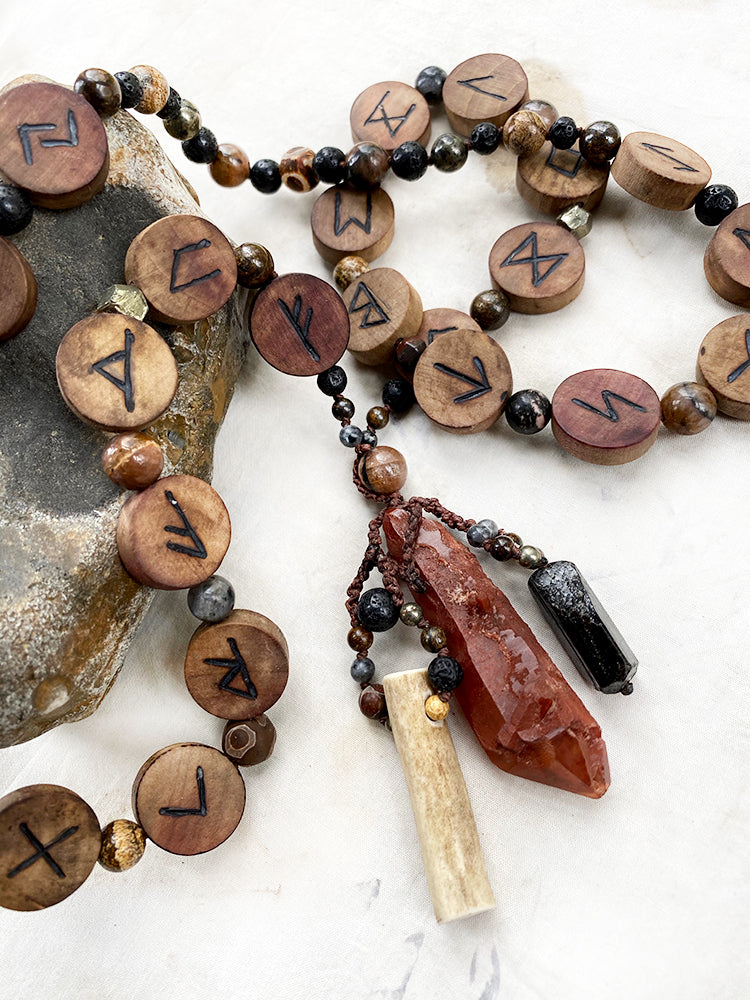 Runic talisman ~ with Elder Futhark
DESCRIPTION
Runic talisman necklace, with a selection of dark toned crystals, alternating with wooden Elder Futhark runes. All 24 are represented in order, the middle Aett divided in half so that one side of the necklace includes the runes from Fehu to Jera and the other side has the runes from Ihwaz to Othala. Between the two sides, there is a section of crystal beads that settle behind the neck when worn. This allows the runes to show in front and upright on both sides. The pendant stone is a 'tassel' of three: Black Tourmaline, raw Hematoid Quartz point and a horn pendant strung with dark tone crystals. The necklace is knotted with dark brown micro-macrame cord, and the wooden runes are burnt on round disks of botanically aged beechwood. The crystals included along the necklace are: Chiastolite, Pyrite, Bronzite, Lava Stone, Rhodonite, Dzi Agate, Picture Jasper, Norwegian Moonstone and Tiger Iron.
This is a long necklace with an all-around length of 83 cm (32.5"). The diameter of the wooden rune disks is just under 2 cm (0.8"). The Hematoid Quartz point is approx. 6 cm (2.4") tall.

You'll receive this runic talisman in a leather draw-string pouch for safekeeping, and gift-wrapped at no extra cost. If you would rather have a fabric pouch, please let me know at the time of purchase.

Read here how to take care of your crystal jewellery.
CRYSTAL PROPERTIES
The five main crystal energies:
HEMATOID QUARTZ (Hematite included Quartz)
Supports self-esteem, self-confidence, courage and will power. Grounding and balancing energy, easing fears and worries. Highly protective, helps in maintaining your auric shield. Grounds higher spiritual energy into the body, enabling you better manifest your dreams into reality.
CHIASTOLITE
Stone of balance and harmony. Its visible cross-pattern is thought to symbolise one's commitment to approach life with Awareness. Assists in adapting to change at transitional times. It is also thought to enhance practical creativity. Very protective, allows its wearer to hold their personal space more easily. For someone who has "many irons in the fire" all the time, this is a great crystal to have close for coping with it all!
PYRITE
Taps into your innate abilities, bringing confidence and perseverance to aim for your goals. A shielding stone that helps you see the truth in the motives of others. Increases vitality and enhances your assertive qualities. Helpful in turning melancholy into feeling empowered and more light-hearted. Helps in letting go thoughts of misfortune and worry, thus making it an excellent stone for manifesting abundance. Symbolises the warmth and presence of sun, attracting also abundance of love, friendship and success. Also excellent stone against electromagnetic fog.
AGATE
The oldest good luck amulet. In ancient times Persian magicians were, according to legend, diverting storms with the powers of Agate. Considered a protective stone (especially for travel), said to shield its keeper against dangers. Increases inner stability, enhances personal courage and fosters self-confidence. Grounding and soothing. Balancing stone for one's energy system to experience oneness instead of duality.
LAVA STONE
Stone of vitality, assertiveness and passion. Provides stability in times of change. Grounding and protective. Supports courage and decisiveness. Helps in finding one's 'life path'. Encourages personal development and growth.
Recently Viewed