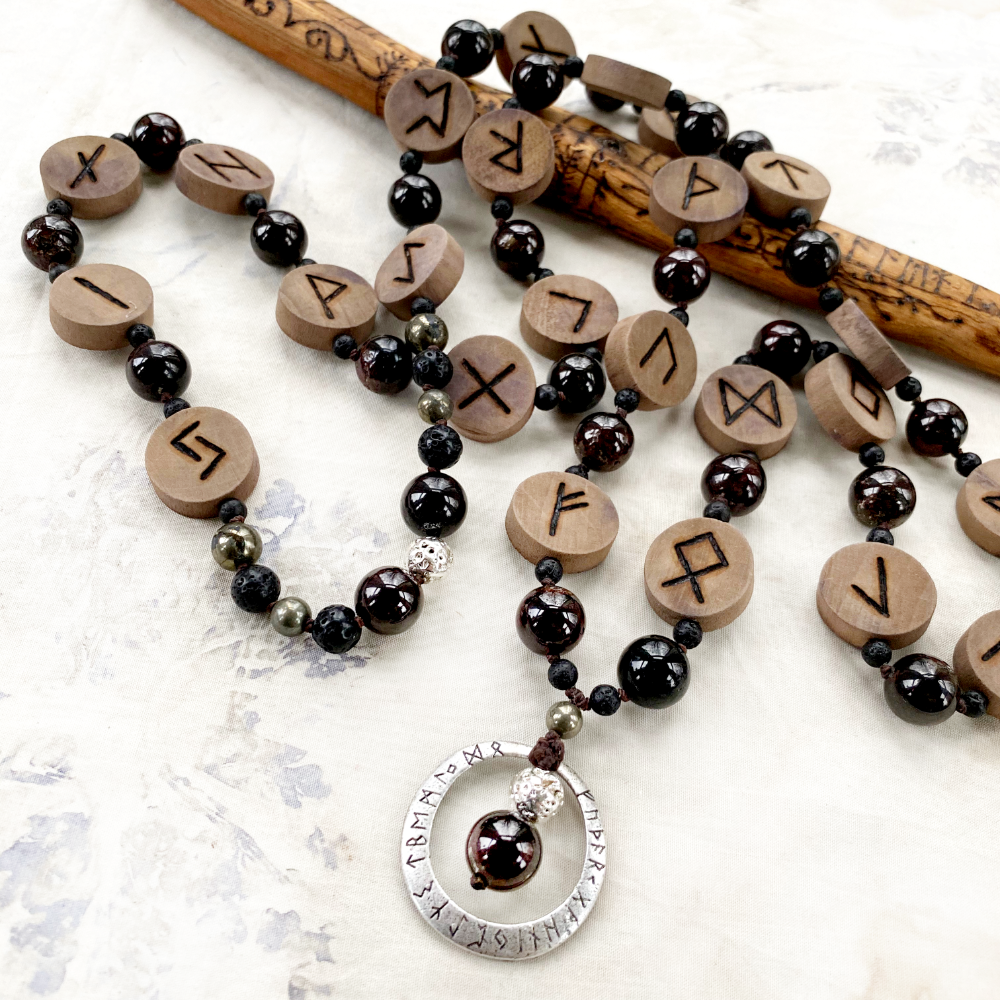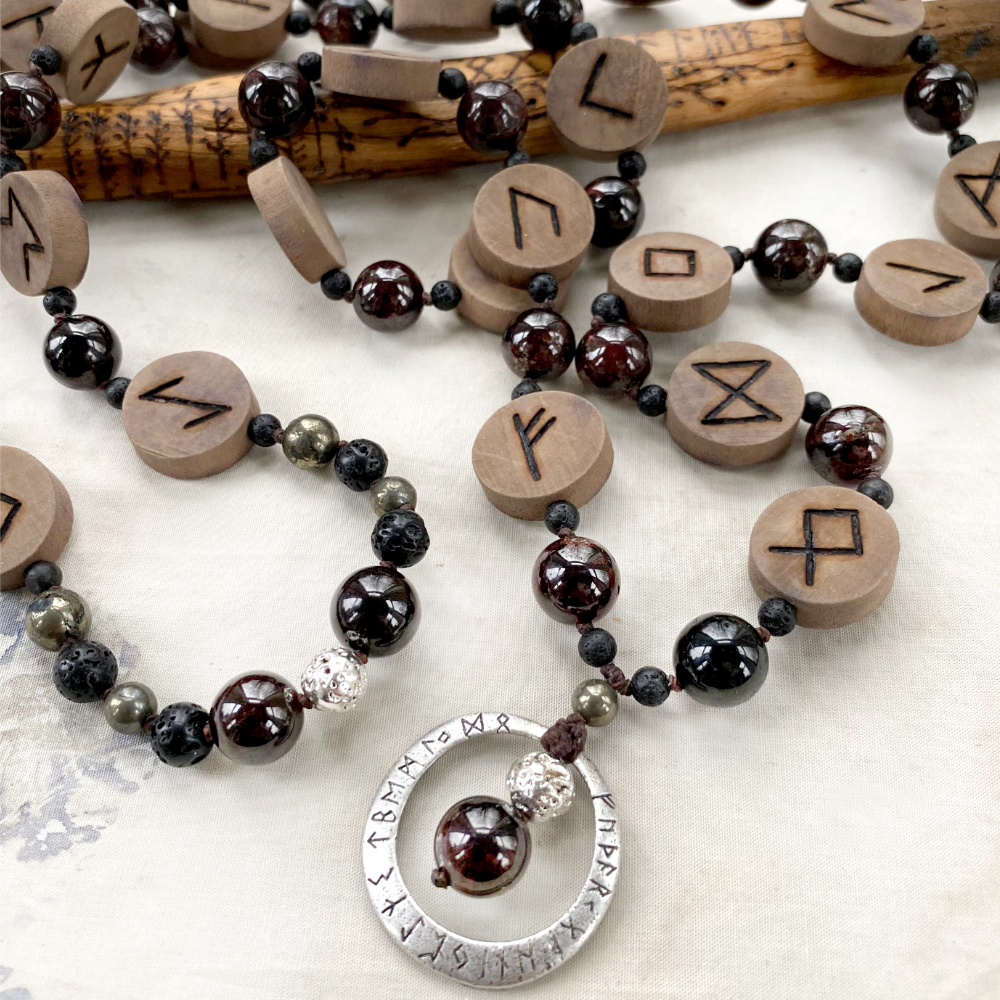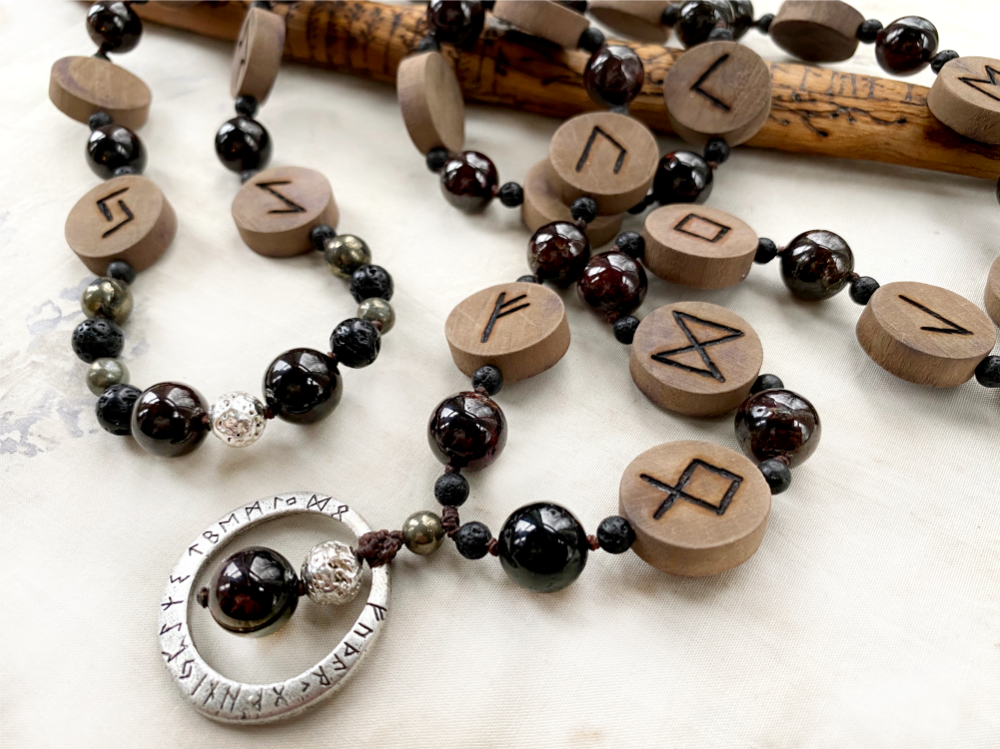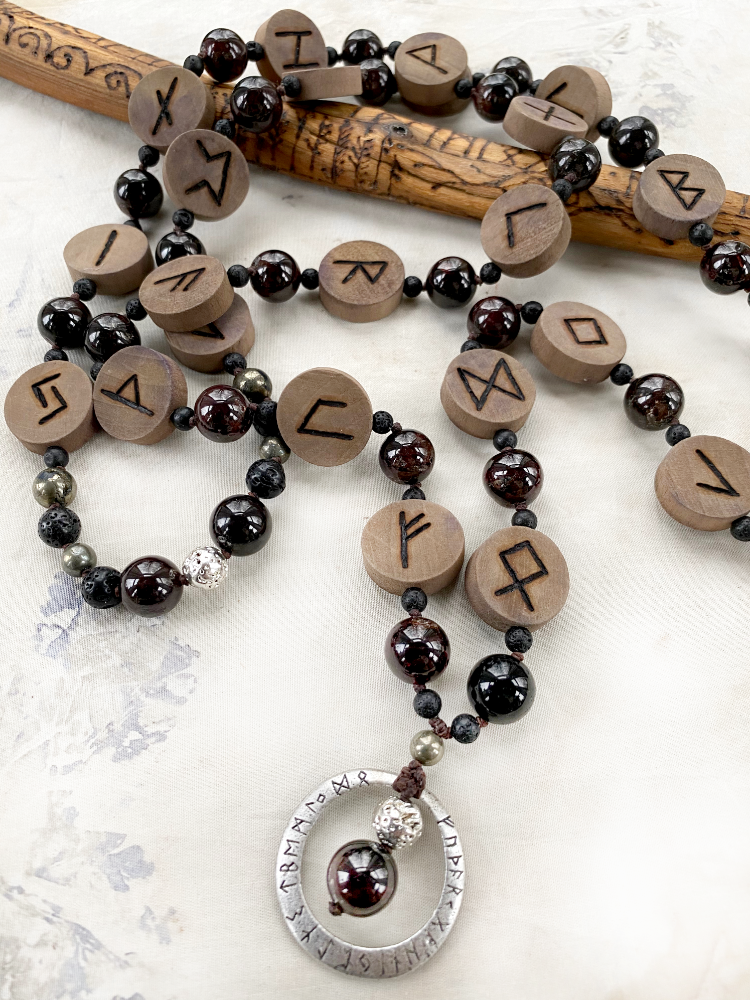 Runic talisman ~ with Elder Futhark
DESCRIPTION
Runic talisman necklace, with a selection of dark toned crystals, alternating with wooden Elder Futhark runes. All 24 are represented in order, the middle Aett divided in half so that one side of the necklace includes the runes from Fehu to Jera and the other side has the runes from Ihwaz to Othala. Between the two sides, there is a section of beads that settle behind the neck when worn. This allows the runes to show in front and upright on both sides. The crystals included along the necklace between the rune disks are Almandine Garnet and Lava Stone.  The pendant that joins the runes together in the front is a combination of Pyrite with a metal circle (showing the Elder Furthark runes) and two spheres, silver-plated Lava Stone and Almandine Garnet dangling in the middle of the rune circle. The necklace is knotted with black micro-macrame cord, and the wooden runes are burnt on one side of the round disks of botanically aged beechwood, meaning you can use this talisman for divination as well - reading the runes that are showing at any one time.
This is a long necklace with an all-around length of 109 cm (43"). The diameter of the wooden rune disks is just under 2 cm (0.8"). The metal circle has a diameter of 3 cm (1.2").

It is possible to use this talisman also as a rune casting aid. You place this talisman on your chosen surface, creating a round space in the middle. You then cast your own set of runes in this space. The talisman forms the edges of your casting space containing the runes thrown in, and you can also read your runes in connection to the runes in this talisman, in relation to where the cast runes happen to land.
You'll receive this runic talisman in a sturdy double-layered fabric draw-string pouch for safekeeping, and gift-wrapped at no extra cost.

Read here how to take care of your crystal jewellery.
CRYSTAL PROPERTIES
ALMANDINE GARNET
Stimulates one's life force. Supports the root chakra while drawing earth energy into the body, helping you to feel secure and centred. Awakens the "inner fire" of creativity. Highly protective stone and a great companion to keep you energised. Excellent good fortune and 'success' stone in both social and career ventures, adding positive vibes both in your personal or business life. Stone of purification and cleansing. Symbolises passionate, devoted love.
LAVA STONE
Stone of vitality, assertiveness and passion. Provides stability in times of change. Grounding and protective. Supports courage and decisiveness. Helps in finding one's 'life path'. Encourages personal development and growth.
PYRITE
Taps into your innate abilities, bringing confidence and perseverance to aim for your goals. A shielding stone that helps you see the truth in the motives of others. Increases vitality and enhances your assertive qualities. Helpful in turning melancholy into feeling empowered and more light-hearted. Helps in letting go thoughts of misfortune and worry, thus making it an excellent stone for manifesting abundance. Symbolises the warmth and presence of sun, attracting also abundance of love, friendship and success. Also excellent stone against electromagnetic fog. 
Recently Viewed