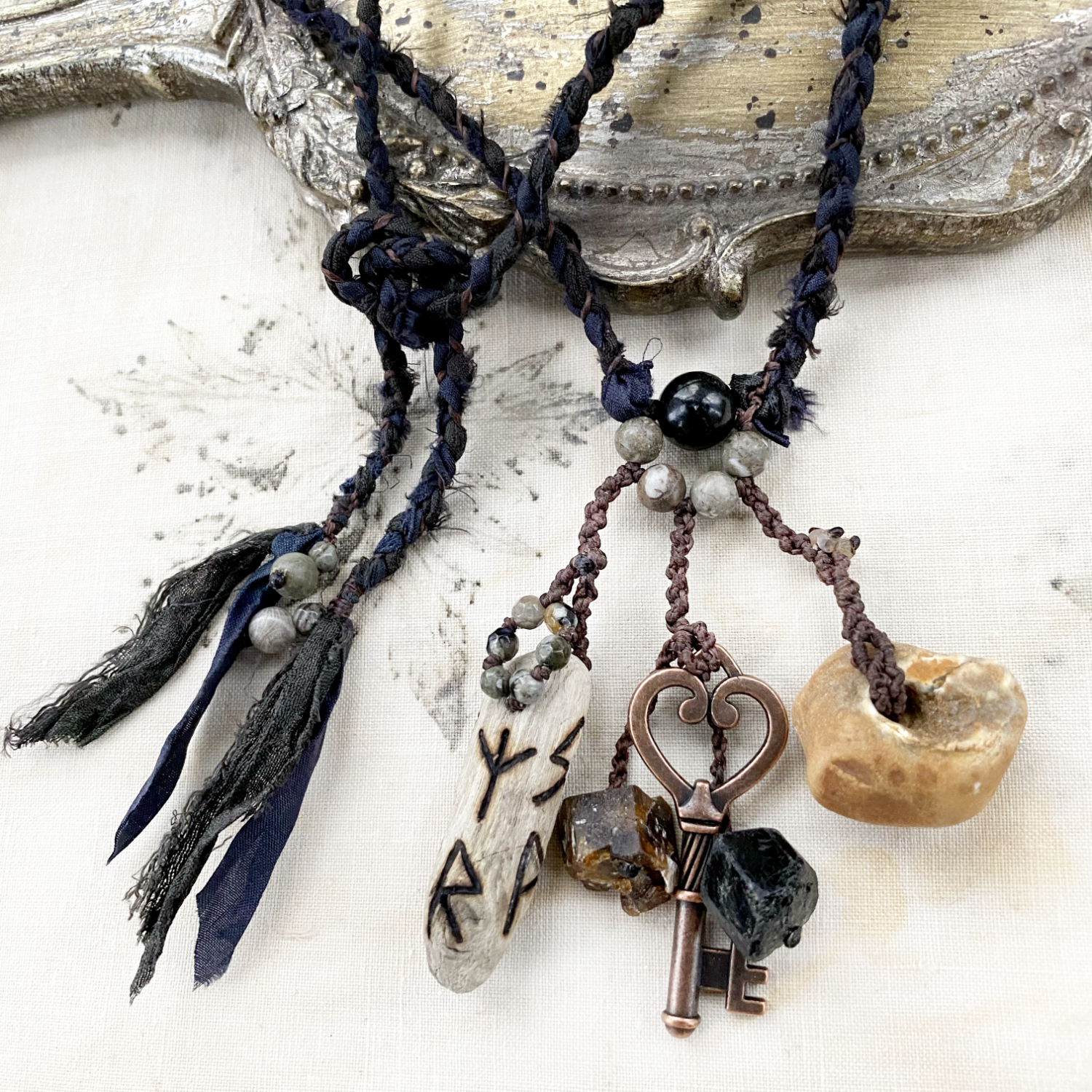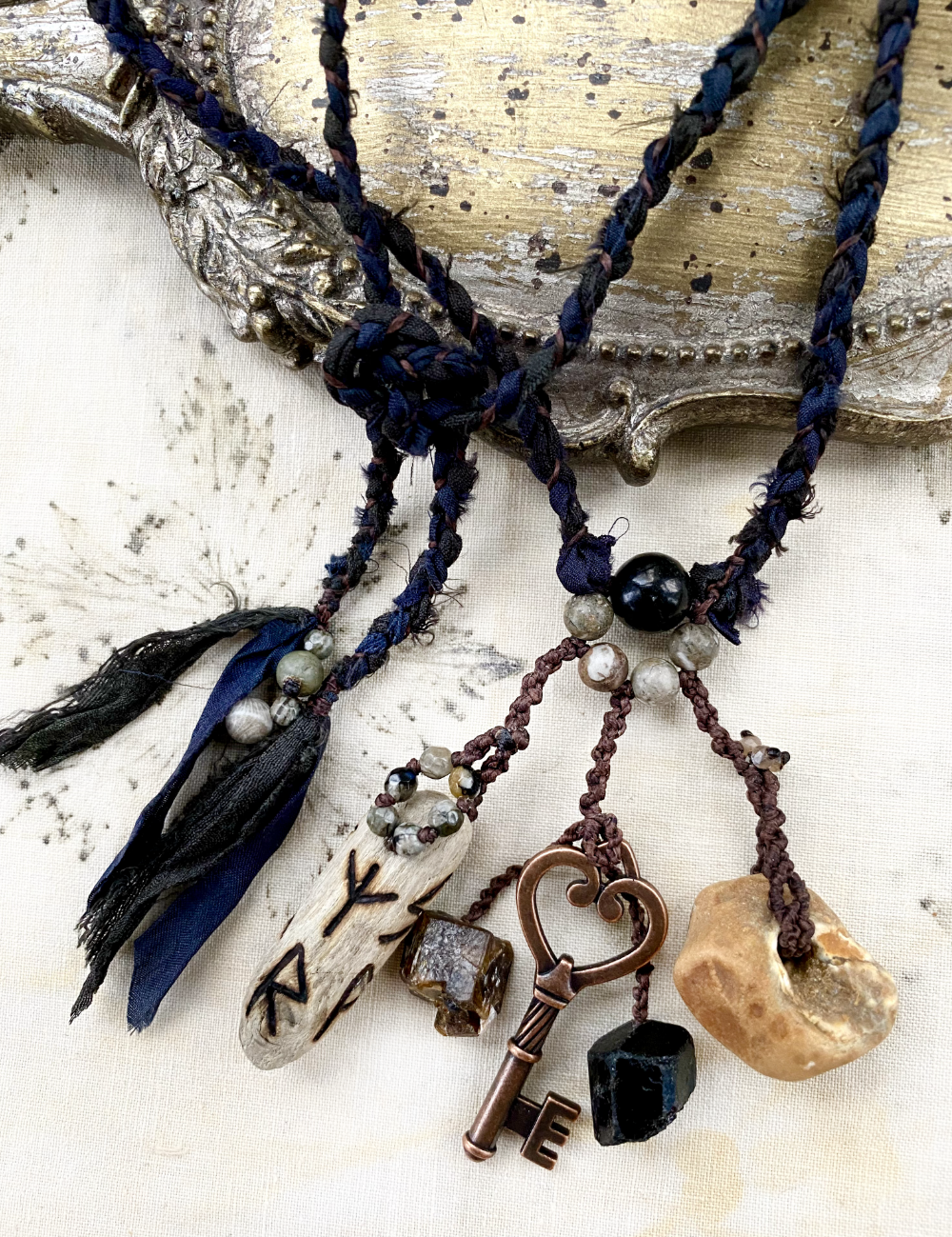 Runic talisman with skeleton key & crystals
DESCRIPTION
Shamanic style talisman necklace with a brass skeleton key, a sea-tumbled piece of driftwood with burnt rune markings, two rough cut pieces of Tourmaline: black & brown and a Flint Hagstone. According to legends, hagstones have special powers in protecting their owners, and it is said you might see fairies if looking through its natural hole. The charms join together with Petoskey Stones and Jet to the soft necklace braid.

The necklace braid is a combination of black recycled sari silk and brown micro-macrame cord. The braid ends are left open so you can tie them to wear the charms at your desired level. The brass key is 4.5 cm (1.8") tall. The driftwood piece 4 cm (1.6") tall and the Hagstone is 2.5 cm (1"). The drop-length of the charm pendant from the top edge of the Jet is approx. 8 cm (3").

The driftwood includes eight Elder Futhark runes:
Fehu for prosperity and luck
Ansuz for clear communication
Raidho for smooth travels
Wunjo for joy and optimism
Algiz for protection and safety
Laguz for peace of mind
Sowilo for success and victory
Othala for family harmony and affluence

KEY SYMBOLISM
Representing access to hidden knowledge and success, opening a door to a brighter future. Indicates freedom of movement, whether in or out, but also of obtaining liberation from something. Skeleton keys specifically are about unlocking multiple locks, symbolising the keeper's ability to make their most heart-felt dreams come true in any area. Stands for spotting opportunities, possibilities and solutions. Of course, also a powerful a symbol of love, as in having access to someone's heart. 

You'll receive this crystal healing necklace in one of Spirit Carrier's fabric draw-string pouches, great for the safe-keeping of the necklace. Gift-wrapped at no extra charge.

Read here how to take care of your crystal jewellery.
CRYSTAL PROPERTIES
BLACK TOURMALINE (aka Schorl)
One of the most well-known protective stones, shielding its user from negativity. A shamanic stone used for grounding during vision quests. Empowering for those who work in challenging environments. Purifies and transforms denser energies into lighter vibrations and is also detoxifying for the body. If you're sensitive to electromagnetic smog, you may get relief by wearing black Tourmaline.
DRAVITE (aka Brown Tourmaline, Champagne Tourmaline, Dravide)
Soothing and reassuring, contributes to a peaceful atmosphere in its vicinity. Helps you feel at ease in a crowd. Deeply cleansing energetically. Empowering stone, inspires courage and increases stamina in situations where needed. Improves self-esteem, guiding you to accept yourself on all levels and to move on with life. Good stone in enhancing creativity.
FLINT
Ancient protection amulet, calling in spiritual guides and allies. Helps cut away anything that is not in your highest good, dissolving energetic blockages and detaching negative etheric ties from the aura and chakras. Increases self-esteem and courage. Excellent electromagnetic conductor, thus useful for those who are sensitive to EMF pollution. Purifies its environment. Said to prevent nightmares. Known as a "Portal Stone", facilitating your connection with higher dimensions and with your true self. Grounding vibe, which resonating with the Earth Star chakra, yet also corresponds to the Soul Star chakra, offering spiritual expansion and allowing you to ground higher spiritual knowledge into your physical existence.

PETOSKEY STONE
A supportive companion at times of transformation and major shifts in one's being. Encourages the integration of new positive changes into our life. Helps in developing one's intuitive senses and to feel the connection with subtle energies. Enhances imagination and creativity. Calls its keeper to recognise and appreciate their own unique individuality which makes life even richer.
RHYOLITE
Balancing stone on all levels, alleviating anxiety and worries. Builds emotional strength in view of fulfilling ones dreams and goals. Shifts energy towards moving forward, assists in visualising desired change. Ignites creativity, helping to make things happen in one's life and to tap into one's innate abilities. Also thought to help its keeper to look and feel younger!

JET
Stone of protection and purification, helping to keep negativity at bay. Often used to stabilise finances and protect businesses, but also as a shield against psychic attacks and removing energetic attachments. Assists in spiritual advancement and the rise of kundalini energy. Enlists the help of Earth energy in manifesting one's desires. Calming for those battling with difficulties. Comforting stone, mood-balancing, easing anxiety and fears. Increases self-reliance and helps in the process of life changes.
Recently Viewed