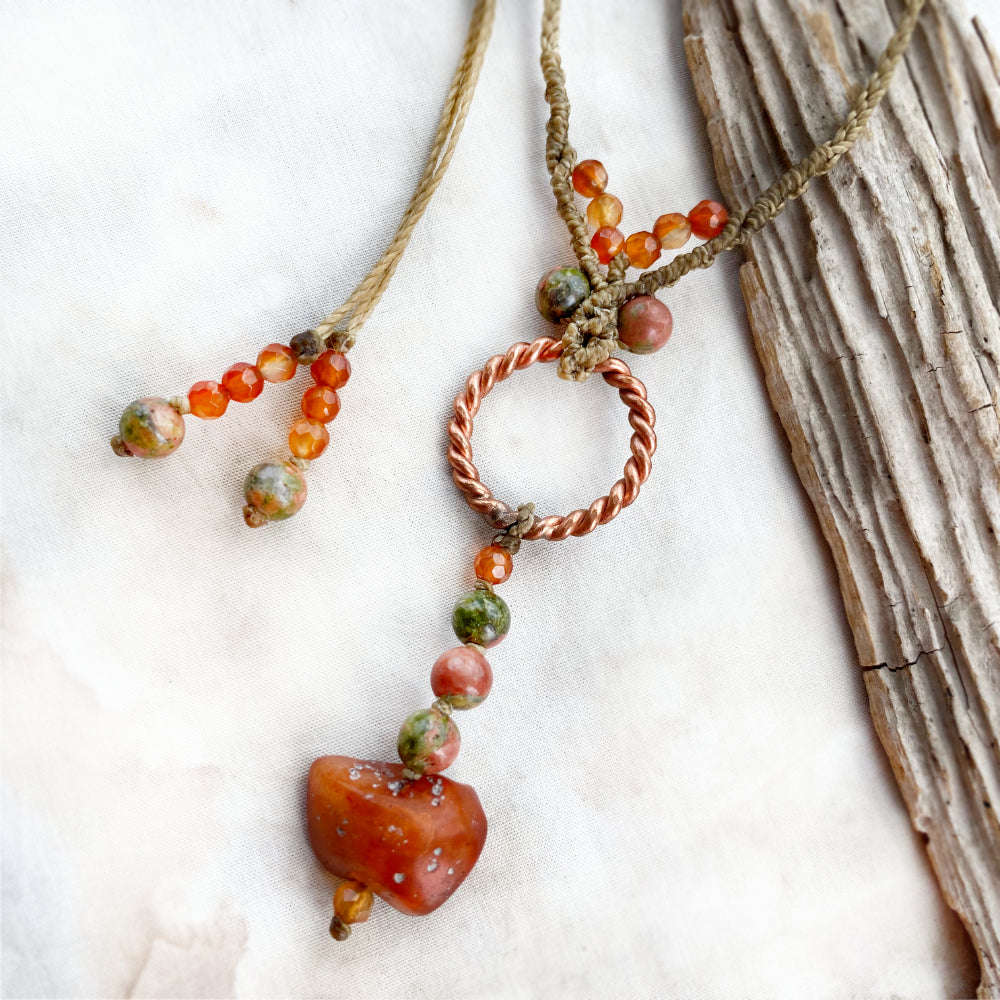 Sacred cubit tensor ring necklace with Carnelian & Unakite
DESCRIPTION
Crystal energy talisman combining a solid copper Sacred Cubit tensor ring with a cairn of Carnelian and Unakite. The necklace is minimally braided with greenish brown micro-macrame cord - very soft and comfortable to wear.
The necklace has a knotted channel through which you can pull the braided cords so you can have the pendant hang at your desired level. The outer diameter of the copper circle is 2.8 cm (1.1"). The length of the crystal cairn from the base of the Cubit to is approx. 4.5 cm (1.8").
The Sacred Cubit originates in the King's Chamber of the Great Pyramid, together with the Royal and Lost Cubits. Sacred Cubit resonates at 144 Hz and is purported to be an infinite energy source, to purify and transmute harmful energies that are detrimental to one's life force energy and bringing balance to chaotic environments and situations. It is also said to be a great manifestation aid and attract abundance, as well as being an all round harmonising energy.
You'll receive this crystal healing necklace in one of my handmade fabric draw-string pouches - great for the safe-keeping of the necklace. Gift-wrapped at no extra charge.

Read here how to take care of your crystal jewellery.
CRYSTAL PROPERTIES
CARNELIAN
Known as a stone of motivation and courage. Stimulates creativity and increases one's sense of self-worth. Balancing for body's energy levels, restoring vitality and motivation. Said to attract prosperity, new resources and good luck. A success stone that helps you follow through with plans. Stone of action that aids in overcoming procrastination. Helps in gaining more understanding of one's inner self. Stimulating to the Sacral Chakra, which, when in balance, allows one to enjoy life, feel its joys and pleasures, be flexible and 'go with the flow'.
UNAKITE
Emotionally healing, encouraging loving self-acceptance. Clears energy blockages from past hidden emotions, allowing you to radiate love openly, thus attracting love from others. Peaceful stone of connection that encourages harmonious partnerships. Also excellent stone for protecting from electromagnetic fog.
Recently Viewed