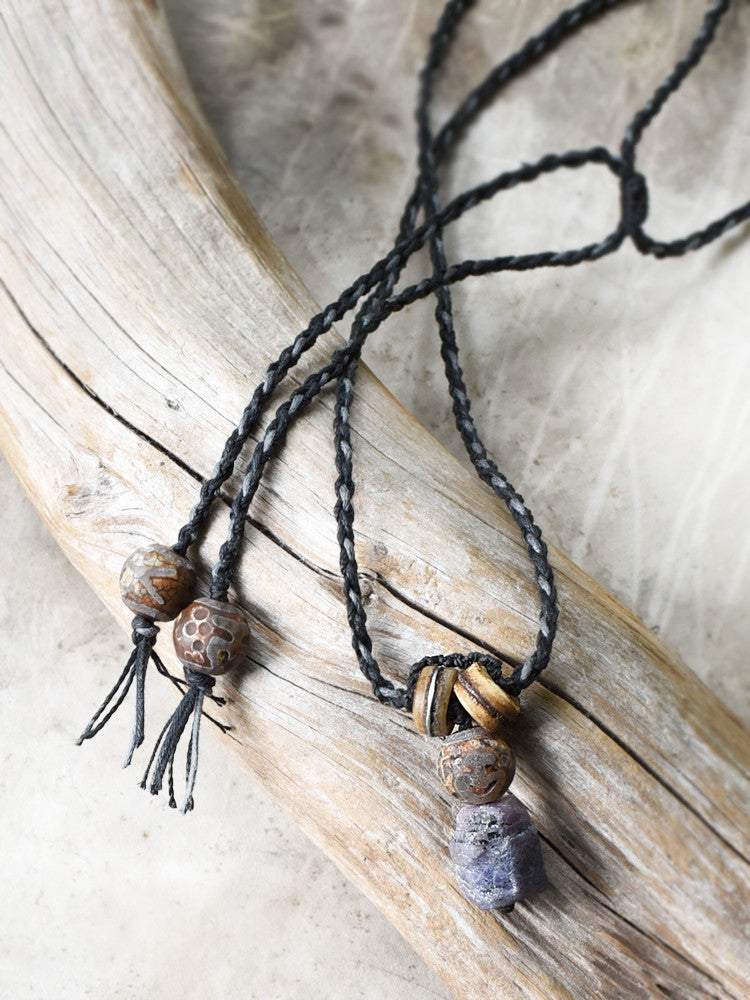 Stone talisman for men ~ with raw Sapphire, Tibetan Dzi Agate & antique mala beads
DESCRIPTION
Men's necklace (fully adjustable length) with focal pendant of raw Sapphire, Tibetan Dzi Agate and two antique mala beads. This stone combination is just over 4 cm (1.6") tall. The Agate stones are 1.4 cm (0.5") in diameter. The cord is hand-braided round cotton chain in tones of blueish grey and black. The ends of the necklace chain are adorned by Tibetan Dzi Agates as well. 
Care: To protect the fibre components from deteriorating, showering / swimming while wearing this necklace is not recommended.
You'll receive this necklace in one of my handmade, luxurious black reindeer hide draw-string pouches - great for the safe-keeping of the necklace. This great gift set also arrives gift-wrapped for no extra charge.
CRYSTAL PROPERTIES
SAPPHIRE
A stone of psychic activation, enhances insight and focus. Helps the throat and third eye chakras to work in unison to strengthen and express one's inner vision. Grounds higher knowledge and helps one to stay centred. Evokes the wisdom needed to see past any situation into the underlying truth. Helpful in channeling healing energy from the highest source, allowing access to deeper levels of consciousness. (Sapphire is one of the four 'precious' gemstones, the other three being Ruby, Emerald & Diamond. Other gemstones are considered 'semi-precious'.)
AGATE
The oldest good luck amulet. In ancient times Persian magicians were, according to legend, diverting storms with the powers of Agate. Considered a protective stone (especially for travel), said to shield its keeper against dangers. Increases inner stability, enhances personal courage and fosters self-confidence. Grounding and soothing. Balancing stone for one's yin-yang energies.
Recently Viewed