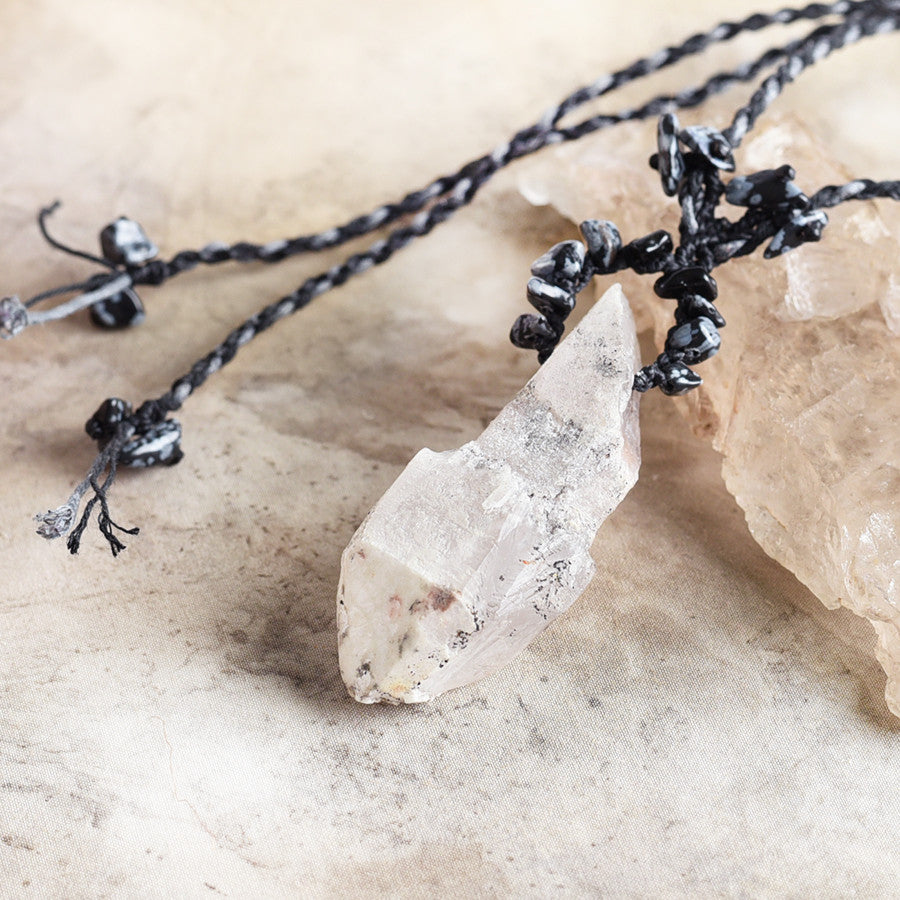 Sceptre Quartz stone talisman with Snowflake Obsidian
DESCRIPTION
Stone talisman with a rough Sceptre Quartz, a true old soul both in energy and in appearance. The necklace braid is a combination of blueish grey cotton cord and black micro-macrame cord. The highlighting crystals are Snowflake Obsidian. The long braid ends are decorated with the same, and there's a slip lock through which the necklace length can be adjusted.
The Sceptre Quartz is approx. 6 cm (2.4") tall and 2.5 cm (1.2") at its widest.

There are no metals in this necklace so would be particularly suitable for those with metal sensitivities / metal allergy, energy workers and those who simply prefer not to wear metal.

You'll receive this crystal healing necklace in one of my handmade fabric draw-string pouches - great for the safe-keeping of the necklace. Gift-wrapped at no extra charge.
CRYSTAL PROPERTIES
SCEPTRE QUARTZ
Sceptres are a symbol of divine authority. A crystal of empowerment. According to legend in the ancient Lemuria sceptres were used as energy tools by the goddesses, and the right to use one had to be earned. Sceptres improve psychic attunement and increase confidence. They provide protection against controlling influences. Harmonises the higher vibrational energies in the aura and stimulates healing.
SNOWFLAKE OBSIDIAN
Promotes a sense of calm and inner equilibrium, bringing balance to body, mind and spirit. A grounding, protective stone. Eases worries and when carried/worn helps one to stay balanced and centred throughout the day. Native American shamans often carried Snowflake Obsidian as a powerful talisman to avert evil and bring good fortune, also considering it to be the guardian of the Great Spirit.
Recently Viewed