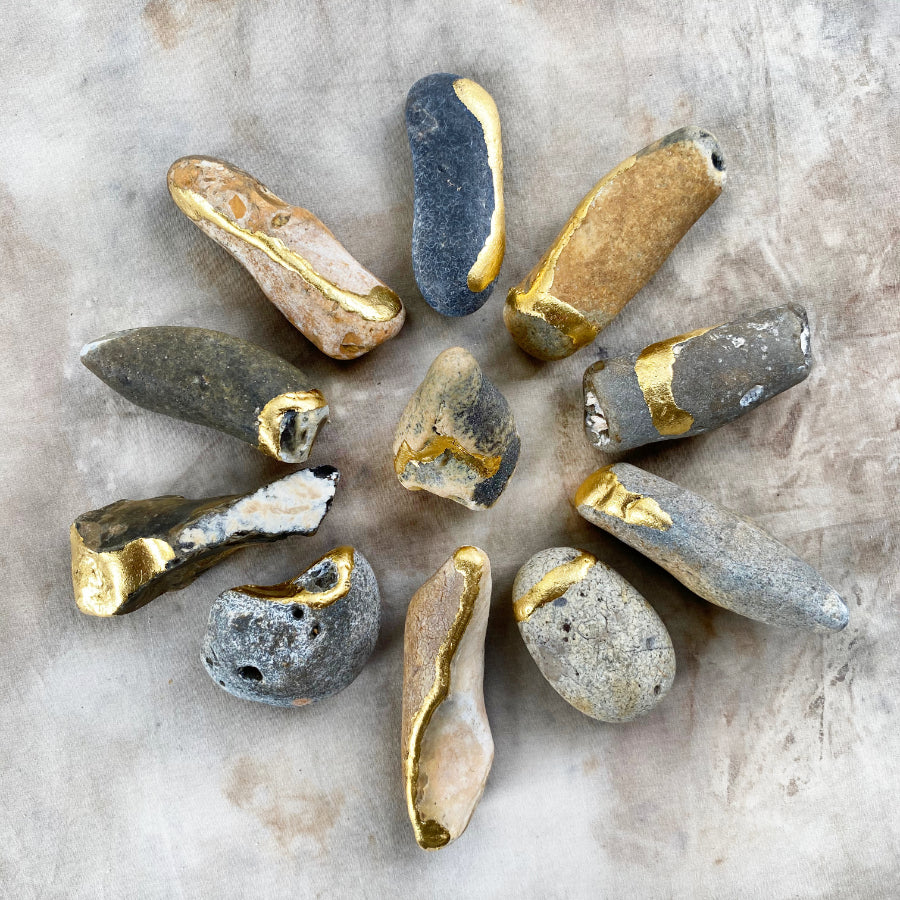 'Dedication Stone' ~ sea-tumbled Flint stone with genuine 24ct gold leaf
A natural sea-tumbled Flint, earthy in tone and tactile to handle. The surface of the stone includes an area of genuine 24 carat gold, in an organic flowing pattern to match the natural feel of the stone.
This piece would be perfect as a 'dedication stone', to hold energy for something that you either want support with or want to advance such as a goal or a life issue. You dedicate the stone to your chosen purpose through your intention, and can then use it as a focus aid, keep it close, and include it in meditation or as part of a crystal grid.

The Flint is just over 5 cm (2") long.
The second photograph shows this stone on the left in the mandala, slightly above the middle line.
Please note that pure 24ct gold is not as hard as gold that has impurities (small amounts of other metals included) so it is advisable not to rub the gold with anything scratchy.
You'll receive this stone in a small linen drawstring pouch and gift-wrapped at no extra charge.
~

GOLD
Symbol of eternity and spiritual purification. Associated with the Sun and its life giving shine. Pure 24 carat gold that is not alloyed with other metals strengthens the energy of crystals that it is combined with and has a healing effect on their energy. (Other metals combined with pure soft 24 carat gold for hardening purposes change its energy and vibration, thus lessening its effectiveness.)

FLINT symbolism and metaphysical meaning
Ancient protection amulet, calling in spiritual guides and allies. Helps cut away anything that is not in your highest good, dissolving energetic blockages and detaching negative etheric ties from the aura and chakras. Increases self-esteem and courage. Known as a "Portal Stone", facilitating your connection with higher dimensions and with your true self. Offering spiritual expansion and allowing you to ground higher spiritual knowledge into your physical existence. The energetic effects of various colours and patterns in Flint make it an incredibly useful crystal healing tool and the most fascinating stone to meditate with. Excellent electromagnetic conductor, thus useful for those who are sensitive to EMF pollution. Place near your computer / mobile phone for EMF relief. Purifier for the environment, so place around your living space to cleanse and stabilise energies.



Recently Viewed