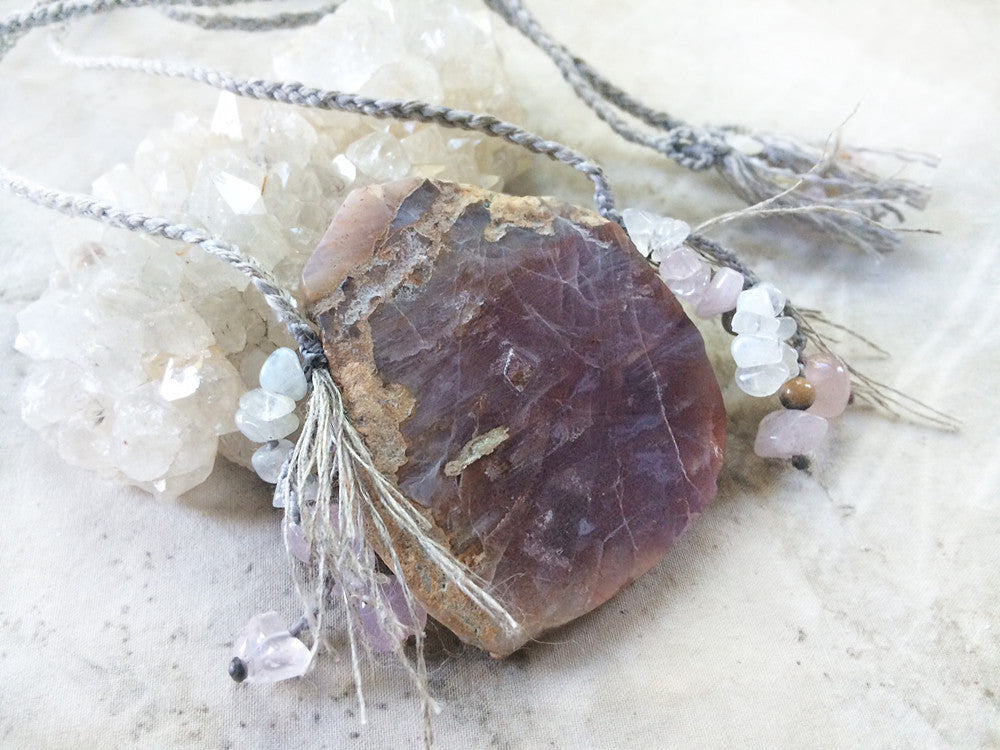 'Secret Gate' ~ Agate talisman with Rainbow Moonstone & Rose Quartz
DESCRIPTION
Crystal healing talisman with reddish tone Agate. The otherwise smooth surface of the Agate shows a small raised diamond-shaped area, in crystal healing terms 'a key' - you might like to feel it with your finger, it is like activating the wisdom of the stone... The Agate attaches to a necklace braid of un-bleached, organic linen thread, combined with grey micro-macrame cord. The highlighting crystal strands on both sides of the Agate include Rose Quartz, Rainbow Moonstone and Crazy Lace Agate. The long necklace braid ends are decorated with the same highlighting crystals and are left open so you can tie the stone to hang at your chosen height.
The Agate is approx. 5 cm (2") tall and is approx. 4.5 cm (1.8") at its widest.
There are no metals in this necklace so would be particularly suitable for those with metal sensitivities / metal allergy, energy workers and those who simply prefer not to wear metal.
You'll receive this crystal healing necklace in one of my fabric draw-string pouches, great for the safe-keeping of the necklace. Gift-wrapped at no extra charge.
CRYSTAL PROPERTIES
AGATE
The oldest good luck amulet. In ancient times Persian magicians were, according to legend, diverting storms with the powers of Agate. Considered a protective stone (especially for travel), said to shield its keeper against dangers. Increases inner stability, enhances personal courage and fosters self-confidence. Grounding and soothing. Balancing stone for one's yin-yang energies.
CRAZY LACE AGATE
A stone of laughter and happiness, offering support and encouragement, elevating one's mood and promoting optimism. Uplifting stone that alleviates emotional pain and promotes self-acceptance. Useful for overcoming any kind of trauma, encouraging one to start over. Promotes inner stability.
ROSE QUARTZ
Powerful love stone, love that is all-encompassing and unconditional. Vibrates its loving energy to all chakras, offering gentle healing. Soothing and calming. Dissolves anger and resentment. Good for raising one's self-esteem and feelings of self-worth. Balances emotions and is said to support all types of healing.
RAINBOW MOONSTONE
Calming and soothing with protective qualities. Assists in finding one's true path in life and embrace one's innate gifts. Helps in providing insights and sheds light into unclear issues. Thought to facilitate communication with spiritual and physical world, and to bring out psychic abilities. Intensifies one's feminine 'Goddess' energy, assisting women to embrace their innate personal strength.
Recently Viewed