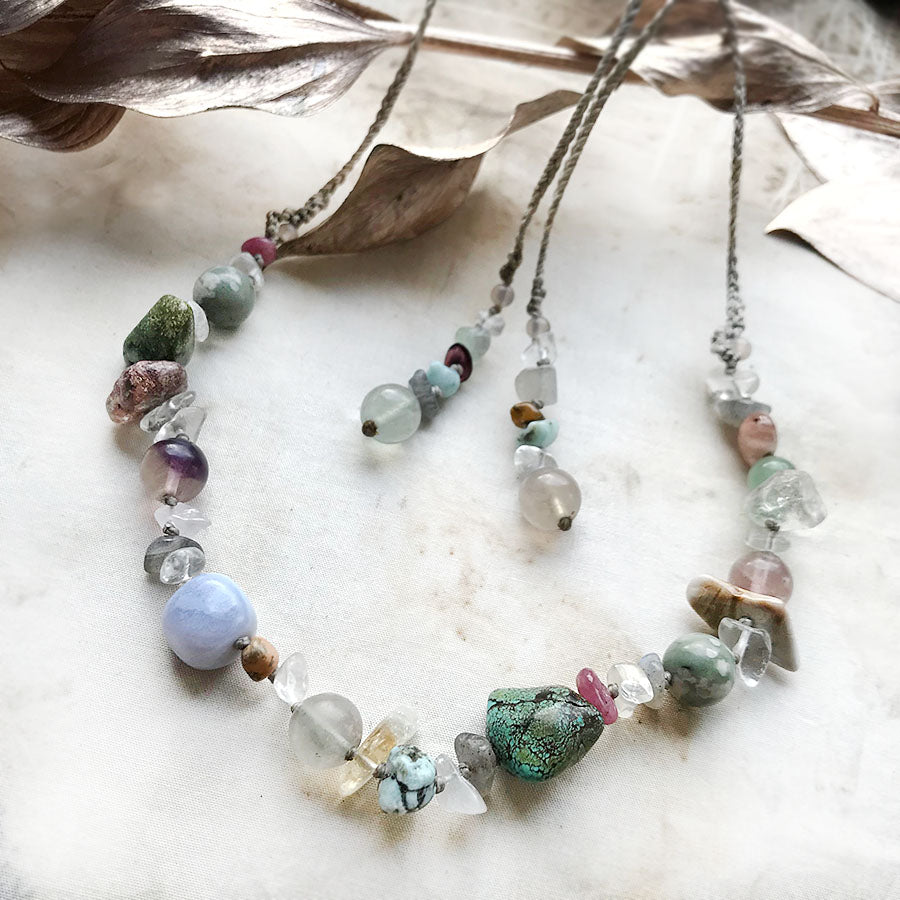 'Serene Breeze' ~ crystal healing amulet
DESCRIPTION
Crystal healing amulet combining several crystals' energies in a specifically considered row of flow, like an inaudible melody. Along the row you'll find Blue Lace Agate, Turquoise, Fluorite, Citrine, Larimar, Peace Jade, Rubellite, Quartz, Labradorite and Lodolite. The necklace is minimally braided in light grey micro-macrame cord, very strong and durable, yet soft and comfortable to wear. The ends of the adjustable necklace cords are decorated with long droplets of matching crystals.
This necklace is meant to be worn at short length, and whilst the braid length is adjustable, the adjusting range at its longest is 60 cm (24") all around. The largest stone, Turquoise is just under 2 cm (0.8") in its largest dimension and together the row of crystals is approx. 24 cm (9.6") long.
There are no metals in this necklace so would be particularly suitable for those with metal allergy or sensitivity and for energy workers and those who simply prefer not to wear metal.
You'll receive this crystal healing necklace in one of my handmade fabric draw-string pouches - great for the safe-keeping of the necklace. Gift-wrapped at no extra charge.

Read here how to take care of your crystal jewellery.
CRYSTAL PROPERTIES
The three main energies in this multi-crystal necklace:
FLUORITE
Excellent for cleansing one's aura, also detaching unwanted energy cords. Grounds excessive energy, beneficial for all levels of healing. Helpful in achieving spiritual wholeness. Protective, stabilising and harmonising stone. Facilitates personal growth. Awareness expanding. Anchors intuitive insights into the physical plane. Offers strong psychic protection, helping to discern energies one comes in contact with. Helps in being objective and focusing on what is essential. Also known as absorbing environmental EMF.
BLUE LACE AGATE
A gentle, calming stone that's associated with the Throat Chakra, with speaking, communicating and discussions. Especially good for communicating the flow of wisdom you receive from your higher self. Also resonates with the Heart Chakra, assisting in "speaking from the heart". Helps in amplifying the energy of positive affirmations and is an aid for the healing of the inner child.
TURQUOISE
Turquoise is a strengthening and purifying stone. It fosters honest and clear communication from the heart. Aligns all of the chakras; and can be used to cleanse your energy centres. Balancing stone for the mood and emotions. Promotes self-realisation and aids creative problem-solving.
Recently Viewed