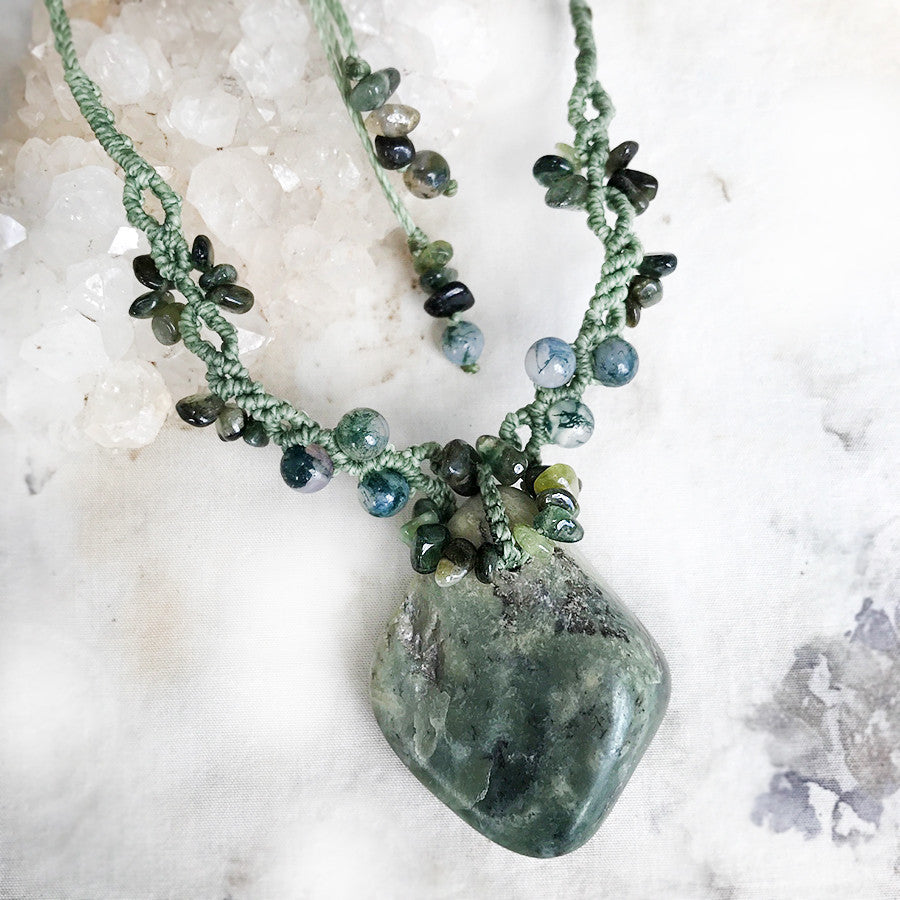 Serpentine crystal healing amulet
DESCRIPTION
Crystal healing amulet with tumbled Serpentine, partly smooth but with some rougher areas remaining too. The natural surface pattern displays a landscape of beautiful greens and it's also a lovely stone to touch and stroke. The necklace is intricately knotted and braided with light green micro-macrame cord, and highlighted with Moss Agate and Verdelite crystals. 
The length of the necklace is adjustable from very short down to solar plexus level. The Serpentine is approx. 4.5 cm (1.8") tall and just over 3.5 cm (1.4") at its widest.
There are no metals in this necklace so would be particularly suitable for those with metal sensitivities, energy workers and those who simply prefer not to wear metal.
You'll receive this crystal healing necklace in one of my fabric draw-string pouches, great for the safe-keeping of the necklace. Gift-wrapped at no extra charge.

Read here how to take care of your crystal jewellery.
CRYSTAL PROPERTIES
SERPENTINE
Powerful kundalini activation stone, helpful in alleviating any discomfort that awakening kundalini power might bring. Strong heart chakra stone resonating with the devic realms. Beneficial in clearing out energetic blockages from the chakras. Good manifestation stone to attract abundance.
VERDELITE (aka Green Tourmaline)
Connects to the energy of compassion, opening up pathways to self-healing and letting go of old heart wounds. Helpful in implementing new projects with the aim of bringing your true desires to fruition. Balancing and rejuvenating, attracting luck and prosperity.
MOSS AGATE
Stone of abundance and wealth, as well as new beginnings. Strengthening at times of stress, enhancing endurance and persistence. Said to bring new friendships and more love into one's life.
Recently Viewed