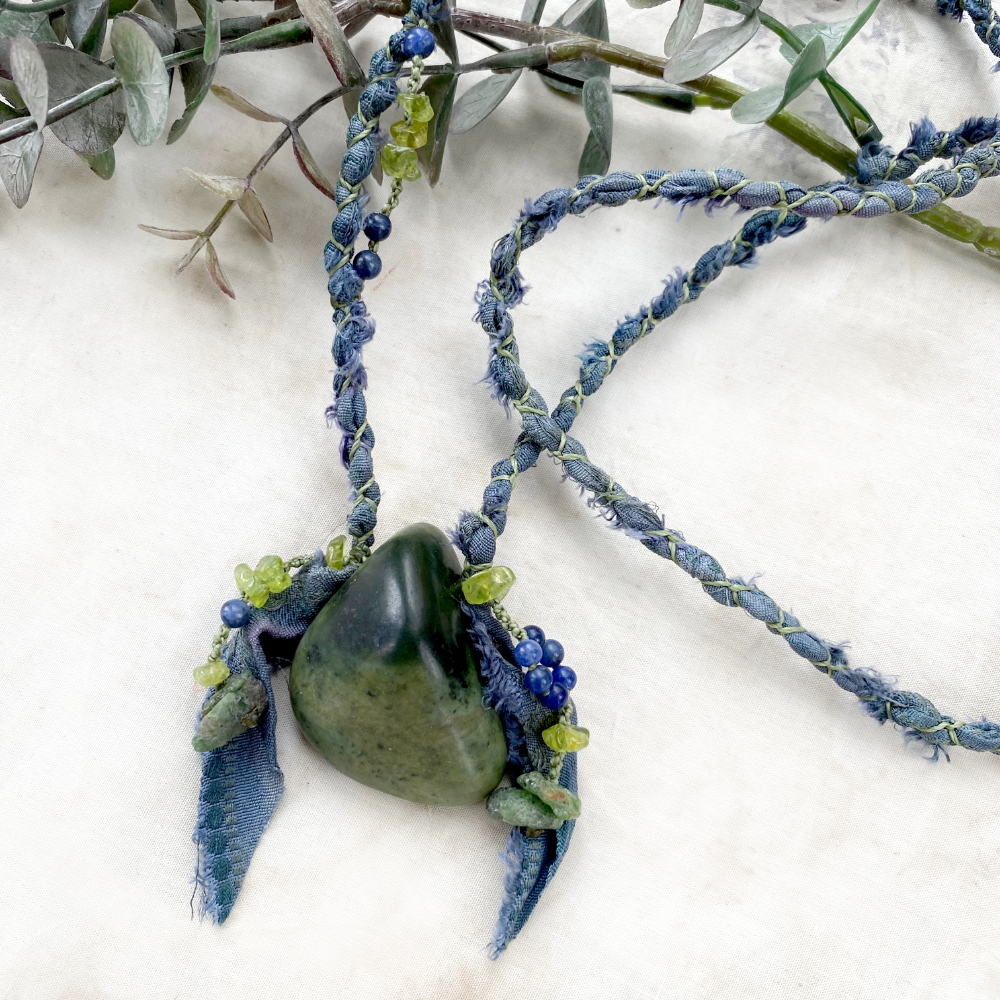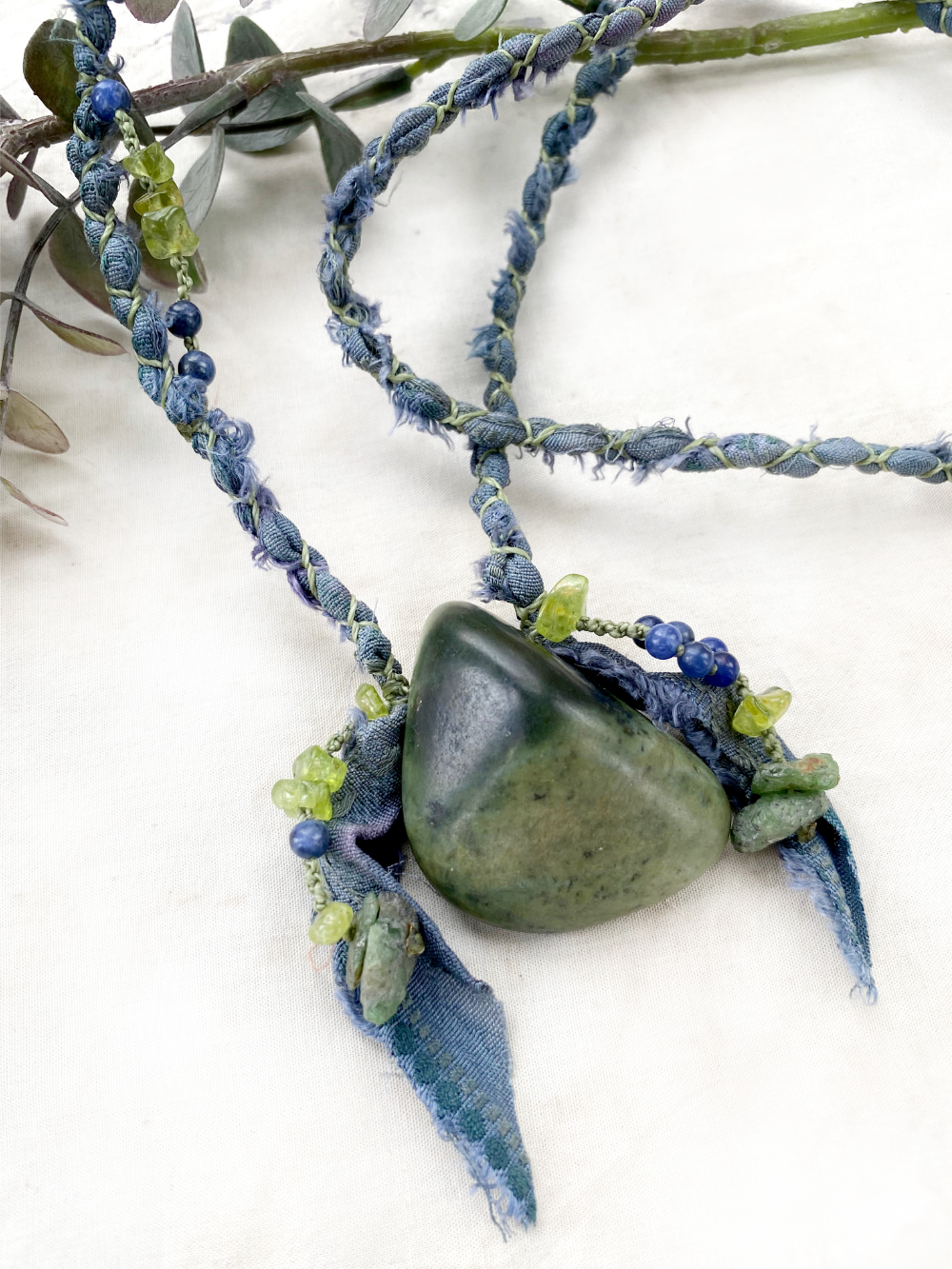 Serpentine crystal healing amulet
DESCRIPTION
Smooth Serpentine pebble in comfortable wabisabi style silk braid. The polished surface shows some characteristic patterning in lighter and darker greens. The Serpentine attaches to hand-braided necklace which is a combination of muted blue recycled sari silk and light green micro-macrame cord. The highlighting crystals on both sides of the Serpentine are Kornerupine, Peridot and Sodalite.
The necklace braid is set length, easy to just slip over head without any need for clasps. The braid length allows the Serpentine to hang down approx. 35 cm (13.5") measured from the back of the neck to the top edge of the Serpentine - i.e. the all-around length of the necklace braid is 70 cm (27"). This Serpentine is approx. 4 cm (1.6") tall and approx. 3 cm (1.2") at its widest.
There are no metals in this necklace so would be particularly suitable for those with metal sensitivities, energy workers and those who simply prefer not to wear metal.
You'll receive this one-of-a-kind crystal healing necklace in one of Spirit Carrier's fabric draw-string pouches, great for the safe-keeping of the necklace. Gift-wrapped at no extra charge.

Read here how to take care of your crystal jewellery.
CRYSTAL PROPERTIES
SERPENTINE
Powerful kundalini activation stone, helpful in alleviating any discomfort that awakening kundalini power might bring. Strong heart chakra stone resonating with the devic realms. Beneficial in clearing out energetic blockages from the chakras. Good manifestation stone to attract abundance.
KORNERUPINE
Assists in breaking down obstacles and removing blockages on one's life path. Helps with stabilising emotions and calms strong feelings. Said to aid in problem solving and in getting to the root of problems. Heart centred stone of unconditional love, increasing one's understanding of the sacred nature of existence. Refines one's character, leading towards positive transformation.
PERIDOT
Upbeat and comforting, Peridot reduces stress and amplifies intuitive awareness. Soothes hurt feelings, supporting renewal and personal growth. Brings in-depth heart based awareness, extending from healing to understanding and offering protection against negative emotions. Known also as the stone of prosperity and happiness.
SODALITE
Aids the development of psychic abilities, accelerating the process of unlocking deep intuitive talents. Stimulates latent creative abilities. Dissolves internal conflicts, balancing strengths and perceived weaknesses. Supportive for public speaking. Opens up insights relating to articulating one's inner truths, finding the right words at the right time, as well as assisting in living up to one's ideals. Supports healthy self-esteem, stabilises emotions. Thought to help as a shield against EMF.
Recently Viewed