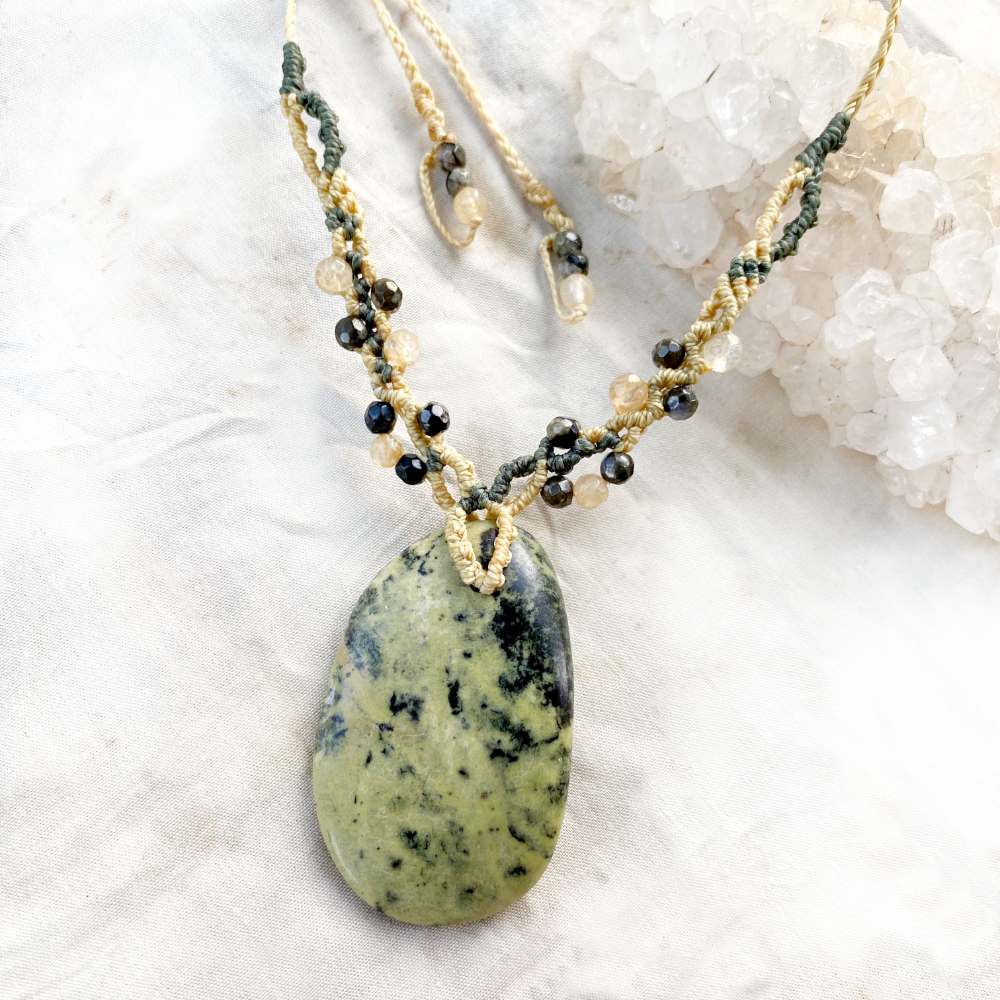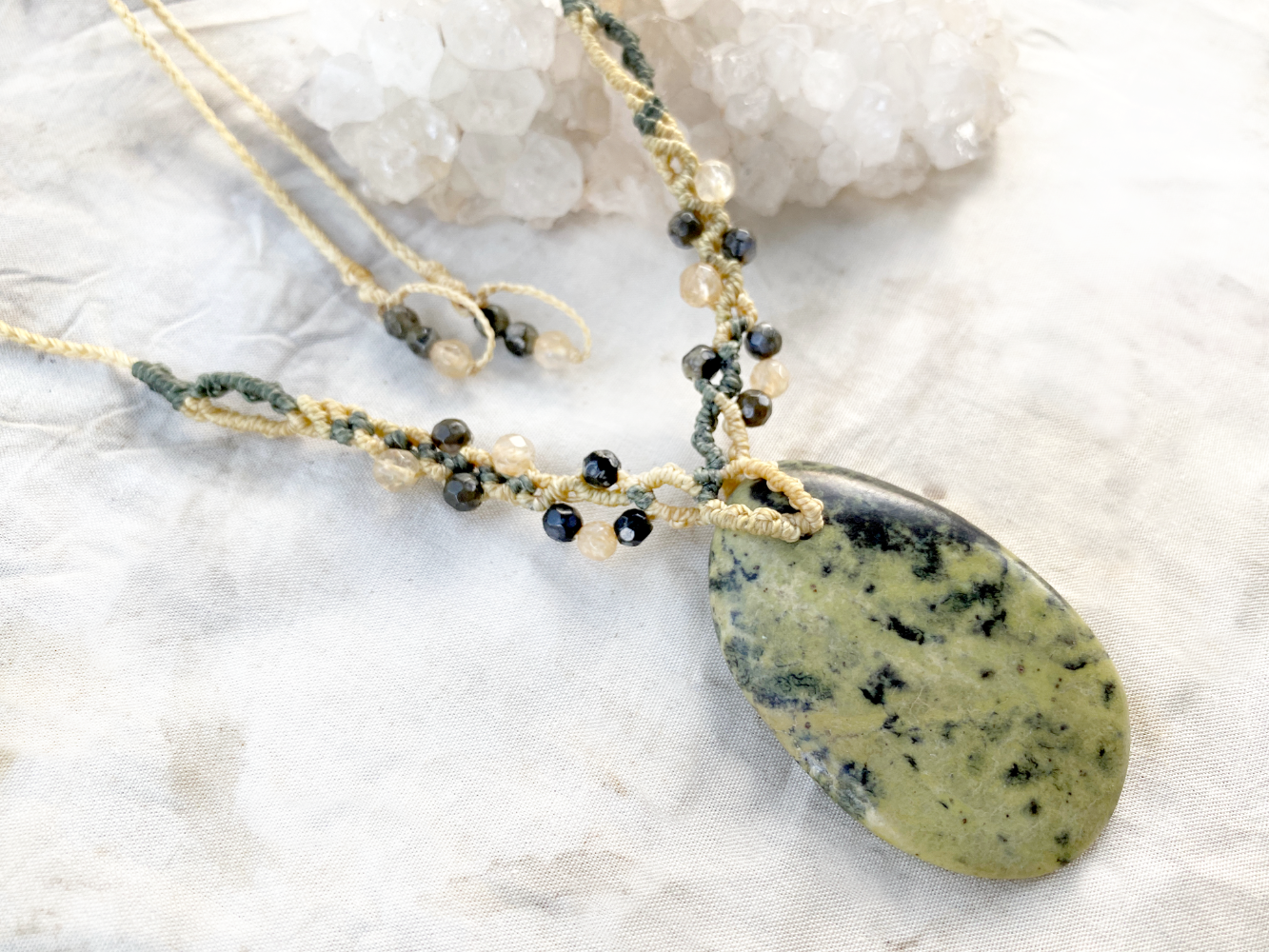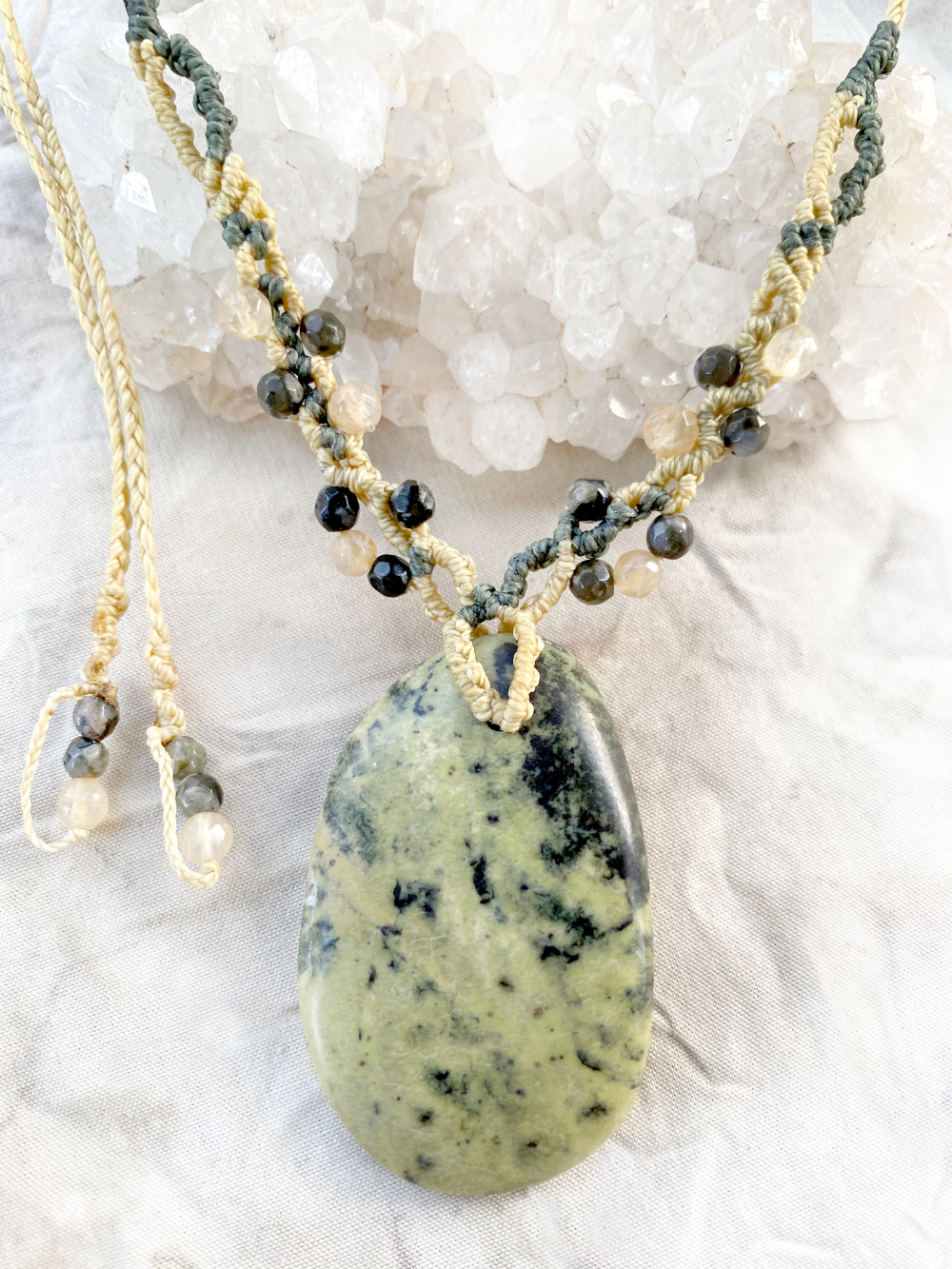 Serpentine crystal healing amulet
DESCRIPTION
Serpentine crystal healing necklace, highlighted with Citrine and Rhyolite crystals. The necklace is asymmetrically braided with a combination of pale yellow and forest green micro-macrame cords - very strong and durable, yet soft and comfortable to wear. The smooth Serpentine shows some characteristic patterning in tones of earthy yellow and dark green, evoking a sense of freshness, new growth and progress. Great crystal energy for easy daily wear.
The length of the necklace is adjustable from very short down to solar plexus level. The Serpentine is approx. 4.5 cm (1.8") tall and 3 cm (1.2") at its widest.
There are no metals in this necklace so would be particularly suitable for those with metal sensitivities, energy workers and those who simply prefer not to wear metal.
You'll receive this crystal healing necklace in one of Spirit Carrier's fabric draw-string pouches, great for the safe-keeping of the necklace. Gift-wrapped at no extra charge.

Read here how to take care of your crystal jewellery.
CRYSTAL PROPERTIES
SERPENTINE
Powerful kundalini activation stone, helpful in alleviating any discomfort that awakening kundalini power might bring. Strong heart chakra stone resonating with the devic realms. Beneficial in clearing out energetic blockages from the chakras. Good manifestation stone to attract abundance.
RHYOLITE
Balancing stone on all levels, alleviating anxiety and worries. Builds emotional strength in view of fulfilling ones dreams and goals. Shifts energy towards moving forward, assists in visualising desired change. Ignites creativity, helping to make things happen in one's life and to tap into one's innate abilities. Also thought to help its keeper to look and feel younger!
CITRINE
Affects a powerful alignment with the higher self. Balances the emotions and helps in uplifting one's mood to be more sunny and cheerful. Brings clarity of thought, and attracts abundance and prosperity through joy. Powerful transformer in healing work. Increases self-confidence and optimism, cleanses the surrounding energies and promotes creative thinking. Releases, dissipates and transforms denser energies on all levels, mental, emotional and physical. Works to release limitations and blockages particularly around the sacral / solar plexus area.
Recently Viewed