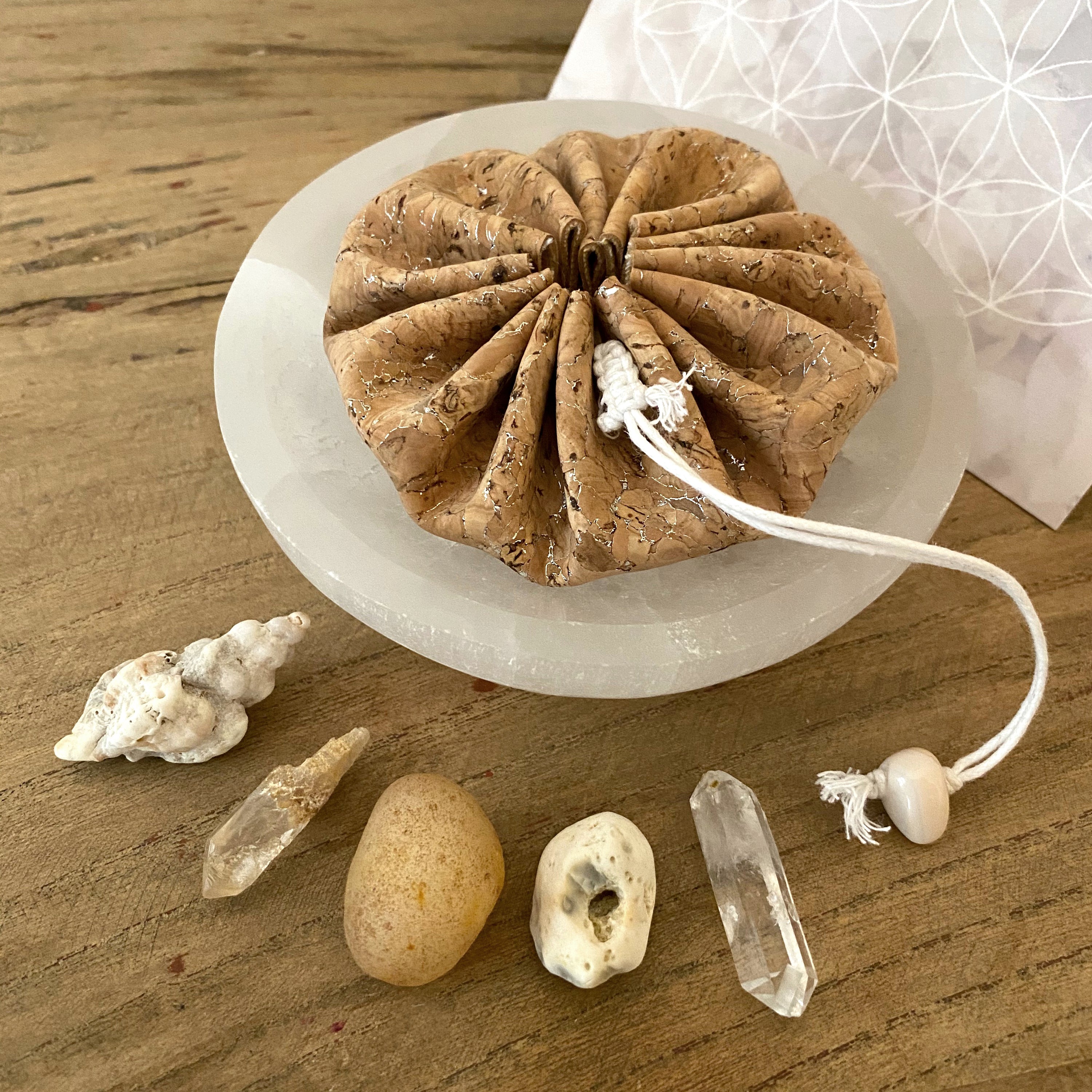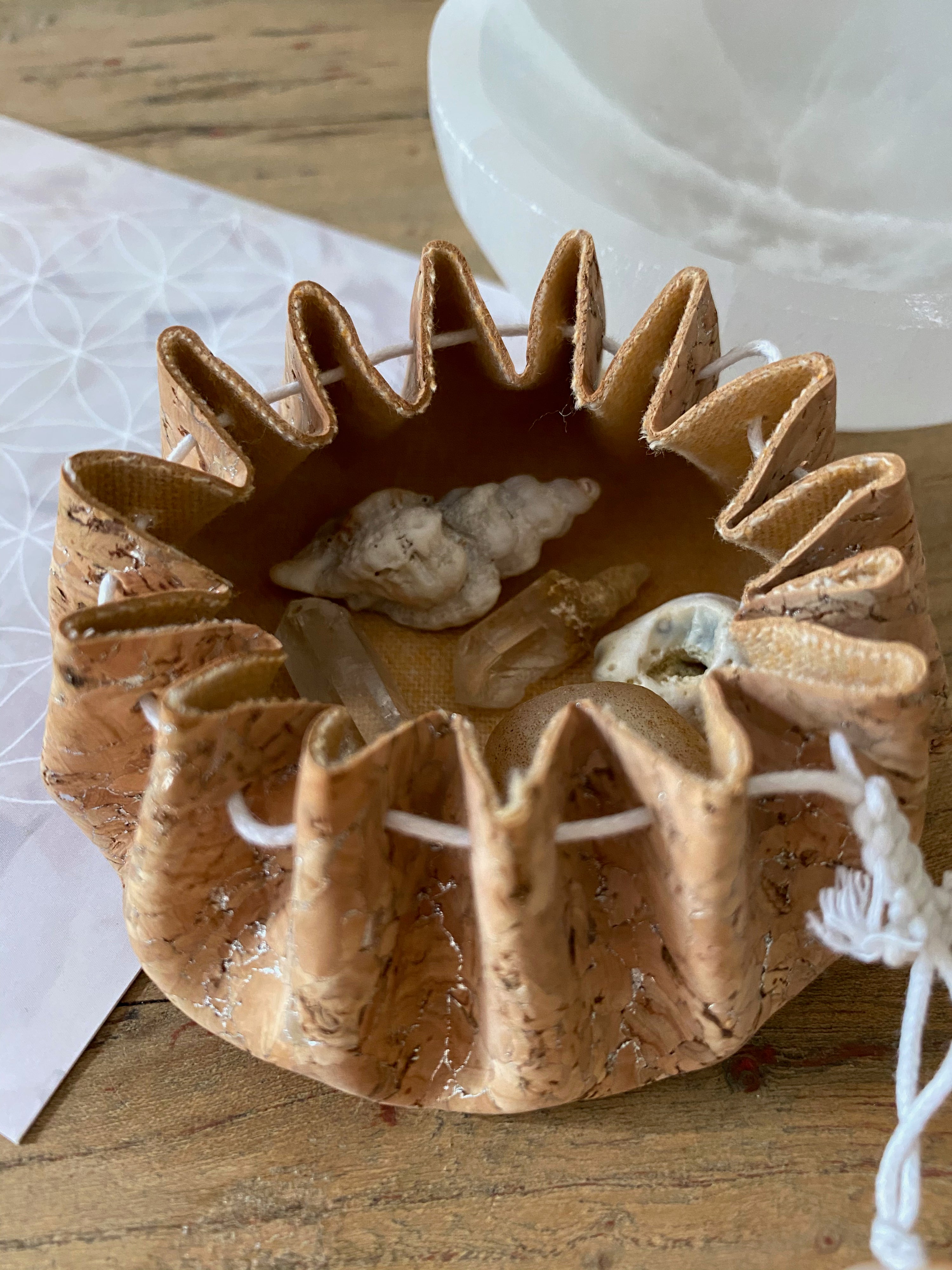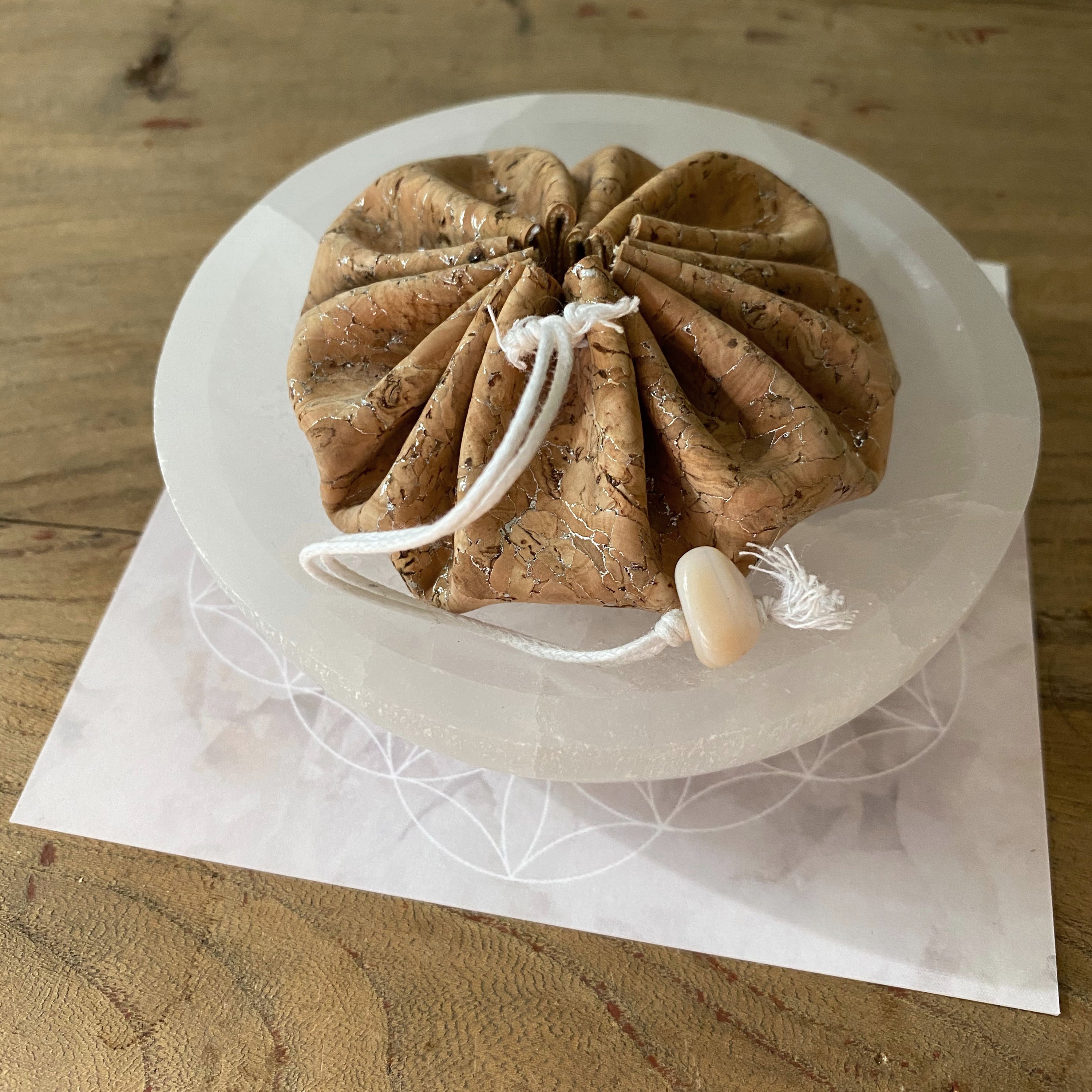 Set of altar elements
DESCRIPTION
A set of altar elements to add to your altar or energy gridding work. You'll receive a smooth Selenite crystal bowl and a soft 'vegan leather' cork pouch with five treasures: a double-terminated Sichuan Quartz crystal, a white sea-tumbled Flint hagstone ('holey stone'), Gobi Desert Agate, rough single-point Quartz, and a strong spiral seashell bringing its Fibonacci healing energies into the mix. This set also comes with Spirit Carrier's travel size 'Flower of Life' crystal grid base, which can be used with the accompanying crystals and to add any of your current ones. 
The pouch surface includes tiny silvery flecks that give it a luxurious feel. It has a sliding drawstring closure with white cotton cord and and white Agate bead stopper. All these and additionally any of your other crystals, can be cleansed and charged in the accompanying Selenite bowl. The cork pouch, while a handy small size, will still be able to carry a few more additional small crystals too.
When the pouch is empty and closed, the diameter is approx. 7 cm (2.75").  The Selenite bowl's outer diameter is 10 cm (4") and outer height 3.5 cm (1.4")

You'll receive this altar set securely packaged and gift-wrapped at no extra charge.
CRYSTAL PROPERTIES

SELENITE
Instilling a deep sense of peace, Selenite activates the third eye, crown and soul star chakras. Highly efficient in clearing the auric field, detaching entities and negativity. Clears one's awareness for receiving higher soul guidance. Can be used for gridding a space to keep it energetically clean and safe, shielding against outside influences. Excellent tool for energy workers for dissolving blockages and scanning the energy field.

SICHUAN QUARTZ
Spiritually attuned to the white flame of pure consciousness, activating the crown and the third eye chakras. Aligns all the energy bodies, bringing forth a meditative state, peace and present moment awareness. Expands your consciousness and opens up psychic channels. Releases old, stagnant emotions, cleanses one's auric field and releases negative thoughts. Emanates a strong "OM" vibration. Can be used to intensify attainments, find out about karmic lessons and to bring deep healing for all levels of being. Double-terminated Sichuan Quartz brings powerful spiritual protection and purification.
FLINT
Ancient protection amulet, calling in spiritual guides and allies. Helps cut away anything that is not in your highest good, dissolving energetic blockages and detaching negative etheric ties from the aura and chakras. Increases self-esteem and courage. Excellent electromagnetic conductor, thus useful for those who are sensitive to EMF pollution. Purifies its environment. Said to prevent nightmares. Known as a "Portal Stone", facilitating your connection with higher dimensions and with your true self. Grounding vibe, which resonating with the Earth Star chakra, yet also corresponds to the Soul Star chakra, offering spiritual expansion and allowing you to ground higher spiritual knowledge into your physical existence.
GOBI DESERT AGATE
Stone of transformation and resilience. Helps you to remain flexible when facing challenges, and open up to help from higher dimensions. Expands understanding of your life path so that wiser choice are possible. A gentle stone to help you with self-compassion and to restore your inner balance.

QUARTZ
The universal master crystal that has a harmonising effect on all levels of being. Programmable by intention, so can be used for versatile purposes. Quartz can clear, enhance, amplify, transmute, balance, focus and transmit energy. Raises one's energetic vibration. Brings clarity and filters out distractions. A deep soul cleanser, attuning its keeper to their higher self. Each Quartz crystal is unique with its own character and teachings it offers, all are known as "Stones of Power" and "Master Healers".
Recently Viewed