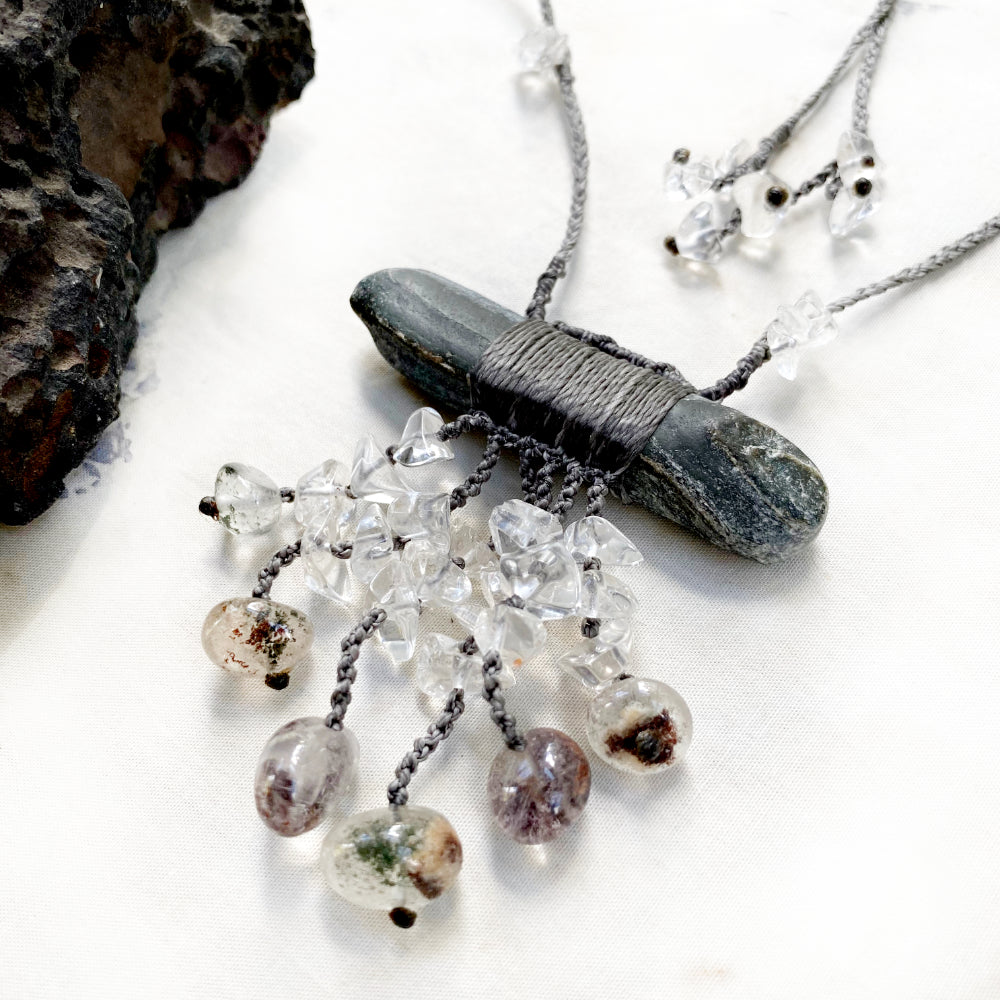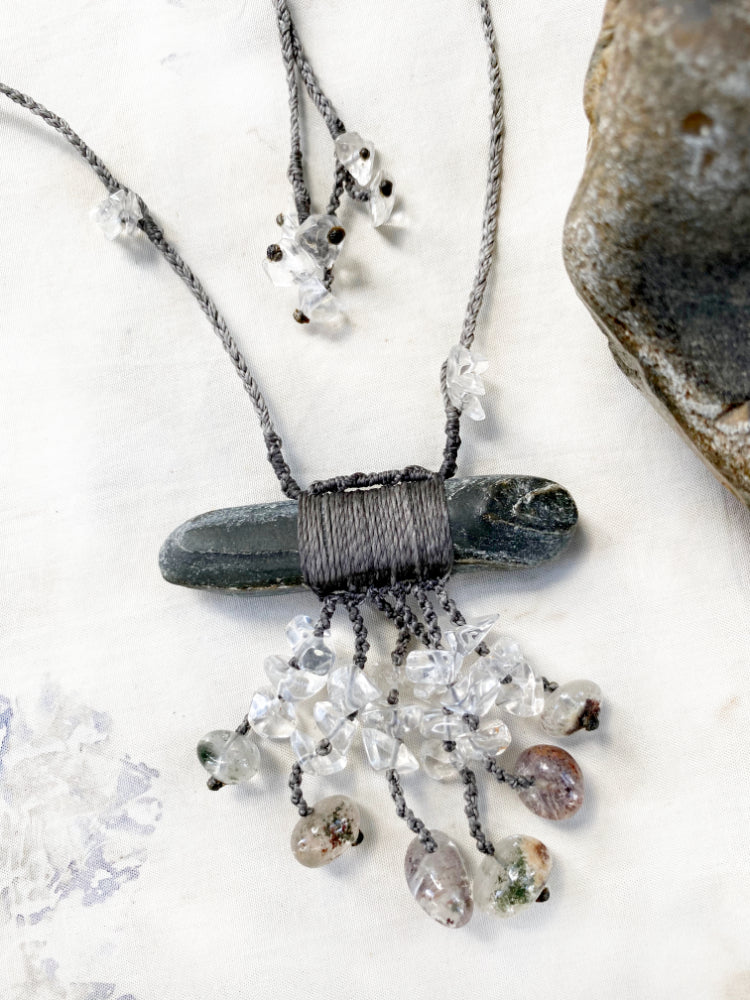 Shale crystal healing amulet
DESCRIPTION
Crystal healing amulet with horizontally settled grey beach stone (Shale), un-drilled but wrapped with cord attaching the stone to the necklace braid. Six crystal strands hang down from the Shale, adorned with clear Quartz crystals and smooth Shaman Dream Stone pebbles. The necklace is minimally braided with grey micro-macrame cord - soft and comfortable to wear. There is also a small floret of clear Quartz crystals adorning each side of the necklace braid.
The length of the necklace is adjustable from very short down to solar plexus level. The Shale is approx. 6 cm (2.4") wide and the crystal strands hang down extending approx. 5 cm (2") from the base of the Shale.
You'll receive this crystal healing necklace in one of Spirit Carrier's fabric draw-string pouches, great for the safe-keeping of the necklace. Gift-wrapped at no extra charge.

Read here how to take care of your crystal jewellery.
CRYSTAL PROPERTIES
SHALE
Soothing tool when wanting to change how you feel, making it easier to let go of stress, sadness or anxiety. Helpful when wanting to expand your horizons, to have a go at different things, try something new. Opens up possibilities and a bigger future. Enhances creativity and productivity. Supports you in perseverance to accomplish things. Assists your intuition in guiding you away from what isn't good for you and directs towards positive outcomes.
SHAMAN DREAM STONE (aka Lodolite, Garden Quartz)
Associated with the crown chakra, enhances one's sensitivity to invisible energies, helps in manifesting one's desires, brings harmony to one's aura, emanates strong yet gentle healing energies. Harmonises the higher vibrational energies of the aura and the light body. Gazing into this stone is said to bring about a cosmic shift of consciousness.
CLEAR QUARTZ
The universal master crystal that has a harmonising effect on all levels of being. Programmable by intention, so can be used for versatile purposes. Quartz can clear, enhance, amplify, transmute, balance, focus and transmit energy. Raises one's energetic vibration. Brings clarity and filters out distractions. A deep soul cleanser, attuning its keeper to their higher self. Each Quartz crystal is unique with its own character and teachings it offers, all are known as "Stones of Power" and "Master Healers".
Recently Viewed