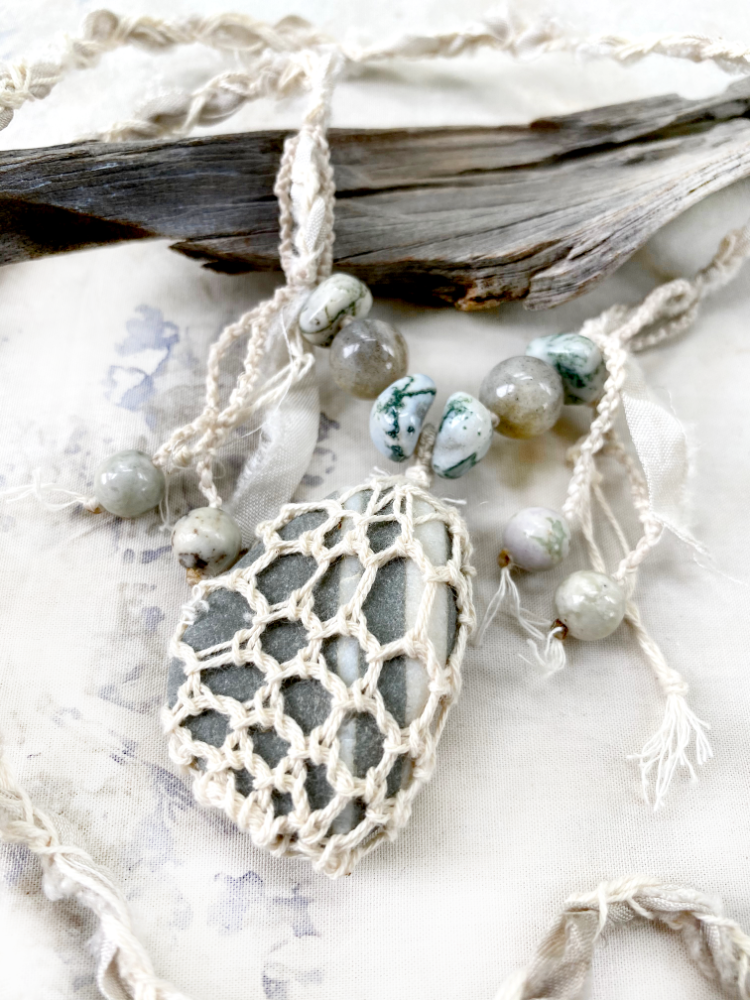 Shale crystal healing talisman
DESCRIPTION
Unusual, one-of-a-kind talisman with a naturally sea-tumbled Shale stone. The Shale shows two lines of White Quartz that extend all around the stone. Whilst this would be called a 'Wishing Rock' with just one Quartz line, perhaps this can grant you a double wish with its twin line? The necklace braid is a combination of natural white, unbleached sari silk with light tone cotton yarn and cream tone micro-macrame cord. The netted Shale attaches to the necklace braid with Tree Agate and Labradorite crystals. The knotted strands along the Shale end in Peace Jade crystals.
The necklace braid is set length, allowing the Shale to hang down 38 cm (15") measured from the back of the neck to the top edge of the Shale - i.e. the all-around length of the necklace braid is 76 cm (30").
The Shale is just over 4 cm (1.6") tall and approx. 3 cm (1.2") at its widest.
You'll receive this crystal healing necklace in one of Spirit Carrier's handmade fabric draw-string pouches - great for the safe-keeping of the necklace. Gift-wrapped at no extra charge.

Read here how to take care of your crystal jewellery.
CRYSTAL PROPERTIES
SHALE
Soothing tool when wanting to change how you feel, making it easier to let go of stress, sadness or anxiety. Helpful when wanting to expand your horizons, to have a go at different things, try something new. Opens up possibilities and a bigger future. Enhances creativity and productivity. Supports you in perseverance to accomplish things. Assists your intuition in guiding you away from what isn't good for you and directs towards positive outcomes.

WHITE QUARTZ
Often referred to as 'Ice of Eternity' or 'Frozen Light', this crystal has a feminine, receptive energy. A powerful all-round healer that amplifies the vibe of other crystals nearby. Helps in focusing thoughts, intentions and actions as well as in balancing emotions. Activates the crown chakra. Assists in listening to one's Higher Self.
LABRADORITE
One of the most powerful, versatile crystal tools for healing. Creates an auric shield and strengthens your innate energy and life force, preventing energy leakages. Enhances intuitive abilities and assists in spiritual transformation. Helps the wearer align with their highest destiny and discover their inner worth. Strengthens willpower and brings in new ideas. Often referred to as the 'Stone of Destiny', believed to help you to find your true path in life, and as 'Temple of the Stars', anchoring higher dimensional light into your being.
TREE AGATE
Stone of inner peace and well-being, bringing focus to the oneness of all. Assists in clearing energy blockages. Connects to the base and heart chakras. Harmonious and balancing. Helps in feeling the abundance of the Universe and grounding it into your reality in the form of fulfilled dreams and new ideas.
PEACE JADE
Pure, intensely peaceful vibe which can be easily felt when just holding this stone. Releases internalised stress, allowing you feel serene and in alignment with your core self. Calming when feeling emotionally overwhelmed. Guides you to take that "deep breath" of release to let go of tension and worry. Compassionate heart chakra stone that fills you with divine tranquility.
Recently Viewed