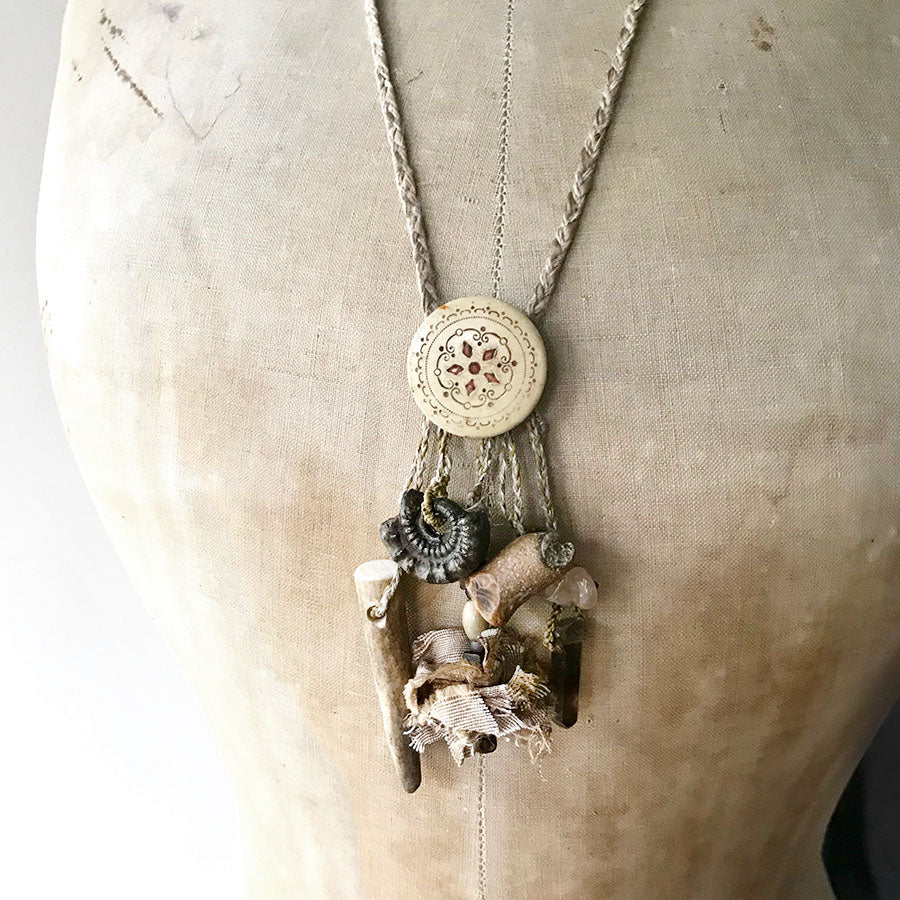 Shamanic crystal healing talisman
DESCRIPTION
Stone talisman with a 'tassel' of various shamanic items, attaching to a necklace braid of beige embroidery silk ribbon and un-bleached organic linen yarn. The 'tassel' is formed of: the tip of a reindeer horn**, Pyrite included Ammonite with a natural hole, a small Smokey Quartz point, a fabric rosette made out of botanically eco-dyed silk, and a Flint Hagstone. (Hagstones are also called holey stones, their natural hole(s) purported in old legends to give the stone magical features, apparently you might see a fairy if looking through the naturally formed hole.) These five strands hang from an antique, Victorian era carved bone button that resembles a mandala.
The braid ends are decorated with wooden beads and small Agate crystals and are left open so you can tie the talisman to hang at desired level. The braids are 34 cm (13") long each. The horn point is approx. 5 cm (2") tall, the Flint Hagstone is 2 cm (0.8") in its longest dimension and the carved bone button has a diameter of 2.8 cm (1.1"). From the top of the bone button to the base of the 'tassel' the total length is 10.5 cm (4").
You'll receive this crystal healing necklace in one of my handmade fabric draw-string pouches - great for the safe-keeping of the necklace. Gift-wrapped at no extra charge.
**please note that reindeer drop their horns before growing new ones and thus finding discarded horns from nature does not harm the reindeer.
Prior to leaving Spirit Carrier studio, all crystals are energy cleansed, balanced and activated for the highest good of their new keeper. 

Read here how to take care of your crystal jewellery.
CRYSTAL PROPERTIES
FLINT
Ancient protection amulet, calling in spiritual guides and allies. Helps cut away anything that is not in your highest good, dissolving energetic blockages and detaching negative etheric ties from the aura and chakras. Increases self-esteem and courage. Excellent electromagnetic conductor, thus useful for those who are sensitive to EMF pollution. Purifies its environment. Said to prevent nightmares. Known as a "Portal Stone", facilitating your connection with higher dimensions and with your true self. Grounding vibe, which resonating with the Earth Star chakra, yet also corresponds to the Soul Star chakra, offering spiritual expansion and allowing you to ground higher spiritual knowledge into your physical existence.
AMMONITE
Stimulates the flow of chi (qi), life force energy through the body. Stimulates charisma, youthfulness and longevity, releasing mental obsessions, past life blockages and anything that interferes with one's energy flow. Assists in finding your centre, empowering for one's soul path. Increases stamina, vitality and perseverance. Acts like a spiralling filter, transmuting negativity.
SMOKEY QUARTZ
A grounding and calming stone that elevates moods and dissipates negative emotions. "A Stone of Serenity", it is comforting and protective for one's aura. Smokey Quartz is thought to assist in creative endeavours and also in setting personal boundaries. Offers protection against electromagnetic rays. A good healing stone for improving general feeling of well-being. Relieves anxiety and worry, wards off confusion. Shielding crystal to create a calm, safe environment.
AGATE
The oldest good luck amulet. In ancient times Persian magicians were, according to legend, diverting storms with the powers of Agate. Considered a protective stone (especially for travel), said to shield its keeper against dangers. Increases inner stability, enhances personal courage and fosters self-confidence. Grounding and soothing. Balancing stone for one's energy system to experience oneness instead of duality.
Recently Viewed