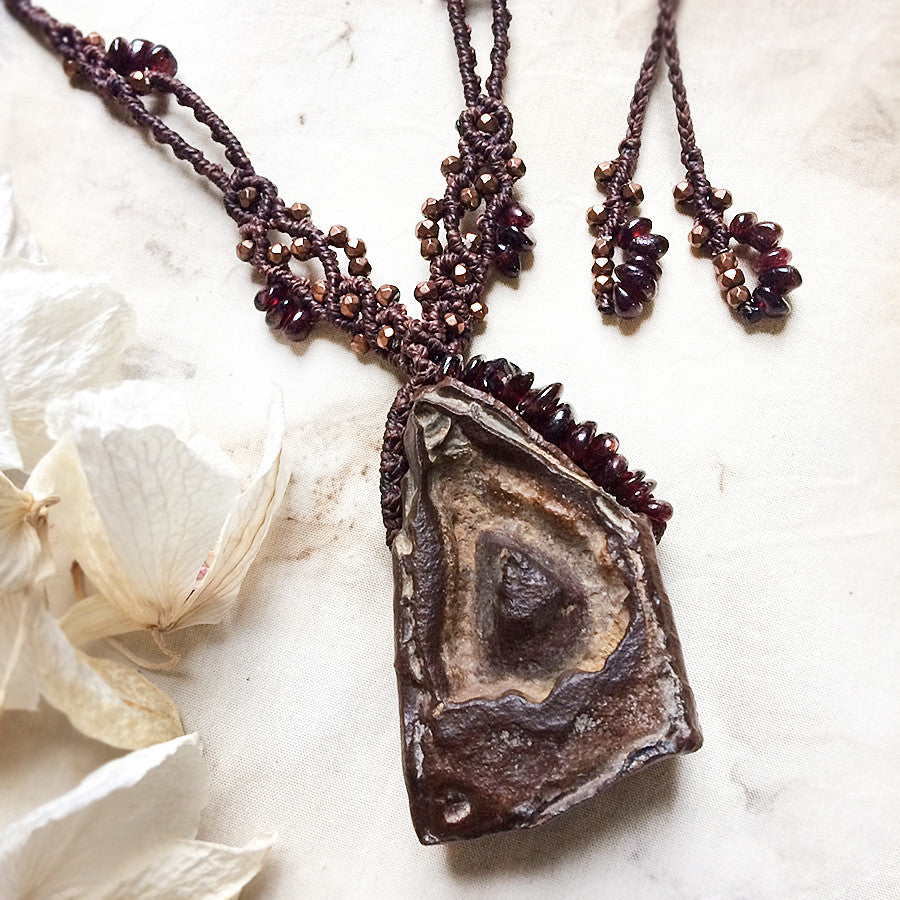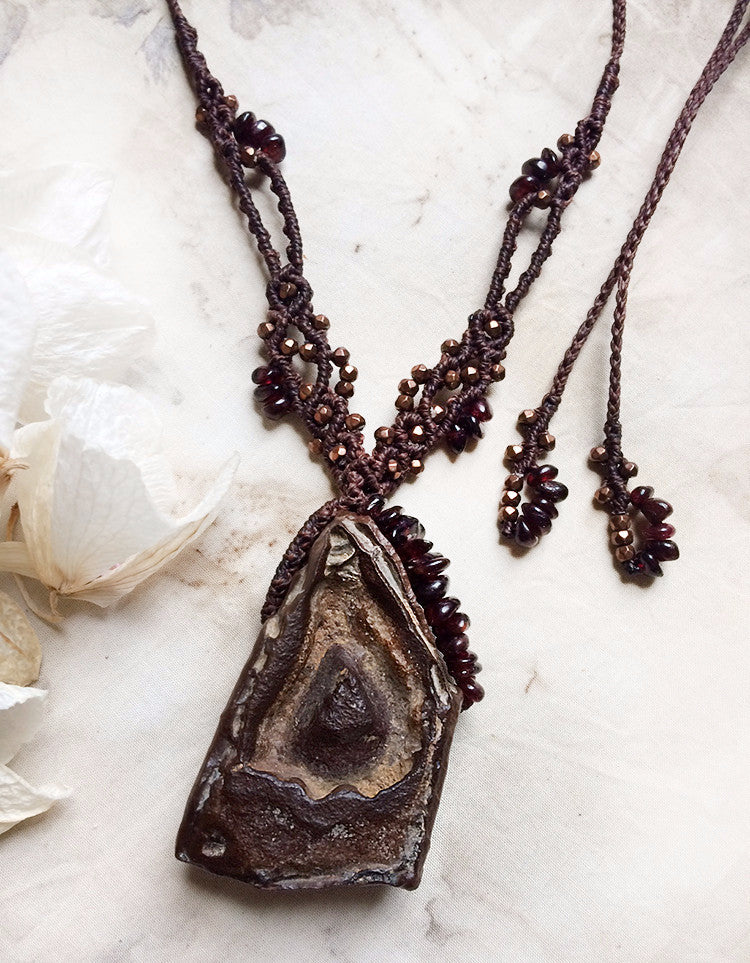 Shamanic desert stone talisman with Almandine Garnet & copper plated Hematite
DESCRIPTION
Crystal healing talisman with unusual sand concretion stone from Moroccan desert. This naturally formed, mysterious looking stone attaches to an intricately knotted necklace of dark brown micro-macrame cord. The highlighting crystals adorning the knotwork are Almandine Garnet and copper plated Hematite.
This enigmatic stone makes a unique connection with its chosen keeper - it doesn't seem to do justice to simply write a short description of its energetic properties. My best advice would be to first wear this one continuously for about a week to deeply connect with this stone. Handle it often, run your fingers along the contours of the stone, imagine your heart greeting the wisdom contained within this stone. Little by little you'll begin to notice how the stone communicates with you in a way that's unique just for you.
The length of the necklace is adjustable from very short down to solar plexus level. The size of the shaman stone is 5 cm (2") tall, 3 cm (1.2") wide at the middle, and 1.5 cm (0.6") thick.
You'll receive this crystal healing talisman in one of my handmade fabric draw-string pouches - great for the safe-keeping of the necklace. Gift-wrapped at no extra charge.
Read here about how to take care of your natural crystal jewellery.
CRYSTAL PROPERTIES
MOROCCAN DESERT SANDSTONE
Ancient sand concretion stone, a powerful ally for shamanic journeying. A 'key' to unlocking inner wisdom. Visionary stone that allows you to explore your ancestral timelines in all directions. Empowering, energy strengthening companion stone to keep you centred. Activates third eye and crown chakra, increasing the level of your intuition. Assists in overcoming subconscious fears and blockages on your life path. Awakens your inner courage to find a way in any situation.
ALMANDINE GARNET
Stimulates one's life force. Opens the root chakra while drawing earth energy into the body, helping you to feel secure and centred. Awakens the "inner fire" of creativity. Highly protective stone and a great companion to keep you energised. Excellent good fortune and 'success' stone in both social and career ventures, adding positive vibes both in your personal or business life. Stone of purification and cleansing. Symbolises passionate, devoted love.
HEMATITE
Creates a strong sense of self and enhances the creative flow. Relieves stress. Revitalises, enhancing personal magnetism and optimism. Helps in releasing self-imposed limitations to find your own unique gifts. A stone of balance and equilibrium. Grounds when feeling scattered, increases alertness and vigilance.
Recently Viewed