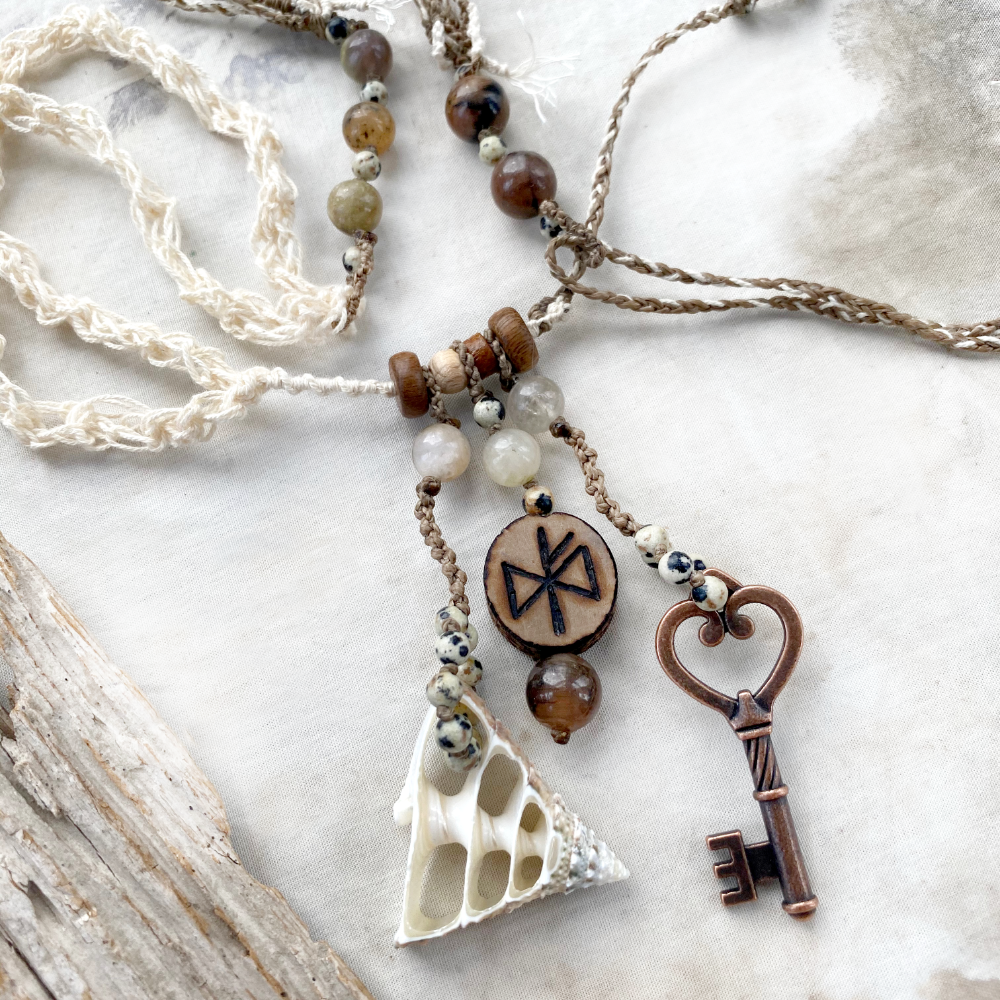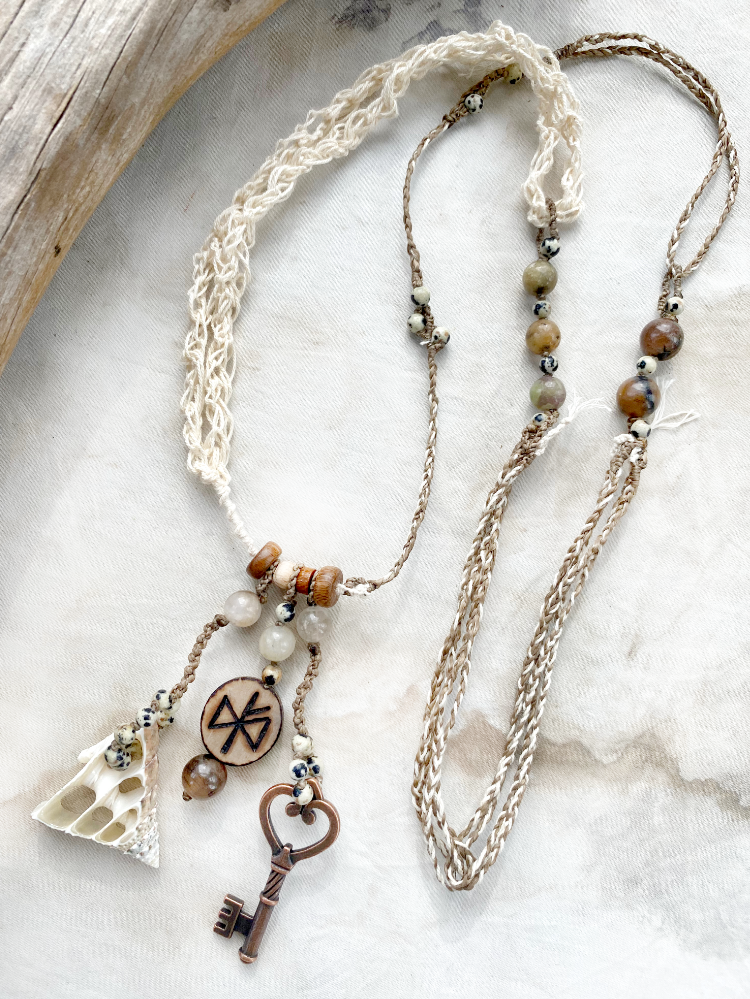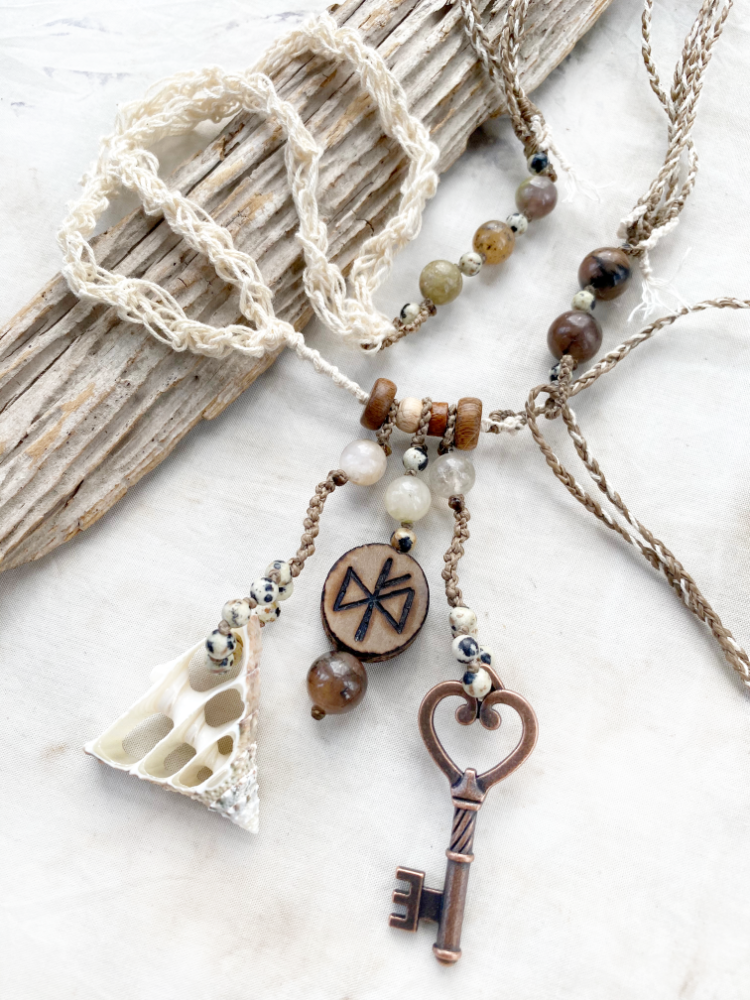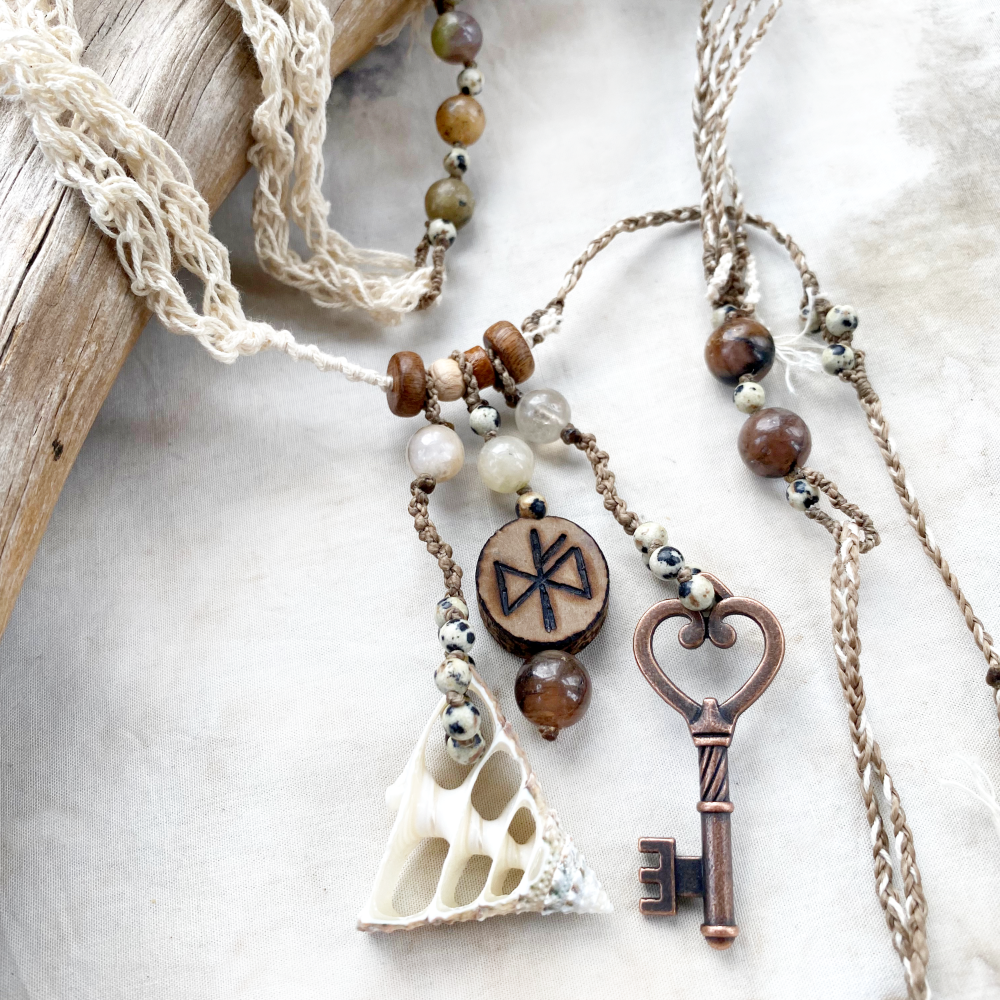 Shamanic talisman with bindrune, spiral shell & key symbolism
DESCRIPTION
Shamanic style talisman necklace with a brass skeleton key, a slice of sea shell spiral and a double-sided bindrune burnt on beechwood. The necklace consists of various sections of braided cotton and brown micro-macrame cord, soft woven cotton and beaded lines of Tourmaline, Chiastolite and Dalmatian Jasper, including some wooden spacer beads. The necklace is set length and long enough to just slip on and off without any need for a closing clasp. The all-around length is 80 cm (31.5"). The brass key is 4 cm (1.6") tall. The diameter of the wooden bindrune is just under 2 cm (0.8").

BINDRUNES
On one side, the combination of Algiz (protection), Dagaz (dawn, new day) and Fehu (abundance). On the other side, the combined Algiz, Dagaz and Ansuz (inspiration, communication). You may also notice the warrior rune Tiwaz (courage) forming within the bindrune structure. You can call on the combined support of these rune powers to begin each new day with courage, feeling protected and inspired to create more abundance in your life.

KEY SYMBOLISM
Representing access to hidden knowledge and success, opening a door to a brighter future. Indicates freedom of movement, whether in or out, but also of obtaining liberation from something. Skeleton keys specifically are about unlocking multiple locks, symbolising the keeper's ability to make their most heart-felt dreams come true in any area. Stands for spotting opportunities, possibilities and solutions. Of course, also a powerful a symbol of love, as in having access to someone's heart. 

SEA SHELL SPIRAL
Holding the energy of the ocean tides, supports the natural flow in your life. Enhances mental clarity, focus and decision-making. Stimulates intuition, imagination, adaptability and rejuvenation. Gently reaches within the depths of your being to activate gentle healing where needed.

You'll receive this crystal healing necklace in one of Spirit Carrier's fabric draw-string pouches, great for the safe-keeping of the necklace. Gift-wrapped at no extra charge.

Read here how to take care of your crystal jewellery.
CRYSTAL PROPERTIES
TOURMALINE
Stone of abundance, protection and healing. Aids understanding oneself and others. Soothing and supportive. Reduces fears and promotes self-confidence. Removes energetic blockages, balancing the male/female energy within the body.
CHIASTOLITE
Stone of balance and harmony. Its visible cross-pattern is thought to symbolise one's commitment to approach life with Awareness. Assists in adapting to change at transitional times. It is also thought to enhance practical creativity. Very protective, allows its wearer to hold their personal space more easily. For someone who has "many irons in the fire" all the time, this is a great crystal to have close for coping with it all!
DALMATIAN JASPER
Helps in removing barriers that prevent you from moving forward in life, and to discover your true purpose of being in the world. Brings joy and playfulness into one's life. The black spots in this stone are Black Tourmaline, which adds to this stone's protective qualities.
Recently Viewed