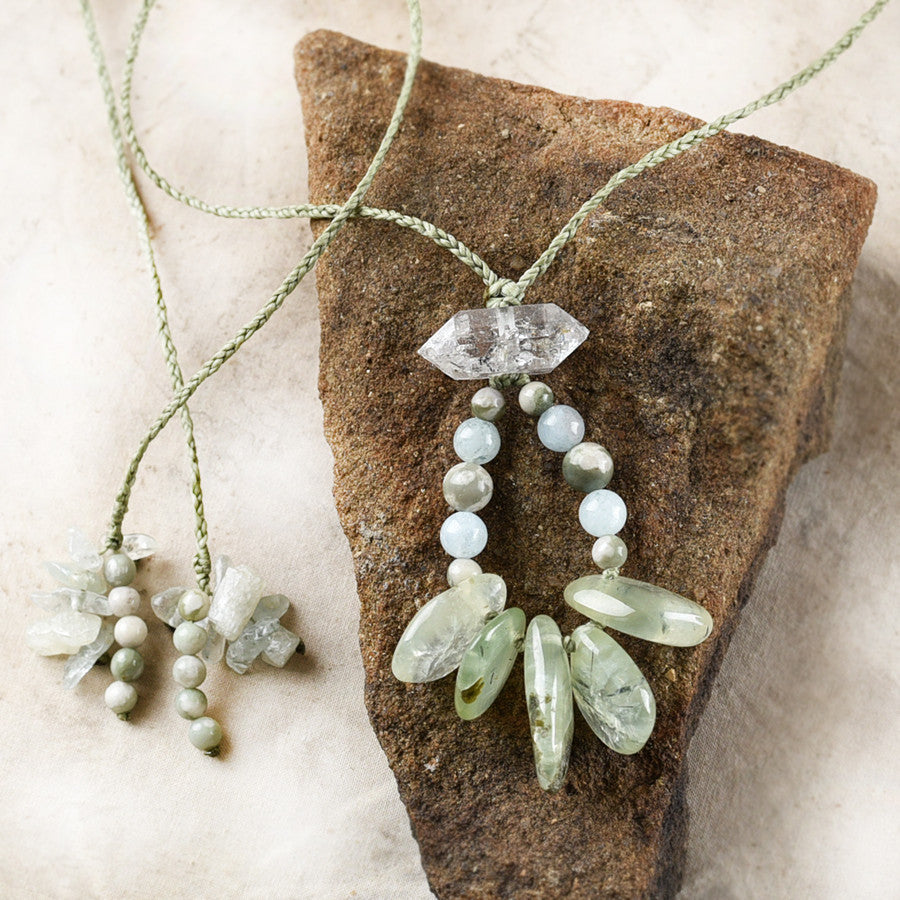 Crystal healing talisman with Sichuan Quartz & Prehnite
DESCRIPTION
Crystal healing necklace combining the energies of Epidote in Prehnite, Sichuan Quartz, Aquamarine and Peace Jade. The necklace is minimally braided with light green micro-macrame cord, very strong and durable, yet soft and comfortable to wear.
The length of the necklace is adjustable from very short down to solar plexus level. The total length of the crystal pendant from the top edge of the double-terminated Sichuan Quartz down to the base of the lowest Prehnite is approx. 6 cm (2.4"). The Sichuan Quartz is approx. 2 cm (0.8") from tip to tip.
There are no metals in this necklace so would be particularly suitable for those with metal sensitivities, energy workers and those who simply prefer not to wear metal.
You'll receive this crystal healing necklace in one of my fabric draw-string pouches, great for the safe-keeping of the necklace. Gift-wrapped at no extra charge.
Read here about how to take care of your natural crystal jewellery.
CRYSTAL PROPERTIES
EPIDOTE IN PREHNITE
Prehnite is a strongly protective stone. It fosters a sense of trust in the Universe and helps you protect your boundaries so it's easier to say "no" when needed. Prehnite is also revitalising and said to bring inner peace. Epidote within the Prehnite is an energy enhancer, so it gives an extra boost to the crystal energy. Epidote is also great for physical recovery.
SICHUAN QUARTZ
Spiritually attuned to the white flame of pure consciousness, activating the crown and the third eye chakras. Aligns all the energy bodies, bringing forth a meditative state, peace and present moment awareness. Expands your consciousness and opens up psychic channels. Releases old, stagnant emotions, cleanses one's auric field and releases negative thoughts. Emanates a strong "OM" vibration. Can be used to intensify attainments, find out about karmic lessons and to bring deep healing for all levels of being. Double-terminated Sichuan Quartz brings powerful spiritual protection and purification.
DOUBLE-TERMINATED QUARTZ
Due to a point in both ends, energy flows freely to both directions through this crystal, offering a sense of 'flow' in life. Particularly useful when working to help other people, or when doing healing work on oneself. Excellent for balancing and aligning the chakras. Can be used as a bridge between any two things, such as spirit and matter for example.
PEACE JADE
Pure, intensely peaceful vibe which can be easily felt when just holding this stone. Releases internalised stress, allowing you feel serene and in alignment with your core self. Calming when feeling emotionally overwhelmed. Guides you to take that "deep breath" of release to let go of tension and worry. Compassionate heart chakra stone that fills you with divine tranquility.
AQUAMARINE
Connected with the throat chakra, easing verbal self-expression. Helps you communicate your own truth and find your voice. Helps in looking at emotional situations from other perspectives, assists in opening up intuition and to calmly be in the flow of life. Aquamarine also aids in reaching deep meditative states. Resonates with the energy of the ocean. Stone of courage and protection.
Recently Viewed