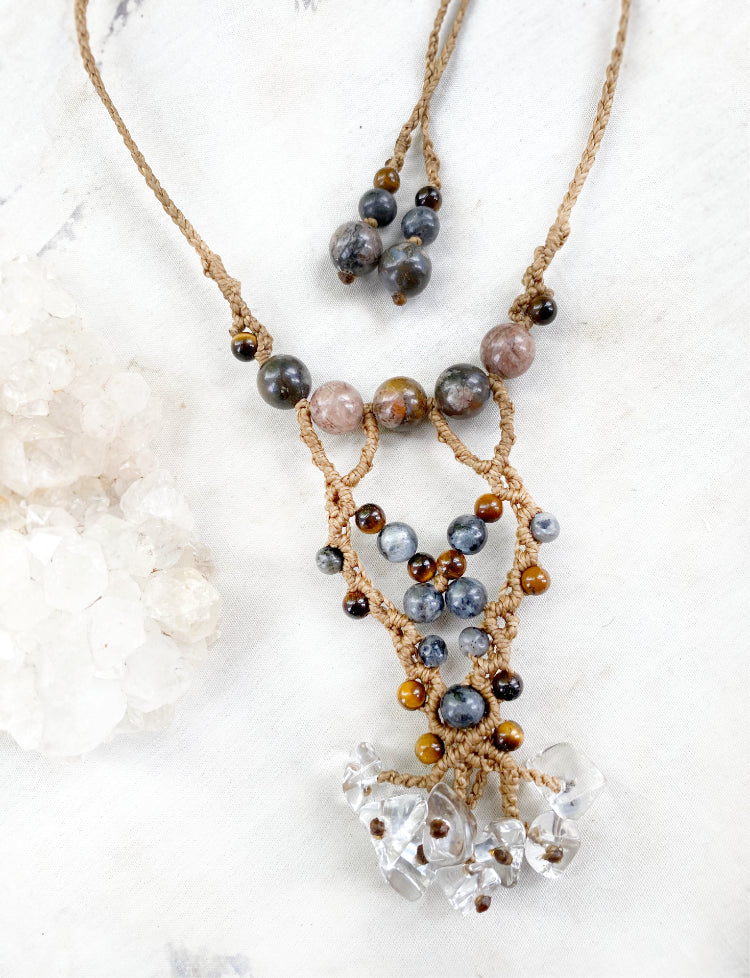 'Shield of Harmony' ~ crystal healing amulet
DESCRIPTION
Crystal healing necklace combining the energies of Llanite, Norwegian Moonstone, Tiger Eye and clear Quartz. This crystal amulet is knotted and braided with reddish brown micro-macrame cord, strong and durable, yet soft and comfortable to wear.
The length of the necklace is adjustable from very short down to solar plexus level, but due to its shape, would look particularly good if worn higher up. The total length of the knotted crystal pendant (from top edge of the row of Llanites down to the base of the clear Quartz cluster) is 8 cm (3").
There are no metals in this necklace so would be particularly suitable for those with metal sensitivities, energy workers and those who simply prefer not to wear metal.
You'll receive this crystal healing necklace in one of my fabric draw-string pouches, great for the safe-keeping of the necklace. Gift-wrapped at no extra charge.

Read here how to take care of your crystal jewellery.
CRYSTAL PROPERTIES
LLANITE
Stone of harmony. Helps you bring together all your powers: physical, mental, emotional, spiritual and use this focus to increase awareness of your possibilities, opportunities and options in creating your ideal life. Empowers you to maintain healthy boundaries and to remain in your own core power. Deeply healing, and helpful in discovering your soul's true purpose. Stimulates creativity. Shields against EMFs.
NORWEGIAN MOONSTONE (aka Black Labradorite, Larvikite)
Repels negative energy and can make you more adaptable to life's situations. It also stimulates inner visions so it's very suited to meditation. Black Labradorite is also said to connect with nature spirits. On physical level, it is said to be good for renewing and maintaining vitality and youthfulness.
TIGER EYE
Powerful stone to connect with one's personal strength. Excellent for attracting prosperity. Highly spiritual energy, useful in understanding any life cycle that one is living through. Helps in seeing through illusions and discerning the truth in any situation. A highly protective stone. Good for strengthening one's boundaries and developing will power and courage.
CLEAR QUARTZ
The universal master crystal that has a harmonising effect on all levels of being. Programmable by intention, so can be used for versatile purposes. Quartz can clear, enhance, amplify, transmute, balance, focus and transmit energy. Raises one's energetic vibration. Brings clarity and filters out distractions. A deep soul cleanser, attuning its keeper to their higher self. Each Quartz crystal is unique with its own character and teachings it offers, all are known as "Stones of Power" and "Master Healers".
Recently Viewed