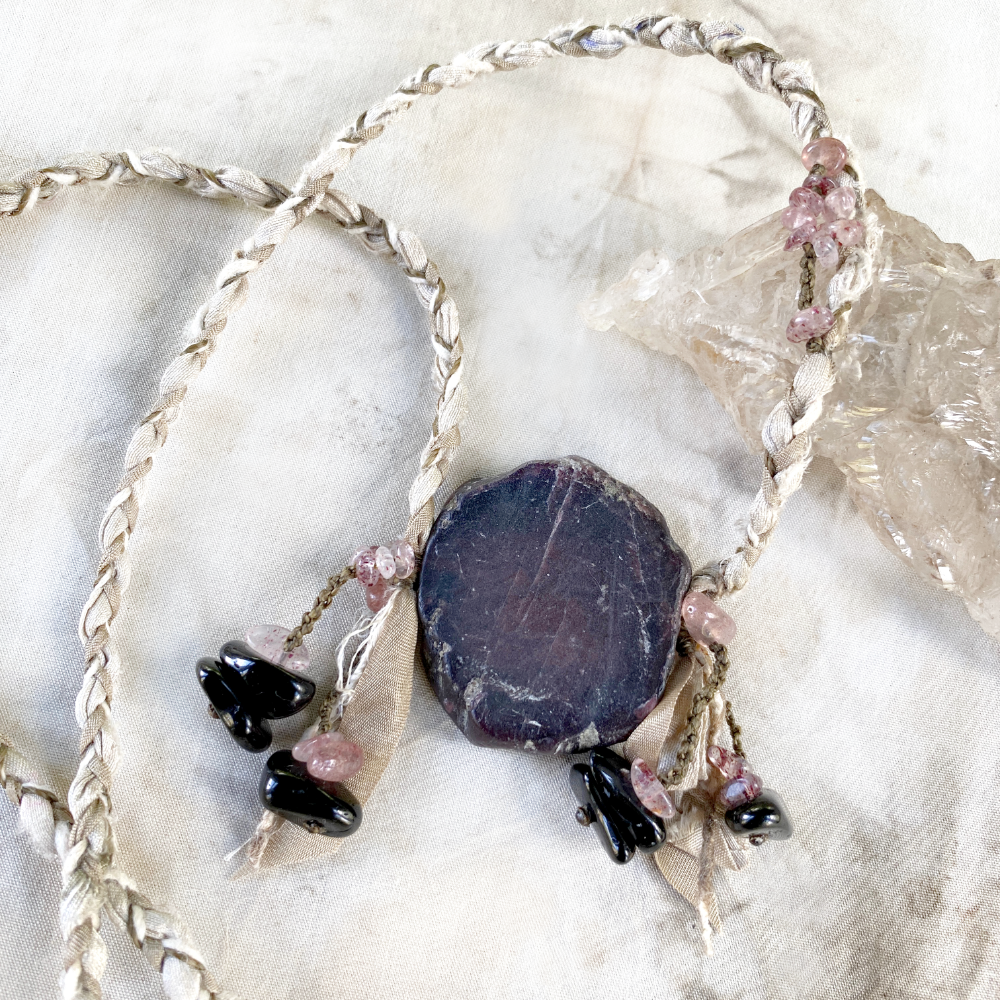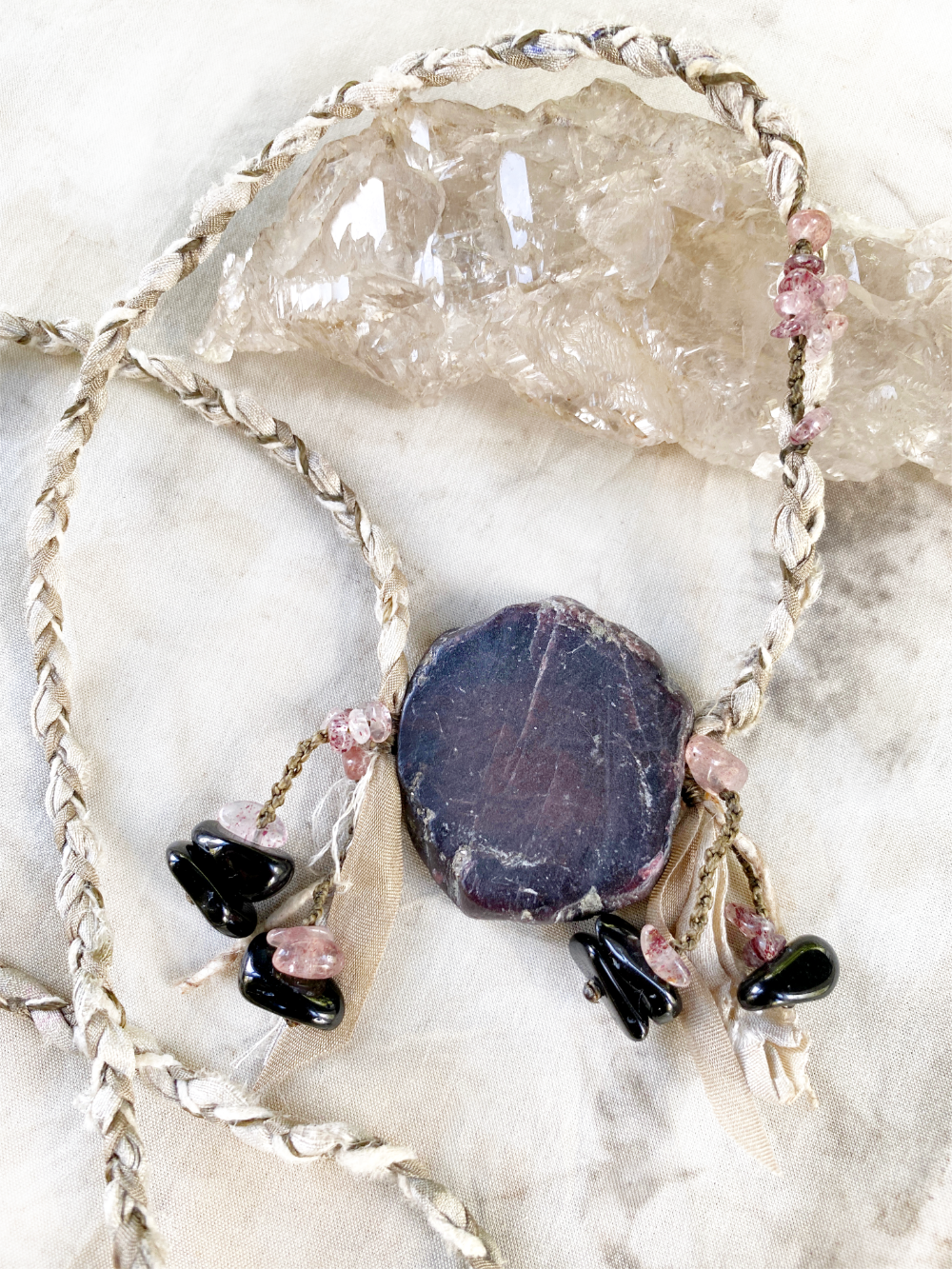 Almandine Garnet crystal healing talisman
DESCRIPTION
Crystal talisman with a rough cut Almandine Garnet slice in a soft silk braid. The main stone is accented with Black Tourmaline and Lepidochrosite in Quartz crystals as knotted strands on both sides of the main stone. There is also a strand of Lepidochrosite in Quartz adorning one side of the necklace braid. The necklace braid is a combination of soft taupe tone silk embroidery ribbon, peace silk yarn ('peace silk' is a name of silk made by ethical process where no silk worms were harmed), recycled sari silk and brown micro-macrame cord for added strength.

The necklace braid is set length and easy to just slip over head without the need for a closing clasp. The all-around length of the necklace braid is approx. 70 cm (27") so the stone hangs down approx. 35 cm (13.5") when measured from the back of the neck. Size of the Almandine Garnet is just over 3.5 cm (1.4") wide and just over 3 cm (1.2") wide.

There are no metals in this necklace so would be particularly suitable for those with metal sensitivities / metal allergy, energy workers and those who simply prefer not to wear metal jewellery.

You'll receive this crystal healing talisman in one of Spirit Carrier's handmade fabric draw-string pouches - great for the safe-keeping of the necklace. Gift-wrapped at no extra charge.

Read here how to take care of your crystal jewellery.
CRYSTAL PROPERTIES
ALMANDINE GARNET
Stimulates one's life force. Supports the root chakra while drawing earth energy into the body, helping you to feel secure and centred. Awakens the "inner fire" of creativity. Highly protective stone and a great companion to keep you energised. Excellent good fortune and 'success' stone in both social and career ventures, adding positive vibes both in your personal or business life. Stone of purification and cleansing. Symbolises passionate, devoted love.
BLACK TOURMALINE (aka Schorl)
One of the most well-known protective stones, shielding its user from negativity. A shamanic stone used for grounding during vision quests. Empowering for those who work in challenging environments. Purifies and transforms denser energies into lighter vibrations and is also detoxifying for the body. If you're sensitive to electromagnetic smog, you may get relief by wearing black Tourmaline.
LEPIDOCHROSITE IN QUARTZ
Stimulates intuitive spiritual awareness, at the same time gently grounding to Earth energy. Raises consciousness, and can be used for focusing intent during energy healing sessions. Calming and soothing, aids in releasing fears and aligning one with Divine will. A stone of 'allowing' and trusting the flow of life.
Recently Viewed