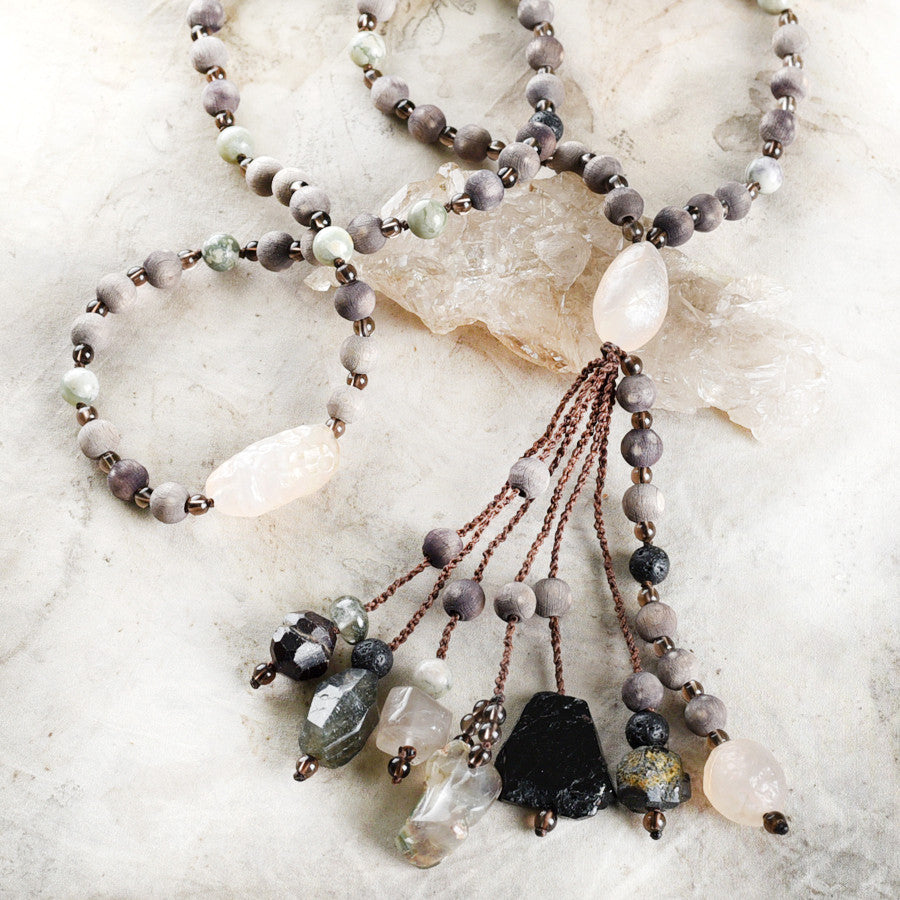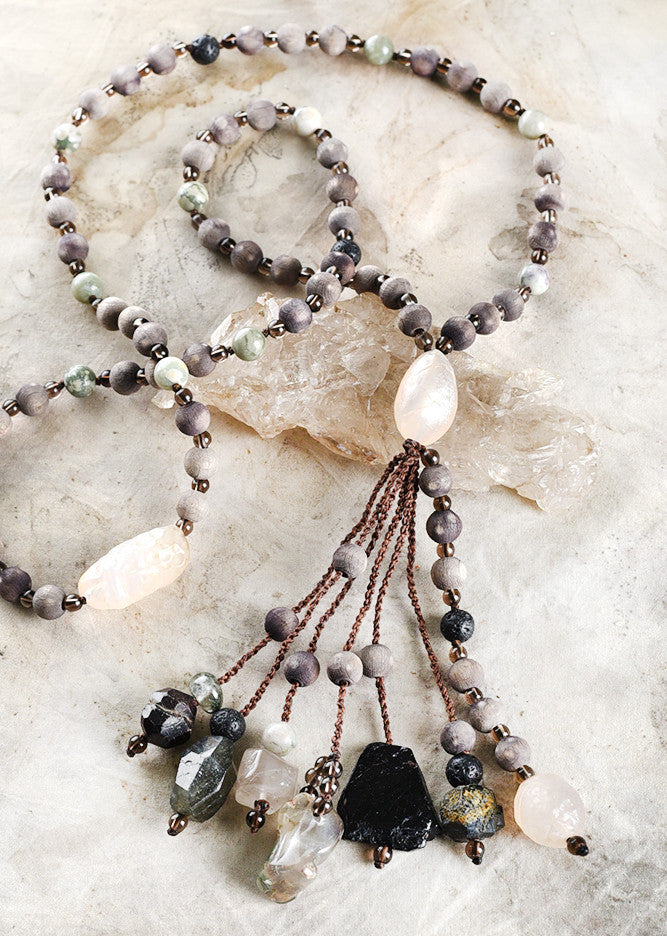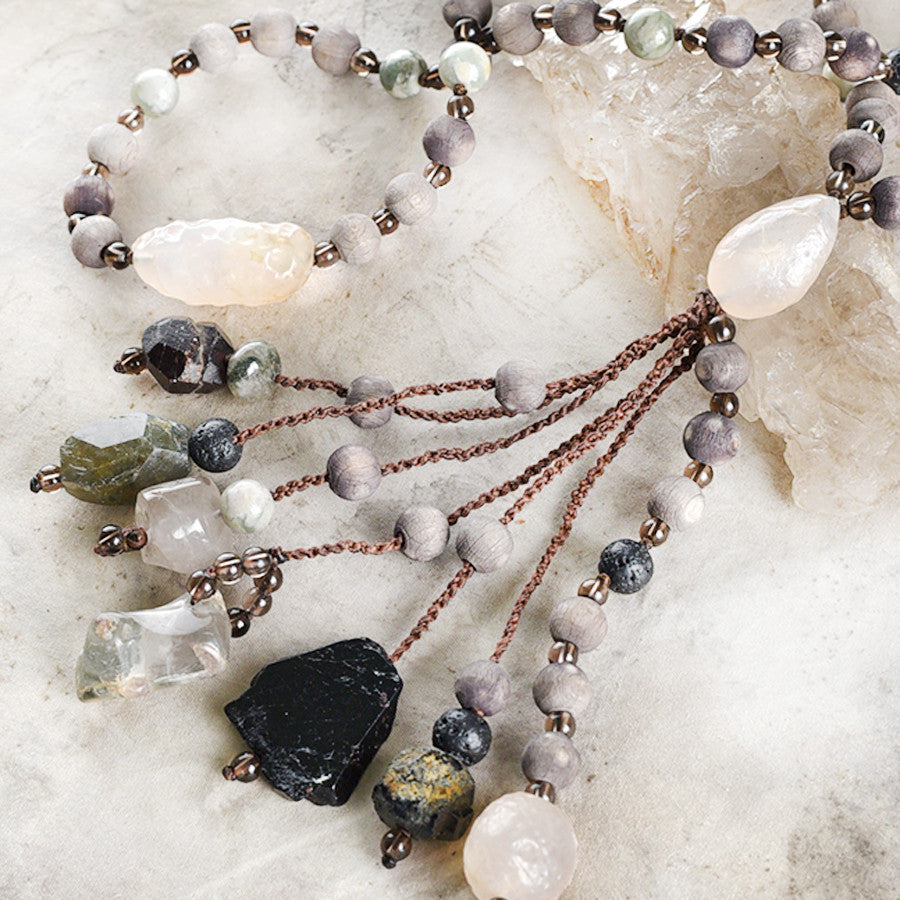 'Shield of Light' ~ Nine stone talisman in earthy tones
DESCRIPTION
Crystal healing talisman combining the energies of nine different crystal types: Agate, Black Tourmaline, Peace Jade, Smokey Quartz, Almandine Garnet, Labradorite, Lava Stone, Shaman Dream Stone and Quartz. The necklace is beaded with beech wood beads which I've 'aged' to earthy grey tones in a botanical eco-dye bath of local wind fallen leaves. The wooden beads are spaced with Smokey Quartz, Peace Jade and Lava Stone crystals. One further Agate adorns the necklace, settling behind the neck when worn.
The hanging pendant tassel consists of seven strands, one is beaded similarly as the necklace itself, six are knotted with dark brown micro-macrame cord and include crystals of Black Tourmaline, Labradorite, Lodolite, Quartz and Almandine Garnet. The six knotted strands also include one wooden bead each, which moves along the strand. This makes the tassel particularly intriguing to handle. There's a tactile feel to it, it can be a concentration / meditation aid, and you can simply play with the tassel elements in your hand to feel the crystal energy connection.
This necklace is set length, with an all-around measurement 78 cm (30.5"). The longest crystal tassel strand hangs down approx. 12 cm (4.7") from where it joins the middle Agate, down to the base of the stone. When the necklace is worn, the tassel stones reach down and hang just below the solar plexus area. The largest stone in the tassel, Black Tourmaline, is just over 2 cm (0.8") tall.
There are no metals in this necklace so would be particularly suitable for those with metal sensitivities / metal allergy, energy workers and those who simply prefer not to wear metal jewellery.
You'll receive this crystal healing necklace in one of my fabric draw-string pouches, great for the safe-keeping of the necklace. Gift-wrapped at no extra charge.
CRYSTAL PROPERTIES
AGATE
The oldest good luck amulet. In ancient times Persian magicians were, according to legend, diverting storms with the powers of Agate. Considered a protective stone (especially for travel), said to shield its keeper against dangers. Increases inner stability, enhances personal courage and fosters self-confidence. Grounding and soothing. Balancing stone for one's yin-yang energies.
BLACK TOURMALINE
One of the most well-known protective stones, shielding its user from negativity. A shamanic stone used for grounding during vision quests. Empowering for those who work in challenging environments. Purifies and transforms denser energies into lighter vibrations and is also detoxifying for the body. If you're sensitive to electromagnetic smog, you may get relief by wearing black Tourmaline.
PEACE JADE
Pure, intensely peaceful vibe which can be easily felt when just holding this stone. Releases internalised stress, allowing you feel serene and in alignment with your core self. Calming when feeling emotionally overwhelmed. Guides you to take that "deep breath" of release to let go of tension and worry. Compassionate heart chakra stone that fills you with divine tranquility.
SMOKEY QUARTZ
A grounding and calming stone that elevates moods and dissipates negative emotions. "A Stone of Serenity", it is comforting and protective for one's aura. Smokey Quartz is thought to assist in creative endeavours and also in setting personal boundaries. Offers EMF protection. A good healing stone for improving general feeling of well-being.
ALMANDINE GARNET
Stimulates one's life force. Opens the root chakra while drawing earth energy into the body, helping you to feel secure and centred. Awakens the "inner fire" of creativity. Highly protective stone and a great companion to keep you energised. Excellent good fortune and 'success' stone in both social and career ventures, adding positive vibes both in your personal or business life. Stone of purification and cleansing. Symbolises passionate, devoted love.
LABRADORITE
One of the most powerful, versatile crystal tools for healing. Assists in spiritual transformation, helps the wearer align with their highest destiny and discover their inner worth. Increases and balances intuition, strengthens willpower. Often referred to as the 'Stone of Destiny' as it is believed to help you to find your true path in life.
LAVA STONE
Stone of vitality, assertiveness and passion. Provides stability in times of change. Grounding and protective. Supports courage and decisiveness. Helps in finding one's 'life path'. Encourages personal development and growth.
SHAMAN DREAM STONE (aka Lodolite, Garden Quartz)
Associated with the crown chakra, enhances one's sensitivity to invisible energies, helps in manifesting one's desires, brings harmony to one's aura, emanates strong yet gentle healing energies.
QUARTZ
The universal master crystal that has a harmonising effect on all levels of being. Programmable by intention, so can be used for versatile purposes. Quartz can clear, enhance, amplify, transmute, balance, focus and transmit energy. Raises one's energetic vibration. Attunes its keeper to their higher self. Known as the "Stone of Power" and "Master Healer".
Recently Viewed