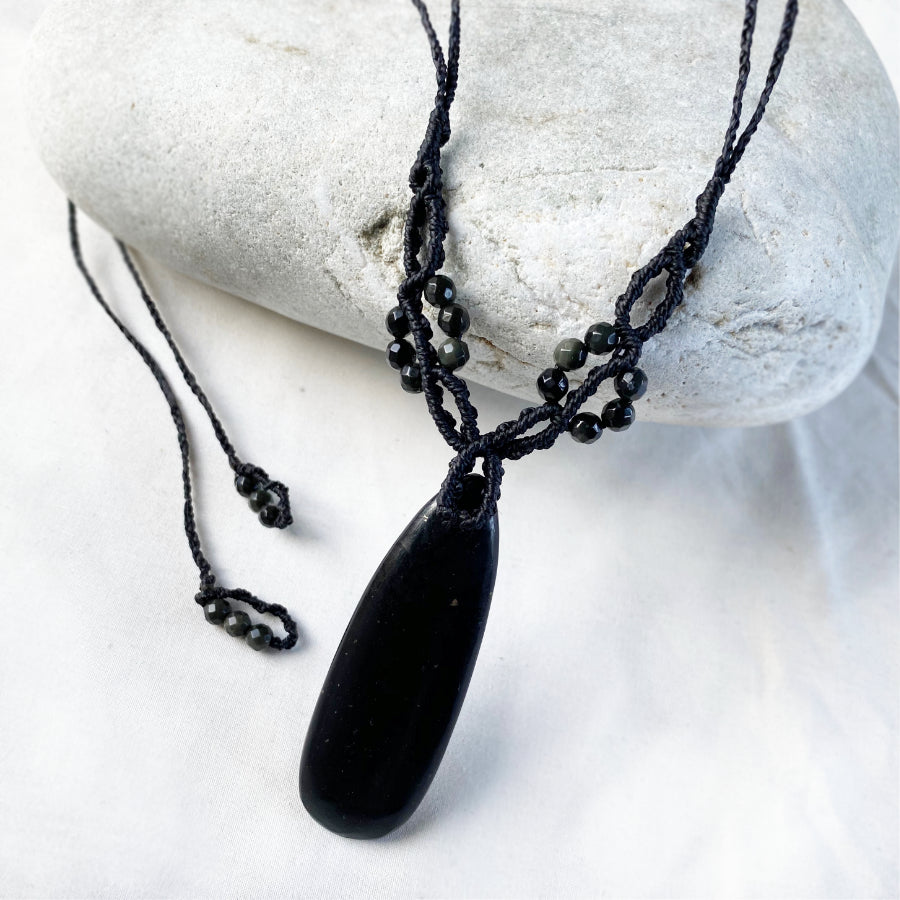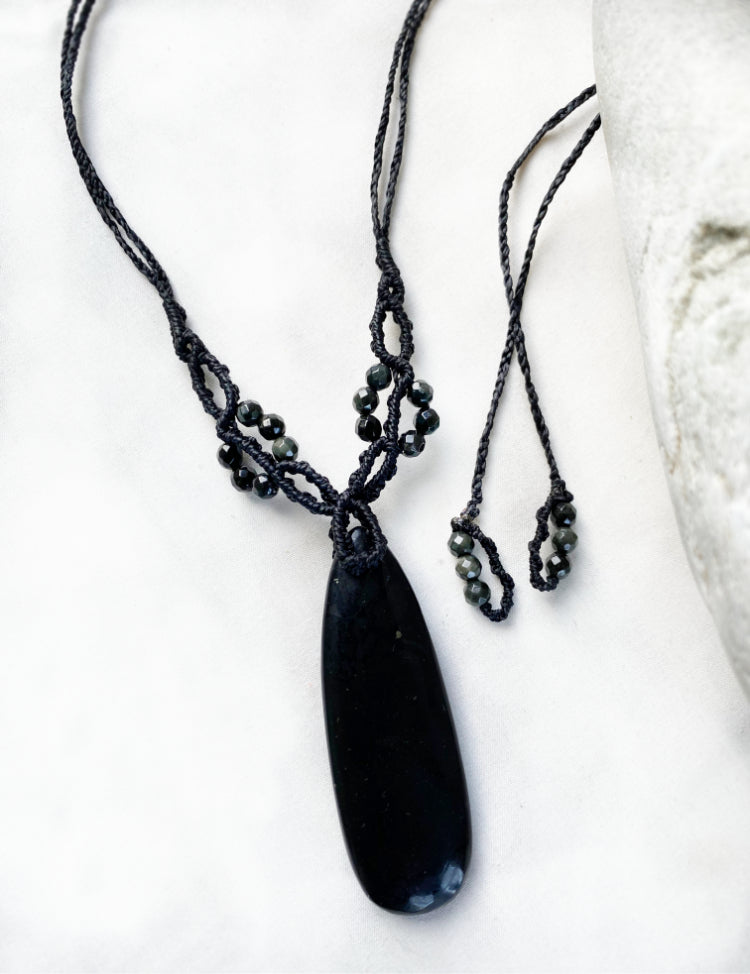 Shungite crystal healing amulet
DESCRIPTION
Crystal amulet with a smooth, drop-shaped Shungite stone. This is a wonderful purifier stone from Karelia in Western Russia. The necklace is knotted and braided with black micro-macrame cord and highlighted with small faceted Golden Sheen Obsidian crystals, also adorning the ends of the adjustable necklace braids. This is a stylish crystal healing necklace, an energy talisman in disguise that would fit perfectly with both formal and festive outfits.
The length of the necklace is adjustable from very short down to just above solar plexus level. The Shungite approx. 6 cm (2.4") tall and 2 cm (0.8") at its widest.
There are no metals in this necklace so would be particularly suitable for those with metal sensitivities, energy workers and those who simply prefer not to wear metal.
You'll receive this one-of-a-kind crystal healing necklace in one of my fabric draw-string pouches, great for the safe-keeping of the necklace. Gift-wrapped at no extra charge.

Prior to leaving Spirit Carrier studio, all crystals are energy cleansed, balanced and activated for the highest good of their new keeper. 

Read here how to take care of your crystal jewellery.
CRYSTAL PROPERTIES
SHUNGITE
Protector and purifier. Reveals truths in one's life and initiates meaningful changes for the highest good, even if the process isn't always comfortable. Excellent stone to protect from electromagnetic radiation across large frequency range as well as from geopathic stress. Connecting to the cosmic flow, directs one to reach one's full potential in life, assisting in staying focused and centered, following one's true path. Can be used to help access ancient memories and soul wisdom.
GOLDEN SHEEN OBSIDIAN
Protective stone that helps one achieve harmony and solve problems relating to past, present and future. Helps in settling inner emotional conflicts and keeps one from entering into outer conflicts so one is free to follow one's spiritual path. Shielding stone that encourages one to stay positive. Transmuting stone to keep negativity at bay. Said to open a window to one's soul and brings out any hidden talents one may have.
Recently Viewed